Swimming Posts Victory over Carondelet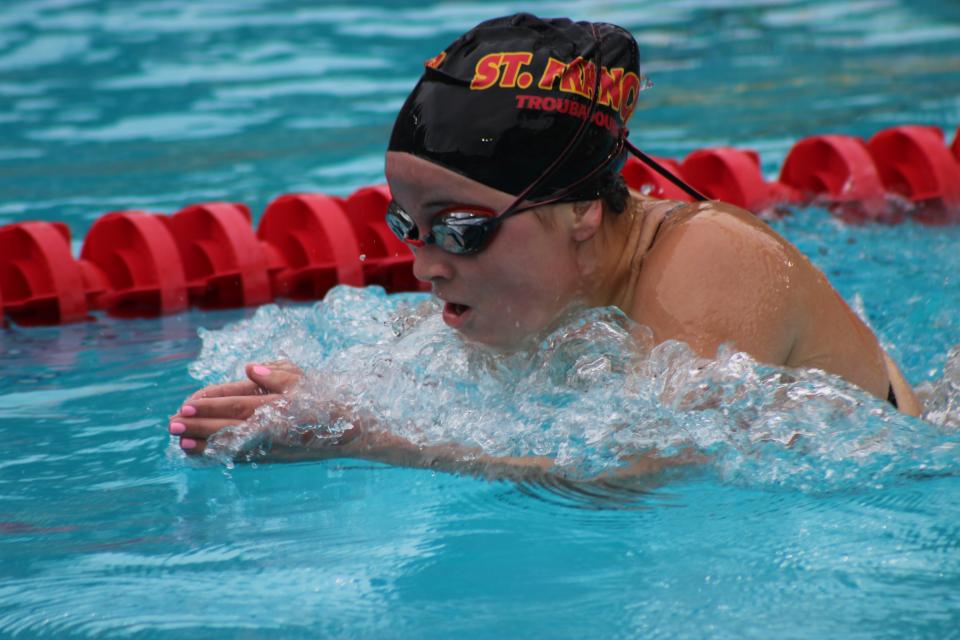 SACRAMENTO, Calif. – The St. Francis swimming teams posted a pair of victories over Carondelet last week to wrap up their dual meet season. The Troubadours went 8-1 in dual meets during the season.
"This dual helps us with our team confidence," said Head Coach Richard Levin. "We swam well at the California Catholic Challenge and finished fourth. It is significant because we have never beat them in my time at St. Francis. It shows there is more left in the tank and we are getting hot at the right time of the season."
The varsity meet came down to the final race with the Troubies taking second and third in the 400-meter relay to out-point Carondelet. The team of Taylor Koewler, Hannah Parulan, Emma Peters and Tatum Roepke touched second in 3:47.04.
"I let them know before the race that the relay would put the meet in the bag," said Levin. "They all came prepared."
Roepke was the first individual winner for the team, taking the 200 individual medley in 2:14.10 with a third-place by Koewler (2:19.89) and fifth by freshman Emma Hollenbach (2:24.63). Peters was second in the 200 freestyle in 2:05.07, while Audrey Camarillo was the top finisher in the 50 free in 26.04 to finish third. Roepke and Koewler went 2-3 in the 100 fly. Freshman Caroline Wilkins was third in the 100 free (58.77).
"Last year we graduated some senior powerhouse," said Levin. "This freshman class has replenished that depth and has really helped this year. But without a doubt, it is our senior leadership. I tried to headline our seniors in our relays today on Senior Day."
The Troubadours also got individual wins by freshman Kendall Houck, who won the 500 free in 5;24.25. Peter was third in 5:33.48. Hannah Parulan edged Houck in the 100 backstroke with a time of 1:03.37 to 1:03.86 to take the top two spots.
St. Francis also claimed the 200-yard free relay in 1:47.24 behind the team of Samantha Gates, Fiona Dodson, Laura Freeworth and Audrey Camarillo.
Sf also won the Frosh/Soph team race 87-82 with the help of five individual winners. Piper Hechtl won the 200 IM (2:36.28), Kate Watley took the 500 free (29.86), Abbey Berg won the 100 breaststroke (1:20.29) and Emma Daniels won the 500 free (6:12.23).
The meet served as the final regular season competition for the team. They open the Delta Leagie Championships at Jesuit on April 27.