Swimming Showcases Youth at Sections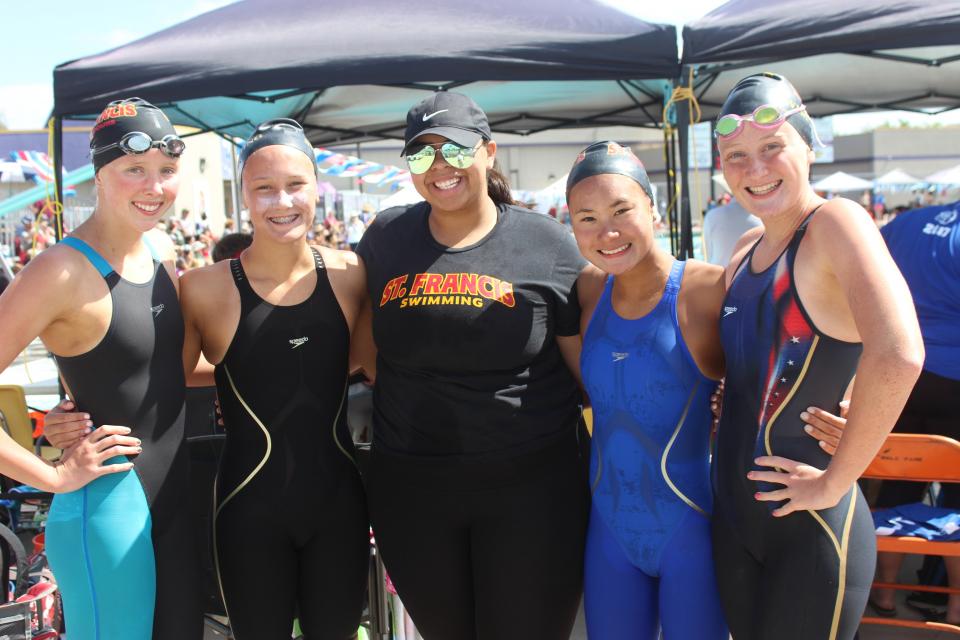 LODI, Calif. – With a roster dominated with youthful standouts, the St. Francis swimming team competed at the Sac-Joaquin Section Trials on Thursday looking to make history and give a glimpse of a strong future.
"I could not be prouder of my whole team," said Head Coach Richard Levin. "How exciting for the Frosh/Soph group and how exciting is it to be coaching them the next three years. Seeing them in action today when it matters, they all stepped up. The group includes a lot of talented freshmen and Hannah Parulan, a sophomore, who is definitely the leader."
St. Francis group advanced all three relays, posting the top times in two events and advanced 11 Troubadours into the finals on Saturday in the Frosh/Soph division.
St. Francis advanced three in the 200 freestyle led by freshman Emma Peters with the top time of 1:56.43 followed by freshman Chloe Beebout (2nd, 1:58.05) and freshman Laura Freeworth (7th, 1:58.05). Parulan won her heat in the 200 individual medley in 2:14.88, entering Saturday as the second seed, with freshman Emma Hollenbach recording the seventh-best time in 2:16.83.
Hollenbach also posted a big personal-best in the 100 breaststroke with a time of 1:07.69, posting the second-best time.
"It felt really good," said Hollnebach after dropping her PR two seconds. "I had a lot of fun today. I usually think too much and this time I did not think too much. I felt really powerful."
Freshman Kendall Houck led the team in the 100 backstroke with the third-best time (1:00.15) and recorded the fifth-best time in the 500 freestyle (5:15.42), just behind Peters who was fourth in 5:15.27.
"My 500 was good but I kind backed down towards the end because it was prelims," said Houck. "I am going to go out better in finals. My backstroke was good except for my last turn. I am proud overall and it feels good."
Parulan also advanced in 100 backstroke, finishing seventh.
Freshman Laura Freeworth was fifth in the 100 butterfly and freshman Chloe Beebout was fourth in the 100 freestyle in 55:03. Freshman Caroline Wilkiins had her best finish in the 50 freestyle, finishing 15th and qualifying for the consolation final.
On the varsity side, the Troubies advanced all three relays into the finals. Senior Tatum Roepke is a section finalist in the 50 free with a personal best 24.51 and the 100 fly after placing 12th in 58.25. senior Taylor Koewler posted a personal-best 58.25 to place 16th and earn a spot in the final.
"We knew coming in we were a little short-handed and had a challenge," said Levin. "I think our relays have stepped up. We have had some personal bests across the board. Some of them may have made finals but the fact they are swimming best times in the scope of swimming it is what we want."
Senior Elizabeth Fugit returned to the pool after recovering from an appendectomy to swim on the relays and her two signature events.
"Our section and area swimming in general is getting so fast," said Levin. "We had a team from out section with the state title. It is legit."
Finals will be contested in both divisions along with the boys on Saturday starting at 10 a.m. at Tokay High School.
"It feels really good and it is a really good experience," said Hollenbach. "It is really exciting."
Sac-Joaquin Section Varsity Results
200 IM Relay – St. Francis (Fugit, Bartylla, Koewler, Roepke), NA; 200 IM – 15. Taylor Koewler, 2:15.12; 50 Free – 15. Tatum Roepke, 24.51; 40. Samantha Gates, 25.72; 40. Audrey Camarillo, 25.93; 50. Makenna Schwarz, 26.47; 100 Fly – 12. Tatum Roepke, 58.25; 16. Taylor Koewler, 58.25; 26. Elizabeth Fugit, 1:00.96; 32. Lennea Castro, 1:02.03; 100 Free – 30. Gates, 56.36; 38. Audrey Camarillo, 59.08; 500 Free – 19. Emily Bartylla, 5:19.03; 200 Free Relay - St. Francis (Gates, Camarillo, Schwarz, Castro), NA; 100 Back – 21. Elizabeth Fugit, 1:02.43; 100 Breast – 18. Emily Bartylla, 1:10.25; 30. Makenna Schwarz, 1:16.26; 400 Free Relay – 8. St. Francis (Roepke, Koewler, Bartylla, Gates), 3:46.97.
Sac-Joaquin Section Frosh/Soph Results
200 IM Relay – 1. St. Francis (Houck, Hollenbach, Parulan, Peters), 1:53.34; 200 Free – 1. Emma Peters, 1:56.43, 2. Chloe Beebout, 1:58.05, 7. Laura Freeworth, 2:00.21, 43. Tessa Crouch, 2:30.38, 51. Tamara Rodriguez, 2:32.80; 200 IM – 2. Hannah Parulan, 2:14.48, 7. Emma Hollenbach, 2:16.83; 50 Free – 15. Caroline Wilkins, 26.05, 48. Kaitlyn Back, 27.37; 100 Fly – 5. Laura Freeworth, 1:00.58; 45. Tamara Rodriguez, 1:08.58, 46. Elle Mueller, 1:08.85; 100 Free – 4. Chloe Beebout, 55.03; 22. Caroline Wilkins, 57.25; 500 Free – 4. Emma Peters, 5:15.27; 5. Kendall Houck, 5:15.42; 200 Free Relay – (Hechtl, Freeworth, Beebout, Wilkins), NA; 100 Back – 3. Houck, 1:00.15, 7. Hannah Parulan, 1:03.26, 17. Jaclynn Burgess, 1:04.84; 100 Breast – 2. Emma Hollenbach, 1:07.69; 17. Jaclynn Burgess, 1:12.59; 39. Tessa Crouch, 1:17.04; 400 Free Relay – 1. St. Francis (Peters, Houck, Parulan, Beebout), 3:47.17.