Swimming Takes Frosh/Soph Section Title, Fourth in Varsity Meet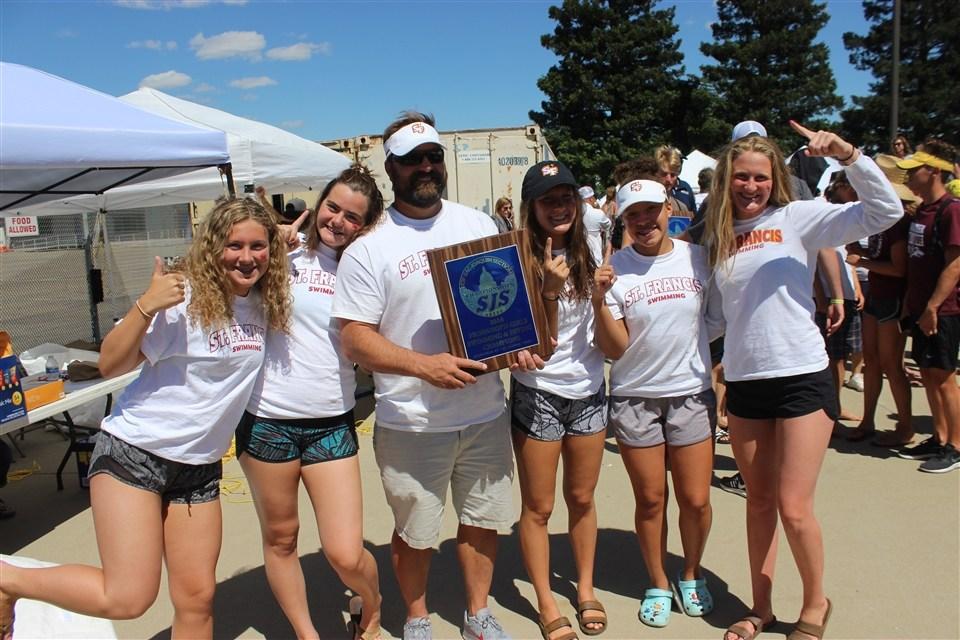 LODI, Calif. – The St. Francis swimming and diving team won the Sac-Joaquin Section Division I Frosh/Soph title and finished fourth overall in the varsity meet, completing a successful two days at Tokay High School.
"It is a fulfillment of all the hard work, early mornings, countless yardage and an overall whole team effort," said Head Coach Richard Levin.
St. Francis won the Frosh/Soph title for the second consecutive season, taking the Division I title in the new format that divided the meet into three different divisions.
The Troubadours won two Frosh/Soph relay titles, taking the 200 individual medley and the 400 freestyle relays to garner huge points. Kendall Houck, Jaclynn Burgess, Laura Freeworth and Chloe Beebout combined to win the 200 IM relay, while Freeworth, Houck and Beebout joined Caroline Wilkins to take the 400y freestyle relay. The 200y free relay (Ana Poarch-Twining, Marrugo, Emma Daniels, Maddi Hoppa) finished ninth.
"The relays were huge," said Levin. "In some cases, they may have not performed their best in their individual race but when it came time to step up for their team and swimming for their school they came thru in the clutch."
Levin highlighted Burgess's breaststroke leg in the IM relay as the fastest during his tenure.
With only four swimmers and aided by diver Molly Wilson's second-place finish, the Troubadours finished fourth in the varsity completion.
"Talk about adversity," said Levin. "They were overwhelmed just being the four of them and not having the depth of a whole team. They pulled off fourth place in Division I. My hat is off to them for their courage and tenacity. They never gave up. Each one of them had a great weekend."
Sophomore Emma Peters finished ninth in the 200y freestyle with a personal-best 1:54.36.
"The top individual performance by far was Emma Peter's 200 free," said Levin. "She had a huge drop. She swam phenomenal and in the relay had the fastest 50-fly split in the relay since Maddie Johnson graduated."
Peters also was 12th in the 100y freestyle (53.14).
Junior Hannah Parulan was 15th in the 200y individual medley. Sophomore Emma Hollenbach placed 13th in the 100y breaststroke with a time of 1:08.14. They combined with senior Emily Bartylla to improve to fifth in both the 200y medley relay and 400 freestyle relay.
"It was a lot of fun," said Peters. "We were tiny but mighty like Hannah Parulan said yesterday. It was just the four of us and we all didn't get to have individual swims, but we all worked really hard in the relays and moved up in both of them. It was really cool."
For Bartylla it was her final swims for the Troubies and they were special.
"It was the best way to end my St. Francis career," said Bartylla, who later attended the school's Ball. "I got to do it with my teammates and it was not just a personal thing. It was a team win."
The Frosh/Soph team benefitted from many top performances outside the relays. Freshman Maria Corvacho Marrugo was fifth in both the 100y butterfly (1:00.85) and 100y breaststroke (1:02.02).
"It was really exciting," said Maria Corvacho Marrugo. "It is great being part of such a great team and winning our second year in a row. I was really happy with my individual swims after being out for a year with injuries. It has been really nice to get back to swimming fast again."
Sophomore Kendall Houck added two top-three performances. She finished second in the 100y backstroke (59:59), breaking the minute mark with a personal best, while she was third overall in the 100y individual medley (2:13.78).
Beebout was second in the 500 freestyle in 5:15.76. Freeworth added a 10th place in the 100 back and 11th in the 100y butterfly. Burgess was seventh overall in the 100 back, an event the Troubies had four in the top 10. Madeline Hoppa finished ninth in the 100 IM.
St. Francis closed out the meet with the winning 400 relay to seal the win.
"It is awesome and shows the girls are all working together," said sophomore Chloe Beebout. "They say it is an individual sport but it is really not. It is about your teammates."
SF finished with 254 points to defeat Del Oro (206).
"It was great," said Freeworth. "Behind the blocks before the race, we were like this the last four laps of our sophomore year. We have to go there and take it. Take the last one for year two of winning. I love our team. We have great team work and work well together."
Wilson will represent St. Francis at the CIF State Diving Championships next Friday.
Sac-Joaquin Section Swimming Championships – Girls Finals
Frosh/Soph Results
200y Medley Relay – 1. St. Francis (Houck, Burgess, Freeworth, Beebout), 1:51.00; 200y Free – 8. Chloe Beebout, 2:00.24; 10. Caroline Wilkins, 2:01.60; 200y IM – 3. Kendall Houck, 2:13.78; 9. Madeline Hoppa, 2:19.36; 100y Butterfly – 5. Maria Corvacho Marruga, 1:00.85; 11. Laura Freeworth, 1:01.86; 15. Madeline Hoppa, 1:02.67; 100y Freestyle – 15. Caroline Wilkins, 56.24; 500 Freestyle – 2. Chloe Beebout, 5:16.76; 200y Free Relay – 9. St. Francis (Poarch-Twining, Marrugo, Daniels, Hoppa), 1:45.57; 100y Backstroke – 2. Kendall Houck, 59.59; 5. Maria Corvacho Marrugo, 1:02.02; 7. Jaclynn Burgess, 1:02.77; 10. Laura Freeworth, 1:02.95; 400y Free Relay – 1. St. Francis (Wilkins, Freeworth, Houck, Beebout), 3:38.97.
Varsity Results
200y Medley Relay – 5. St. Francis (Parulan, Hollenbach, Peters, Bartylla), 1:53.27; 200y Free – 9. Emma Peters, 1:54.36; 200y IM – 15. Hannah Parulan, 2:14.34; 100y Freestyle – 12. Emma Peters, 53.14; 100y Breaststroke – 13. Emma Hollenbach, 1:08.14; 400y Free Relay – 5. St. Francis (Parulan, Hollenbach, Peters, Bartylla), 3:42.00.