Tennis Wins Ninth Straight with 9-0 Win over Franklin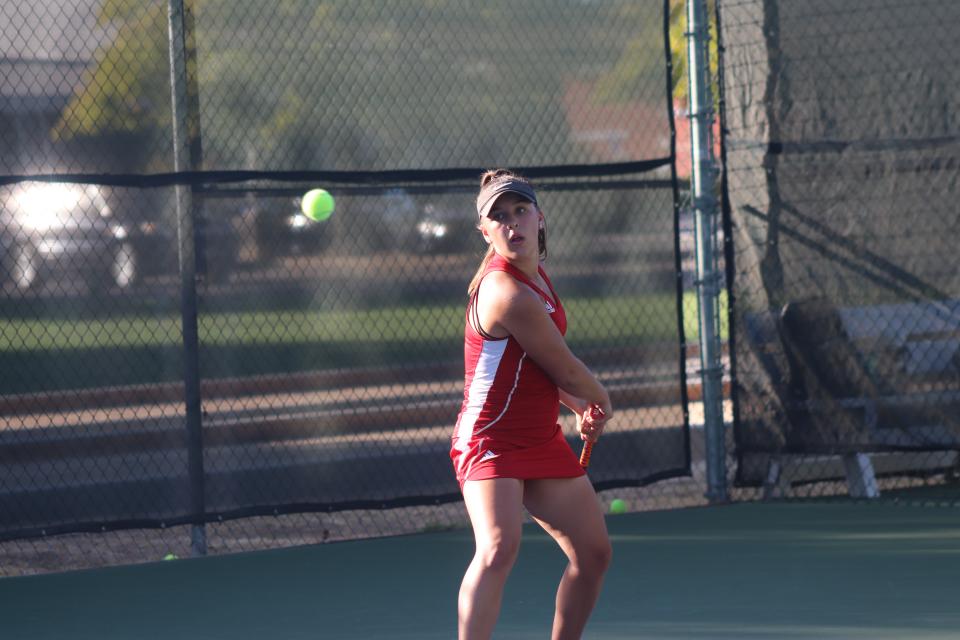 ELK GROVE, Calif. – Freshman Safaa Umar posted a 6-0, 6-0 straight set win at No. 6 singles as St. Francis won their ninth consecutive match to remain undefeated in Delta League play and improve to 14-1 on the season.
Umar is 5-0 on the season in the singles lineup this season for the Troubadours. The team won all six singles matches with five in straight set. Senior Myra Anwar and sister Alisha Anwar won in identical fashion with 6-1, 6-0 victories at No. 1 and 2, respectively. Junior Sam Sonntag posted a win at No. 3, while sophomore Alex Evans won at No. 4. Junior Bianca Ariza pulled out a three-set winner at No. 5.
The Troubies completed the sweep with three wins in doubles.
Rosmy Alengaden and Emmy Goebels were straight set winners at No. 1 with Lauren Lai and Sienna Vincent and Ella Dichiara and Olivia Hazeghazam following the same script.
St. Francis hosts Pleasant Grove on Tuesday at Rio del Oro Racquet Club.
St. Francis 9, Franklin 0
No. 1 Singles Myra Anwar, SF, def. Milly Essa, F, 6-1, 6-0
No. 2 Singles Alisha Anwar, SF, def. Emily Chau, F, 6-1, 6-0
No. 3 Singles Sam Sonntag, SF, def. Theresa Nguyen, F, 6-1, 6-1
No. 4 Singles Alex Evans, SF, def. Tammie Le, F, 6-0, 6-1
No. 5 Singles Bianca Ariza, SF, def. Marie Thai, F, 6-3, 6-7 (4), 1-0
No. 6 Singles Safaa Umar, SF, def. Chrystal Chiu, F, 6-0, 6-0
No. 1 Doubles Rosmy Alengaden/Emmy Goebels, SF, def. Maxine Wages/Jane Haynh, F, 6-1, 6-2
No. 2 Doubles Lauren Lai/Sienna Vincent, SF, def. Audrey Dienessen/Sophia Ngo, F, 6-2, 6-1
No. 3 Doubles Ella Dichiara/Olivia Hazeghazam, SF, def. Kellie Ngo/Kate Tapiador, F, 6-1, 6-0