Track and Field Advances 10 from Trials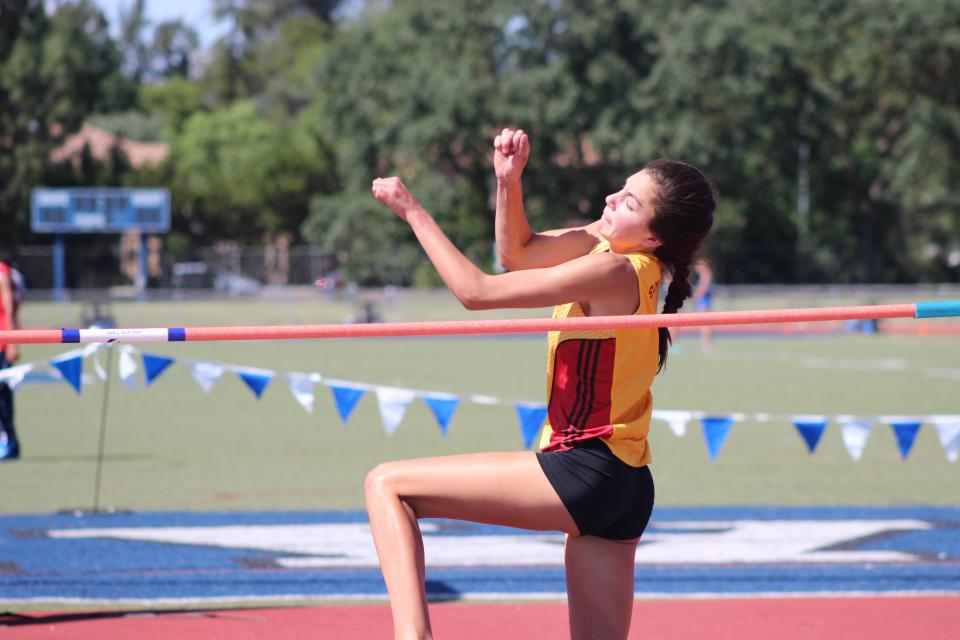 DAVIS, Calif. – The St. Francis track and field team set the stage for an exciting final next week with strong performances in the Delta League Trials Friday at Davis High School. The Troubies qualified nine athletes in 13 events and scored 11 points in the first three event finals.
"The idea is that nothing goes wrong or unexpected," said Head Coach Rod Jett. "Now you can focus on the final and competing and advancing to sections and running fast times. Hopefully you get a few surprises and we had those, which is nice. It was a pretty good day and hopefully we can have a good showing next week."
The first points of the meet were scored in the high jump for the Troubles. Sophomore Kathryn Kramer finished second with a best of 4-11, while freshman Isabela Palchak was fifth with her clearance of 4-11. Senior Sharon Rocco had the best mark in the shot put with a heave of 26-0.
"I felt pretty strong today," said Kramer. "Lately I have not been jumping as high have (earlier) this season. Today I felt strong."
Kramer qualified for the 400 meters in between jumps with a 1:01.69 to advance to next week's finals.
"It has happened to me many times," said Kramer of her mid event switch. "I have the experience of doing it and I actually prefer it because I feel more warmed up for the high jump and my legs are ready to jump."
Kramer completed her busy night by qualifying in the 800 meters with four teammates, giving SF a formidable fivesome to score points next week in the event. Sophomore Noelle Lynch was second overall among the qualifiers, edging teammate Sophie DeBenedetti in a strong heat.
"I just went out there and was confident in the training I had put in with Sophie," said Lynch. "It was great having her there because we train together and are really close. I am so blessed to have her as a teammate. It was fun. I think I put it all out there."
Freshman Haley Silva won her heat in a personal-best and junior Erica Cradeur posted a PR with a time of 2:26.91 to qualifiers.
"It helps in training knowing we are all together," said Lynch. "That we are all advancing is really good."
The hurdles were also strong events for the Troubadours, advancing three in both the 100m and 300m events,
Senior Elizabeth Hennessy was the top qualifier in each, placing fourth in the 100m (15.98) and second in her 300m signature event (45.63). Yahsmeene Duffey advanced in the 300m hurdles (48.87) and freshman Isabela Palchak was seventh in the 100m hurdles (17.42) Sophomore Serena Shimada joined Hennessy in advancing in both events, finishing sixth in the 100mH and eighth in the 300mH.
"It feels really good and refreshing after several bad meets," said Shimada. "I have been working really hard so it is really rewarding. Hopefully I can PR next week and make it into sections. I want to do my best and be happy with how I perform."
Senior Meaghan Rogers led the Troubies in the sprints, qualifying in the 100 (12.74, 4th) and 200m (26.42, 6th).
"I felt pretty good today," said Rogers, who will also compete in the long jump final next week. "I really got to focus on my 100 and 200 and prepped this week with a lot of sprint work. The time was not my focus today but to make it to the finals next week. I am happy with what I did."
The top eight from the trials advance to the final. Three more field events will be contested on Friday along with the relays and distance events.
"The team is doing great and we have been coming together as the team has been progressing," said Rogers. "A lot of the underclassman have been progressing and they are all learning. We need to help them along the way as a senior. To see things come together is really nice."
St. Francis Event Qualifiers
Erica Cradeur (800, 2:26.91, 10th)
Sophie DeBenedetti (800, 2:22.68, 2nd)
Yahsmeene Duffey (300mH, 48.87, 6th)
Elizabeth Hennessy (100mH, 15.98, 4th; 300mH, 45.63, 2nd)
Kathryn Kramer (400, 1:01.69, 7th; 800. 2:25.15, 8th;
Noelle Lynch (800, 2:21.96, 2nd)
Isabela Palchak (100nH, 17.42, 7th)
Meaghan Rogers (100, 12.74, 4th; 200, 26.42, 6th)
Serena Shimada (100mH, 16.37, 6th; 300mH, 49.32, 8th)
Haley Silva (800, 2:22.71, 7th)