Track and Field Finishes Second at Delta League Champs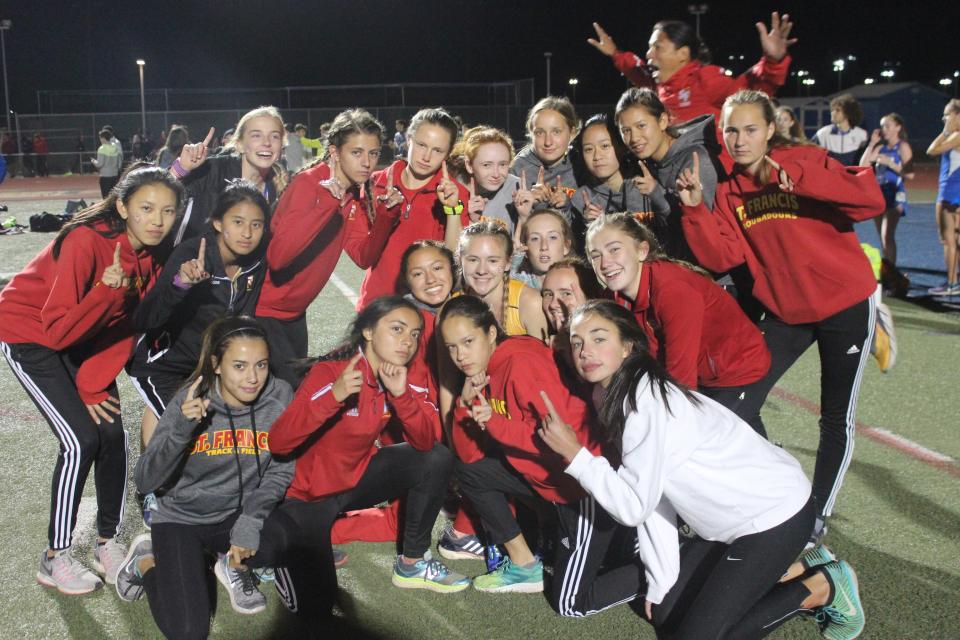 DAVIS, Calif. – The St. Francis track and field team finished second at the Delta League finals Friday at Davis Senior High School. The Troubadours qualified several student-athletes to the Sac-Joaquin Section championships next week.
"No matter what place we get, I like to see our girls come out and see everyone try their best," said senior captain Meaghan Rogers. "It is the last meet we all come together and see what we can do."
Junior Sydney Vandegrift won the 3200 to claim the league title in 10:58.05 and was second in the 1600, qualifying in both events. She reached the State Championships in the 3200 last season.
"I felt OK about it," said Vandegift of her 1600. "It wasn't a good race. The start was real crowded. We did not get out in time to have a good race time overall. I am pretty excited. We had a lot St. Francis girls out here. It is fun to be next to my Troubie sisters for a race. It is a great experience."
Sophomore Sophie DeBenedetti finished fifth overall in the 1600, missing the section qualifying time by less than a second. But she rebounded in the 800 to earn a top four finish and an automatic berth.
"I felt really good," said DeBenedetti. "At the beginning, I was little disappointed after missing (qualifying) for the mile by .3. It motivated me and taught me how to run against the wind and how to pace things out. After the first lap, but teammate Kathryn (Kramer) screamed at me to go. I just had to keep up with Noelle. I gave it everything I had."
Sophomore Noelle Lynch was third overall in the 800 to join DeBenedetti in the section field.
Senior Meaghan Rogers led the Troubies in the sprints, advancing in both the 100 and 200 meters.
"I did the 100 and 200 today and it was pretty cool because it was finals," said Rogers. "I was pretty close to my PR in the 100 and we had a lot of fast girls out here. They are a lot of talented girls and I love running with them. It my last year in leagues so I wanted to come out and have fun."
Senior Elizabeth Hennessy was a double qualifier in both hurdle events. She had a season-best in the 100m hurdles (15.79) and was second in the 300m hurdles in 44.78.
"For the hurdles races I felt pretty strong," said Hennessy. "For me in the 100, I got a personal-best and I was happy with that. Normally this track does not feel that fast but it felt fast today. It is fun being out here with my teammates and having them qualify for sections too."
Sophomore Serena Shimada joins Hennessy in the 100m hurdles with a 16.37.
In the field events, freshman Meghan Ladd finished second in the pole vault with best clearance of 10-5.
"I feel great but I feel I can do better," said Ladd. "With more practice this week, I can go higher."
Sophomore Isabelle Grassel jumped a personal best 16-6 to finish third to advance in the long jump.
"I jumped 16-6 and it is a personal-best for me," said Grassel. "I was happy over all. I have been trying all season to get to 16-0. I have been really close. Today we had a really nice tailwind. Sometimes you just feel it is good. I jumped and they measured it and I looked over at my parents. I was so excited. Making to sections as a sophomore is really amazing."
Senior Sharon Rocco had the top performance in the discus with a best of 75-3 with teammate Kaitlyn Hendrickson with a best of 74-1.
The Troubies closed the meet with third-place in the 4×400-meter relay with a team of Hennessy, Yahsmeene Duffy, Kramer and DeBenedetti.
"It is amazing honor to be part of it because I know those girls work so hard to do well," said DeBenedetti of the relay. "I was glad I got to help them succeed."
St. Francis also advanced in the 4×100 with Hennessy, Rogers, Grassel and Alyssa Shebert.
In the Frosh/Soph races, sophomore Chanel Grimes earned a medal in the 100 and 200 meters, placing second (13.29) and third (27.62), respectively.
"Coming off an injury, it is great to get back in there and have top three," said Grimes. "I feel I have the potential and I am on a good track for training."
Davis won the overall girls title 184-115 in the team race.