Track and Field Posts Strong First Day at Sections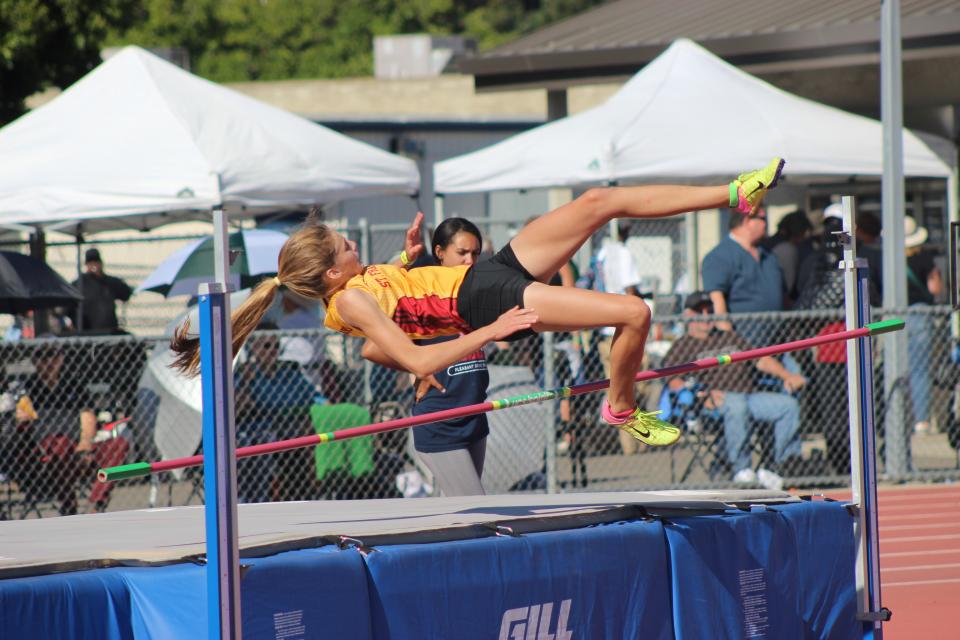 ELK GROVE, Calif. – The St Francis track and field team was successful in their goal for the day – advancing to Friday's finals and setting up several Masters meet runs.
The Troubies were led by their senior leaders in the sprints and hurdles. Meaghan Rogers advanced in both the 100 and 200 meters, while Elizabeth Hennessy was a double qualifier in the 100m and 300m hurdles.
"I felt great," said Rodgers. "I had a huge PR in the 100 wind-aided but I am still happy with it. I have wanted to get lower in the 12s. The 200 felt good also. Now that I am not jumping I get to just focus on my races. I have been running a lot faster lately."
Rogers was fifth in the 100m to earn a spot in the top final and an automatic berth into Masters with her wind-aided 12.13. She placed 10th in the 200 meters in 25.56 and will need a top four finish on Friday to reach the second week.
Hennessy posted a personal-best (15.42) in the 100mh to place seventh and clocked a personal-best 44.54 in the 30mh to place third overall.
"I was really excited with what I was able to do today in the 4×100 and with my hurdles races," said Hennessy. ""I was pretty surprised by PR in the 100 hurdles and qualifying for Masters. I am happy with my overall performance. Coach Jett, Coach Reid and Coach Grimes have boosted me up lately and help me believe in myself."
Hennessy and Rogers joined senior Allie Shebert and sophomore Isabel Grassel in the opening 4×100-meter relay, winning their heat and earning an automatic qualifier to Friday with 48.68, just a tick off their season best.
"We felt pretty good," said Shebert. "We were far ahead at first and got the lead early. We handled it pretty well and had good handoffs."
Sophomore Serena Shimada joined Hennessy in the 100m hurdle finals with a personal-best 15.78.
"It feels really good," said Shimada. "I have been waiting for that all season. I am glad it happened now. I just have to keep practicing, eating well and sleeping. It is really rewarding."
In the 800 meters, sophomore Sophie DeBenedetti and Noelle Lynch finished eighth and ninth overall.
"I stuck with the front pack because I knew there was wind," said DeBenedetti. "It went out kinda slow so I tried to go around them but kept getting pushed out to lane 3 and 4. I chose to stay behind and draft off them. On the second lap, I knew I had to start moving faster. I should have dictated it more knowing how those girls run."
Lynch was grateful for the experience.
"I am just happy I made it to sections this year," said Lynch. "It is a big privilege. It was a really cool experience with girls running 2:15."
Freshman high jumper Isabella Palchak provided the biggest highlight of the day, placing third in the section final with a best clearance at 5-0, tying her season best and earning a Masters bid.
"It was a lot of fun and I think I did really well," said Palchak. "I am excited I get to go to Masters."
The 4×400-meter relay closed the meet with a seventh-place finish to advance.
Running events will start at 6 p.m. on Friday and SF will be represented in the pole vault starting at 4:30 p.m. Individuals advance with top 12 performances.
Sac-Joaquin Section Women's Results
100 Meters Varsity
5. Meaghan Rogers, 12.13a PR (4.3)
200 Meters Varsity
10. Meaghan Rogers, 25.56a PR (2.1)
800 Meters Varsity
8. Sophie DeBenedetti, 2:22.01a
9. Noelle Lynch, 2:22.17a
100m Hurdles - 33″ Varsity
7. Elizabeth Hennessy, 15.42a PR (2.5)
11. Serena Shimada, 15.78a PR (1.3)
300m Hurdles - 30″ Varsity
4×100 Relay Varsity
2. St. Francis (Elizabeth Hennessy, Meaghan Rogers, Alyssa Shebert, Isabelle Grassel), 48.68a
4×400 Relay Varsity
7. St. Francis (Kathryn Kramer, Sophie DeBenedetti, Yahsmeene Duffy, Meaghan Rogers), 4:05.47a
High Jump Varsity
22. Kathryn Kramer, 4-08.00