Track and Field Season Ends at Masters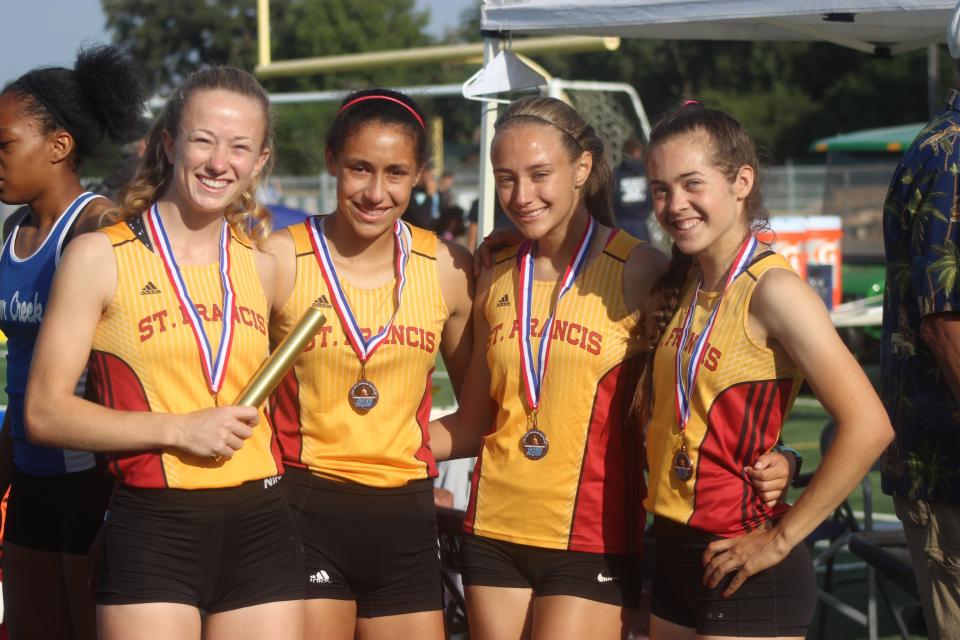 ELK GROVE, Calif. – The St. Francis track and field team posted eight top-10 finishes and advanced nine competitors to the finals at the Sac-Joaquin Section Finals Friday night.
"The standards at St. Francis are so high for us it is a disappointment to not make it to the state meet," said Head Coach Rod Jett. "Everyone that ran today, ran well and at or near their seasons bests. This meet has such a high caliber of competition. We had a lot of good marks and personal-bests. It was a great season."
The 4×100-meter relay earned a medal with a fourth-place finish in the first race of the day, clocking a time of 48.08. Seniors Elizabeth Hennessy, Meaghan Rogers, Allie Shebert and sophomore Isabelle Grassel came within one spot of reaching the state meet.
"We were all a little disappointed we did not make it to state," said Hennessy. "We have had a really good time running together this season and coming close to setting the record for the school with a young group."
Freshman Meghan Ladd was eliminated from the state meet in the pole vault, finishing sixth overall with a best clearance of 10-7.
"It was fun and exciting," said Ladd. "I knew I was going to have some good competition because it is Masters. I did my best."
Ladd was cleared her first two heights at 10-0 and 10-7 before going out at 11-1.
"I am really excited for my future," said Ladd. "Once I get my plants better, I can go higher and see where I go from there."
Rogers finished her Troubie career with a seventh-place finish in the 100 meter final, clocking a 12.52.
"It is an honor to even be running here," said Rogers. "This is my first and last time at this meet and I never thought I would make it here. To make it this far is amazing and these are really fast girls. It is really cool to compete with them."
Hennessy was sixth in the 300-meter hurdles in 44.96 in a loaded final that featured six of the top hurdlers in the state with three spots open to make the state meet.
"It was not the outcome that I wanted but I have had a really incredible season," said Hennessy. "I could not have wanted anything more."
Hennessy, who will run at UC San Diego next year, completes her career as a two-time individual school record holder while competing on the school's top relay teams throughout her career.
"Breaking these records was something I had hoped but did not know I could do," said Hennessy. "It made everything worth it…It has been a really exciting season to help lead my teammates and have a really close relationship with the coaches and teammates."
St. Francis had a pair of finalists in the 800 meters. Sophomore Sophie DeBenedetti placed sixth overall in 2:19.29.
"It was a great way to end my season," said DeBenedetti. "I am really proud of Noelle (Lynch) and I. Last year we did not make it out of (the) Delta (League) and we made it to Masters finals. It is such an accomplishment and the effort we put in showed that we deserved it. We definitely both want to get better and this really helps us."
Lynch was ninth overall in the 800-meter final, clocking a time of 2:20.42.
"It was an amazing experience," said Lynch. "Making it to Masters finals is an accomplishment and I am thankful for my coach, my family and my teammates. They have supported me so much and helped me to get where I am today. I am happy with how the season went."
Sophomore Isabelle Grassel was 11th in the long jump final on Friday, while freshman Isabella Palchak finished fourth on Thursday in the high jump.
Junior Sydney Vandegrift closed the meet for the team with seventh-place finish in the 3200 meters.
Jett said goodbye to his senior group led by Hennessy and Rogers.
"They have both taken the leadership mantel and made my job easier," said Jett. "They showed all the girls how to warmup and workout. I was really glad to have them and we are going to miss them."
Sac-Joaquin Section Masters Finals
4×100 Relay
4. St. Francis (Elizabeth Hennessy, Meaghan Rogers, Alyssa Shebert, Isabelle Grassel), 48.08
100 Meters
7. Meaghan Rogers, 12.52
800 Meters
6. Sophie DeBenedetti, 2:19.29
9. Noelle Lynch, 2:20.42
300m Hurdles
6. Elizabeth Hennessy, 44.96
3200
7. Sydney Vandegrift, 10:58.05
Long Jump
11. Isabelle Grassel, 17-00.25
Pole Vault
6. Meghan Ladd, 10-7
High Jump
4. Isabella Palchak, 5-1