Track and Field Second Entering Delta League Finals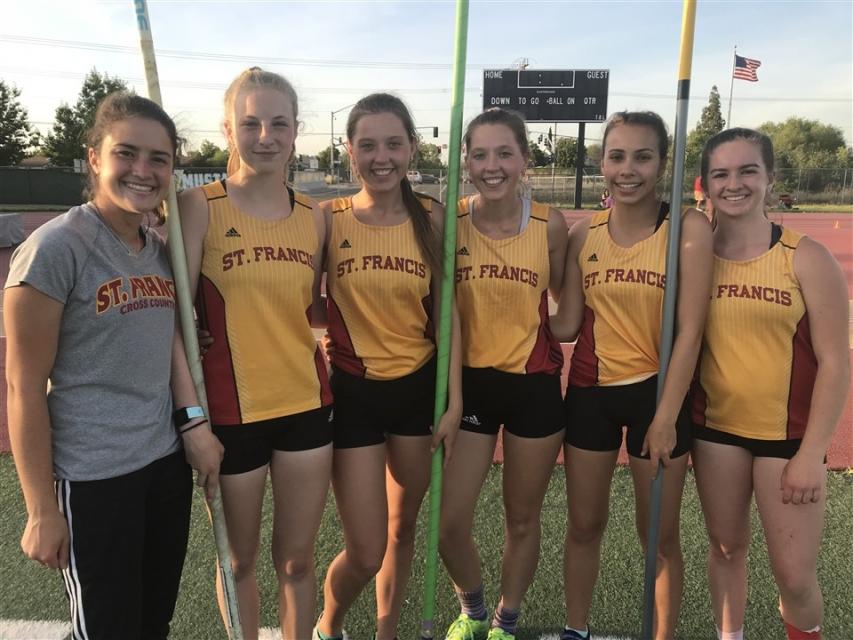 Elk Grove, Calif. – The St. Francis track and field team was led by pole vault champion Meghan Ladd in scoring 18 points Friday in the opening day of the Delta League Championships. The Troubadours scored 18 points on the night in three finals and advanced 18 student-athletes in the trials to next week's finals.
Ladd won the pole vault with a clearance at 10-11 and the Troubadours received a fourth-place finish by Isabelle Rudis in the triple jump (34-9.25) and sixth-place by Sarah Healey in the shot put (29-7) in finals contested Friday.
Freshman Reyna Johnson led the strong group of runners advancing to the finals. Johnson finished second in the trials in the 100m hurdles with a personal-best time of 15.07. She also had a personal-best in the 100 meters with a 12.78. Isabelle Grassel led four qualifiers in the 100 meters with a 12.67 for fourth-place in the preliminaries.
Sophomore Haley Silva led five qualifiers in the 800 meters with a third-place finish (2:21.27). Senior Yahsmeene Duffey qualified third in the 300m hurdles with a personal-best 47.19.
Two Troubies won Frosh-Soph titles in finals on Friday. Freshman Molly Chambers won the pole vault with a personal-best clearance at 9-6. SF placed four overall in the top five including sophomore Sasha Utter with a personal-best 9-0 for second and freshman Madison Gravelle and sophomore Katya Utter tying for fifth at 8-0. Freshman Giovanna Rudis won the Frosh/Soph triple jump league title with a personal-best leap of 34-2.25.
St. Francis is second overall with 34 points in the Frosh/Soph event.
Remaining field events and running event finals will be contested on Friday, May 11 at Monterey Trail.
Delta League Trials Results
100 Meters Varsity - Prelims x

4.

11

6.

9

9.

11

13.

12

17.

11

100 Meters Frosh/Soph - Prelims x

2.

9

15.

10

23.

9

200 Meters Varsity - Prelims x

8.

11

11.

11

18.

12

19.

12

11

200 Meters Frosh/Soph - Prelims x

5.

9

12.

10

10

9

400 Meters Varsity - Prelims x

12.

12

9

11

400 Meters Frosh/Soph - Prelims x

2.

9

9

9

800 Meters Varsity - Prelims x

3.

10

7.

11

8.

9

9.

12

14.

11

21.

11

23.

11

24.

11

800 Meters Frosh/Soph - Prelims x

2.

10

4.

10

5.

9

11.

10

13.

10

18.

9

19.

9

20.

9

21.

10

22.

9

24.

9

27.

9

28.

10

31.

10

3200 Meters Frosh/Soph - Finals x

10

10

100m Hurdles - 33″ Varsity - Prelims x

2.

9

5.

10

6.

12

11.

11

100m Hurdles - 33″ Frosh/Soph - Prelims x

3.

9

7.

9

9.

9

11.

10

300m Hurdles - 30″ Varsity - Prelims x

4.

12

12.

12

300m Hurdles - 30″ Frosh/Soph - Prelims x

5.

9

7.

9

10

Shot Put - 4kg Varsity - Finals x

6.

11

11.

12

12.

12

14.

12

16.

12

Shot Put - 4kg Frosh/Soph - Finals x

9.

9

9

Pole Vault Varsity - Finals x

1.

10

10

Pole Vault Frosh/Soph - Finals x

1.

9

2.

10

5.

9

5.

10

Triple Jump Varsity - Finals x

4.

12

Triple Jump Frosh/Soph - Finals x

1.

9