Track and Field Sets Stage at Masters Trials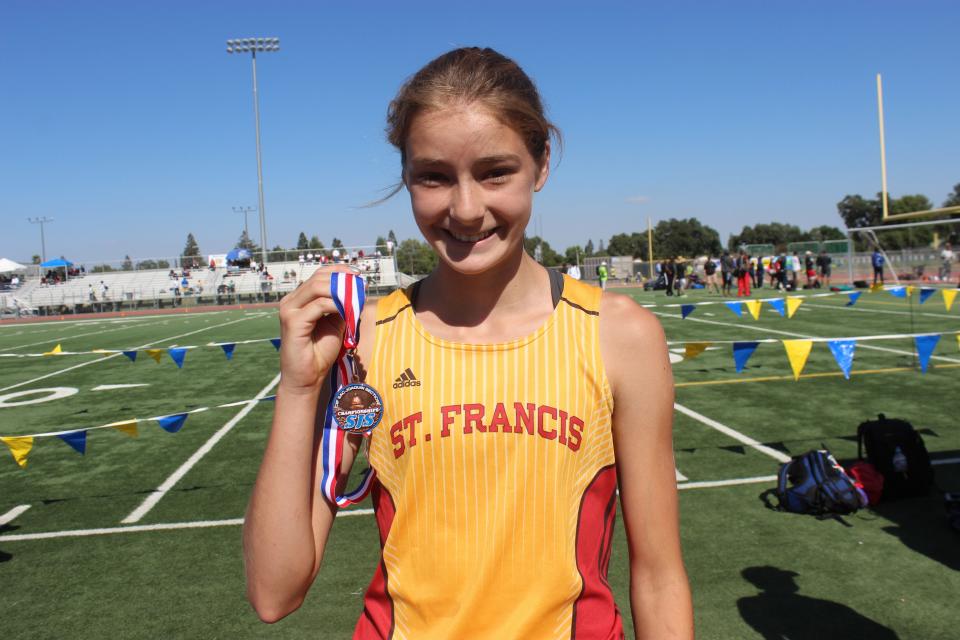 ELK GROVE, CALIF. – The St. Francis Troubadours will run in five individual events and the 4×100-meter relay on Friday seeking berths in the CIF State Track and Field Championships after qualifying at the Sac-Joaquin Section Masters on Thursday.
Freshman Isabella Palchak competed in the lone final for the Troubies on Thursday, jumping a personal-best 5-1 to tie for fourth and finish just out of the top three needed to compete in Fresno next weekend. She cleared 4-11 and 5-1 on her first attempts, starting the completion clean before failing to clear 5-3. But it was an amazing run for the freshman.
"It was exciting because it was a personal best so I was happy," said Palchak. "It was a really good season and I improved a lot."
The 4×100-meter relay cruised into the finals by winning their second heat and posting a time of 48.00, just a fraction off their season best from a week earlier. They enter Friday with one of the top chances to reach the state meet with their senior-laden lineup of Elizabeth Hennessy, Meaghan Rogers, Allie Shebert and sophomore Isabelle Grassel.
Individually, Rogers advanced to the 100 meter final with a 12.40 to qualify eighth overall. She was also 13th in the 200 meters in 26.08. Hennessy scratched the 100-meter hurdles to focus on her signature event, placing fifth in the 300-meter hurdles in 44.66. Sophomore Serena Shimada was 11th overall in the 100m hurdles in 15.81, completing her season as the third best sophomore in the section.
"It feels good," said Shimada. "Hopefully, I can make it further next year. I will have more experience."
The Troubadours advanced two runners into the 800 meter final with sophomores Sophie DeBenedetti and Noelle Lynch reaching the final with qualifying times of 2:17.37 and 2:17.97, respectively.
Grassel will compete in the long jump final starting at 3 p.m. looking to continue her improving leaps again this week, while freshman Meagan Ladd will vie for a spot in the state meet in the pole vault starting at 5 p.m. Running events begin at 6 p.m. with the 4x-100-meter relay with Troubies set to start in the 100m (7:25 p.m.), 800m (7:38 p.m.), 300m hurdles (7:57 p.m.). Sydney Vandegrift will close the meet for SF with the 3200 meters at 8:29 p.m.
Sac-Joaquin Section Masters Trials Results
100 Meters
8. Meaghan Rogers, 12.40
200 Meters
13. Meaghan Rogers, 26.08
800 Meters
10. Sophie DeBenedetti, 2;17.37
11. Noelle Lynch, 2:17.97
100m Hurdles
11. Serena Shimada, 15.81
Elizabeth Hennessy, DNS
300m Hurdles
4×100 Relay
2. St. Francis (Elizabeth Hennessy, Meaghan Rogers, Alyssa Shebert, Isabelle Grassel), 48.00
4×400 Relay
16. St. Francis 4:09.18.
High Jump
T4. Isabella Palchak, 5-01.00