Track's Meaghan Rogers to Compete for American River College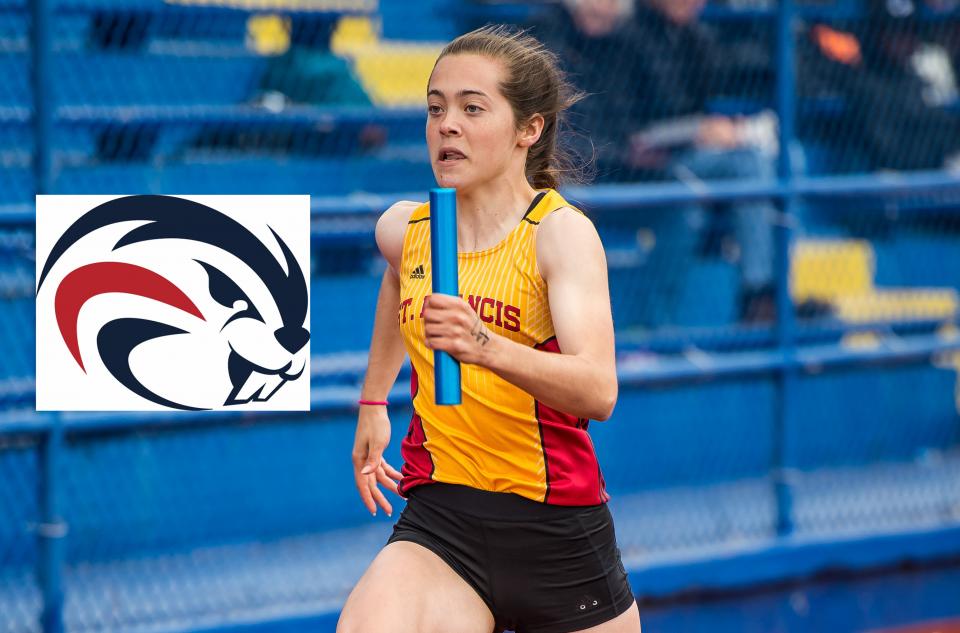 SACRAMENTO, Calif. – Recent graduate Meaghan Rogers '17 will continue her track and field career at American River College this fall after a standout out career for the Troubadours.
"After much thought, I have decided that I will continue my track and field career at American River College," said Rogers. "I spent most of my senior year looking into four-year universities to compete at, and while I had a few options as to where I could run, I ultimately decided to go to American River College. Due to financial reasons and where I want to eventually end up, this decision works best for me.
Rogers will run for sprints coach Michael Reid at ARC. He is a two-time California Community College Coach of the Year. He has coached 70 Conference Champions, 28 Nor-Cal Regional Champions, 14 State Champions, and 88 All-Americans from 2005 to present (California Community College).
"There are a few universities that I would like to one day attend for my final years of undergraduate school, and I plan on transferring to one of them where I will further both my educational and athletic careers," said Rogers. "The decision to first attend junior college permits me to continue to work towards my goal. I know that my time spent at ARC will only benefit me, as I will be coached by Michael Reid, whom I have known for most of my life. I have previously worked with him, and he has a phenomenal history of developing athletes and sending them to well renowned universities to compete. He has taken me under his wing, and because of this I trust him and I know that he will help me to reach my full potential."
Rogers plans to run and jump for the Beavers, setting up a transfer in two years.
"This decision was not easy, but I know in my heart that it is what's best for me," said Rogers. "I'm thankful to have such amazing family members, coaches, and friends who fully support me in my decision and I'm beyond blessed to have a team that I know will welcome me with open arms next fall. I am excited to continue to do what I am passionate about and I can't wait to see where the next chapter takes me.
Rogers, who has a personal-best long jump of 17-8, turned her focus to sprinting last year and has made major strides. She has lowered her bests in the 100m by over 1.5 seconds and 200 meters by four seconds over her high school career. She ran a personal-best wind-aided 12.13 in the 100 meters and reached the SJS Masters in the 200m with a PR of 25.56 at the section meet.
"I want to see how far I can go with sprinting," said Rogers. "I just started sprinting last year really. It has been kinda cool seeing how far it has taken me. It is my main focus. I used to be a jumper and now sprinting is my thing. (It was a) great end to my senior year."
Rogers reached the Sac-Joaquin Section Masters final in the 100 meters, placing seventh in 12.52. She was also a finalist at sections and was top-five in both sprints at the league championships.
"It is an honor to even be running here," said Rogers of reaching the Masters meet. "This is my first and last time at this meet and I never thought I would make it here. To make it this far is amazing and these are really fast girls. It is really cool to compete with them."
She was also a member of the 4×100-meter relay that earned a medal with a fourth-place finish in the first race of the day, clocking a time of 48.08. They came within one spot of reaching the state meet.
"I was really proud that we made it here (to Masters)," said Rogers after the Masters meet. "We put the relay together this year. We had big shoes to fill and we did not know if we would make it as far. Here we are second year in a row almost going to state. It is more than I can ask for."
Rogers, who lives in Orangevale, looks back on her time in the red and gold for the Troubadours.
"It has been amazing to say the least," said Rogers, who has a team captain as a senior. "It has had its ups and downs. I have been through so much with my senior ladies. But it has given me so much. I have learned a lot. It has taught me a lot and it is my family. It is going to be sad leaving but my heart is always going to be at St. Francis. It is where I began and it has got me to this point. I could not ask for more."