Volleyball Sweeps Christian Brothers in Holy Court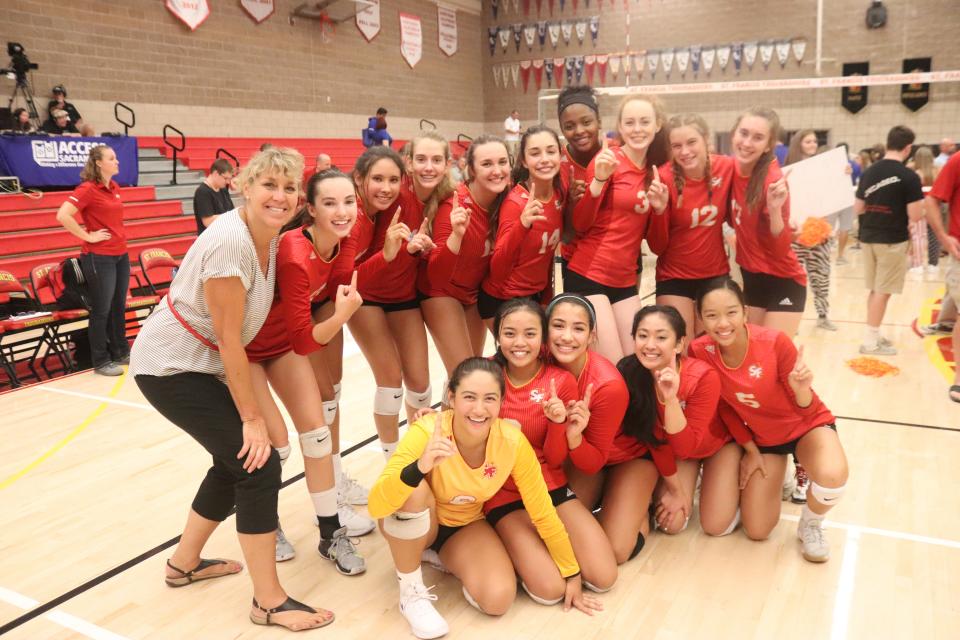 SACRAMENTO, Calif. – The St. Francis volleyball team swept Christian Brothers 25-14, 25-13, 25-14 to take the annual Holy Court matchup in front of a sold out St. Francis Gym and live local television audience.
"I am really proud of the way they played," said Head Coach Alynn Wright. "They played for each other, focused and let things run off their back and focus on the next ball. We only gave up two runs of three in the entire match."
The Troubadours received strong support from the pro-Troubie crowd.
"Whether we are here or at Christian Brothers, the zoo is amazing," said Wright of the St. Francis student section led by SBO President Camille Enes. "They give these girls energy. They helped give them the energy they needed."
Senior Kathryn Kramer led the team with 15 kills and hit 58.3 for the night with just one error.
"It feels so great" said Kramer. "We put so much hard work and effort into this. I am glad we came through. Once we got a good pass and set, we just slammed it down from there. We came together as a team and worked hard. It showed today."
Sophomore Ellie Eichhorn had 22 assists and junior Jesiree Moral contributed 20 assists as the they spread the offense against the Falcons.
"Both setters did a really good job involving all the hitters," said Wright. "Just when they would stack outside with Kathryn or Alexa, they set it back or they would move and set the middle. They did a good job setting away from the block. It was fun to see more kids get kills."
Junior Alexa Edwards added 14 kills for the Troubadours as six players had two or more kills in the contest.
"It feels amazing," said Edwards. "I get just off my teammates energy and they helped me play my best."
The Troubadours swept all three matches on the night as the freshman and junior varsity units each posted 2-0 wins over the Falcons.
Overall, the Troubadours posted a perfect week including wins over Davis and Pleasant Grove to open Delta League play with 2-0 marks.
St. Francis survived a late charge from Pleasant Grove on Thursday night. The undefeated Eagles took the third set before the Troubadours closed out the match 3-1 to take the key match. Edwards led the team with 25 kills.
St. Francis continues its home stand with a match on Tuesday against Elk Grove.