Volleyball's Schutz Named a Lackey Scholarship Recipient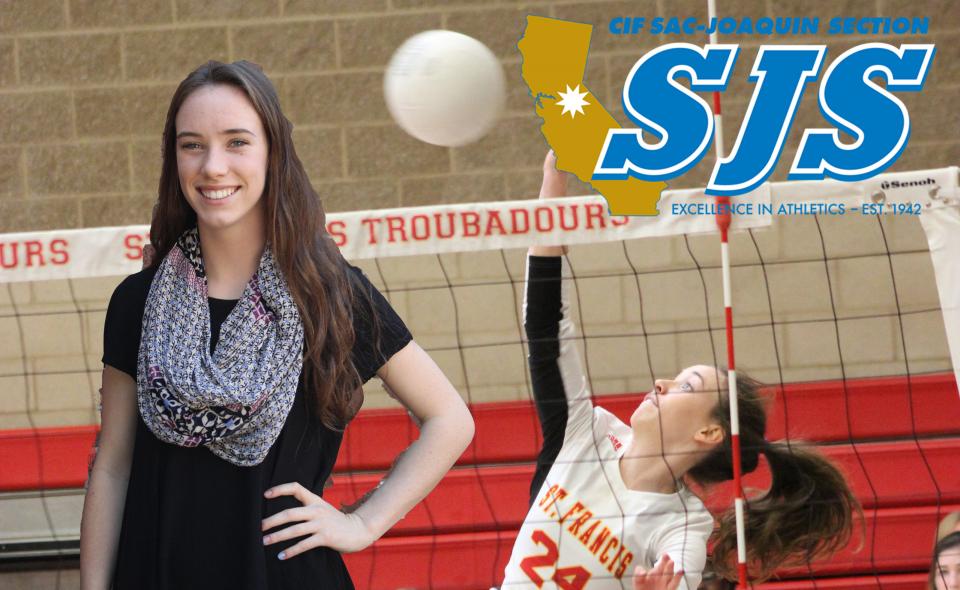 LODI, Calif. – St. Francis senior Claire Schutz was named a recipient of the A. Dale Lacky/CSEA Scholarship awarded by the CIF Sac-Joaquin Section office and will recognized at a ceremony on April 25. Schutz was selected to represent the Delta League as the league's top female student-athlete and will receive a $500 scholarship.
"It means a lot because it is recognizing sports and school," said Schutz. "It has been one of the biggest challenges here at St. Francis. It is great to be recognized for both. Academics have always been really important to me and I had dreams of going to schools like UCLA and UC-Berkeley."
Schutz will decide between the two schools after earning admittance to both. She hopes to study international development.
"Claire is an exceptional student-athlete," said Head Coach Alynn Wright. "She has excelled in the classroom and on the court, as well as in the community. She is an outstanding role model and has made us all proud."
Schutz, who was a three-year letter winner for the Troubadours, was a two-time All-Delta League selection and was chosen to play in the Optimist All-Star game as a senior. She helped lead the team to the CIF NorCal and Sac-Joaquin Section semifinals in 2016, recording a career-best 301 kills on the season.
"I will always remember the win against Whitney," said Schutz, referring to the NorCal quarterfinal upset. "We had a big crowd and it was super close after we had lost to them two times before. It will be my highlight of all my time with St. Francis volleyball."
The award, named after former Section and State CIF President, A. Dale Lacky, recognizes the top male and female student-athletes within the Section.
Schutz is the fifth Troubadour to be awarded the Lackey scholarship in school history.
ST. FRANCIS CIF SAC-JOAQUIN SECTION A. DALE LACKY STUDENT-ATHLETE AWARD WINNERS
2005 Mairin Meltvedt
2006 Colleen Buehler
2007 Lauren Brunner
2015 Lauren Charter
2017 Claire Schutz