Water Polo Loses to Lincoln in Section Quarters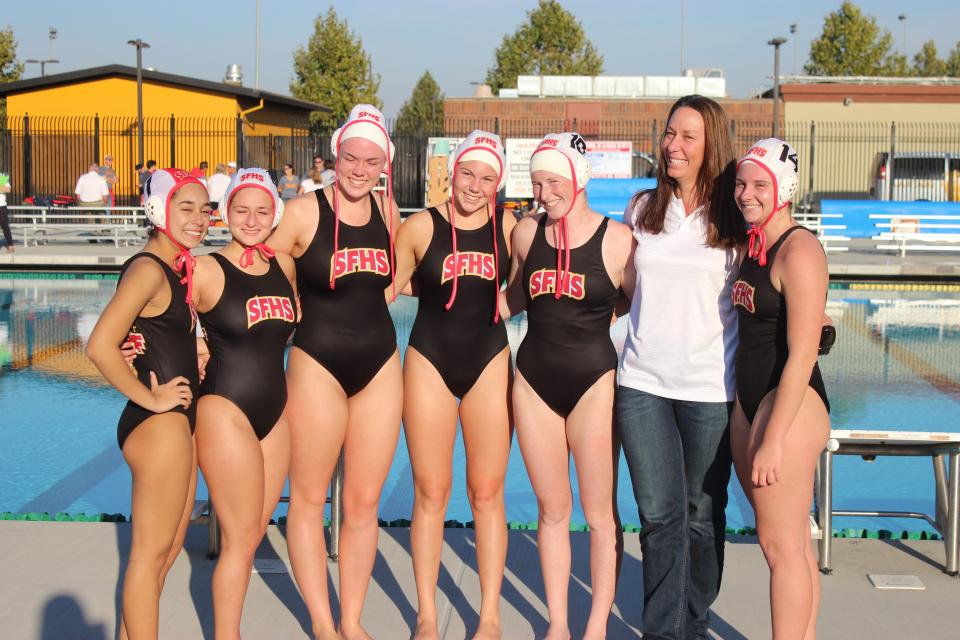 STOCKTON, Calif. – The fifth-seeded St. Francis water polo team lost 7-3 to No. 4 seed Lincoln of Stockton at Stagg High School in the Sac-Joaquin Section quarterfinals Friday.
"I honestly feel the way the game was called in the first quarter took the girls out of their system of play," said Head Coach Heather Moody. "We were stepping back instead of being the aggressor. Our game is to establish a press and maintain a front and we were not able to execute that today. Offensively, we had a hard time breaking their press and we struggled getting the ball to front court and executing and finishing our shots. "
St. Francis (11-11) trailed 1-0 at the end of the first quarter and 3-1 at half after senior Sally Ferguson scored a goal.
"In the first half we came in kinda tentative because we were all nervous," said senior captain Frances Barbour. "We really wanted to win but there were little mistakes here and there that added up."
Lincoln (15-6) added a pair of goals in the third and fourth quarters, building its lead despite two goals by freshman Kendall Houck.
"We are disappointed but proud of the team because we felt like we left it all in the pool," said Barbour. "I don't think we ever gave up and we played to the whistle. I am proud of us."
Senior goalie Maddy Vine had eight saves in the match, keeping the Troubadours in the game.
"She killed it," said Ferguson. "Watching her develop as a goalie especially this season, she works so hard in practice. Seeing it pay off for her in the goal for us is amazing."
The loss ended the careers for five seniors on the team, including Barbour, Ferguson, Vine, Kayla Wehner and Aubree Barr.
"I am sad it is over," said Ferguson. "St. Francis water polo has been such a big part of my life and high school experience. (I am sad) it is ending."
Moody, who had led the program to the playoffs each of her four seasons including last season's section title, will miss the first group that part of her program for four years.
"They are an amazing group of ladies," said Moody. "Wherever they go and whatever they do, they will be very successful because they work hard to get there."
Houck led the team with 38 goals on the season, while Ferguson finished with a team best 24 assists and 59 points.
"Water polo is always going to be part of my life and hopefully Heather is going to be part of my life," said Barbour. "The friendships I made through it our going to stick with me."
| Lincoln 7, St. Francis 3 | 1 | 2 | 3 | 4 |
| --- | --- | --- | --- | --- |
| St. Francis | 0 | 1 | 1 | 1 |
| Lincoln (S) | 1 | 2 | 2 | 2 |
SF – Houck 2, Ferguson.