50 Years of Vocation
A Lifetime Of Faith, Excellence, Leadership, And Service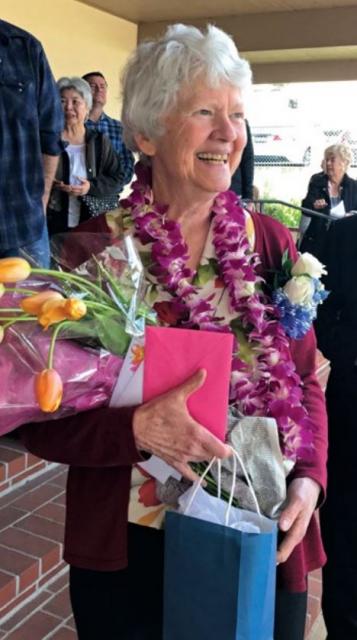 May 28, 2018 wasn't an ordinary Sunday at St. Robert's Catholic Church in San Bruno, CA where they were celebrating the golden jubilee of Sr. Sheral Marshall '65. Entering the packed church, Sr. Sheral radiated the warmth and joy she has become known for in her life of service to others. She was honored with words that spoke of her dedication to the message of Jesus, the smile and encouragement she spread, and her boundless energy, comparing her to the Energizer Bunny. With Sr. Sheral on staff, it is no wonder that St. Robert's is one of the most active parishes in the San Francisco Archdiocese.
Sr. Sheral always felt that God was with her and knew she was blessed to grow up in a religious family that attended Mass every Sunday and incorporated prayer into their daily lives. And while she had many wonderful influences, it was her sixth-grade teacher, Mercy Sister Maura Power, who was her early inspiration for religious life. "She made all of us feel loved and appreciated. I remember thinking if I could help people feel that they are valued, important and that God loves them, it would be something wonderful to do with my life," Sr. Sheral recalls.
Sr. Sheral's high school years are reflective of the early history of St. Francis Catholic High School. She spent the first two years at the St. Francis elementary campus on K Street; during their Junior year, the class joined Bishop Armstrong. And her senior year was spent on the current campus, with the previous M Street entrance. The campus was still being finished the year the students came so they never had an assembly as there was no gym or hall that all the students fit in. With so much transition, Sr. Sheral notes that they didn't have as strong a sense of community. She remembers how her decision process evolved and changed during her high school years. A self-described studious and shy person, one of the groups she was involved with was a Sodality group that had a focus on prayer, volunteering and retreats—a precursor to our current Campus Ministry program.
No different than many freshmen, her first year focused on basic survival skills like how to open her locker. Sophomore year she thought about being a sister, but then Junior year arrived, and she wanted to be like everyone else and go to college and get married.
As a senior, she thought more about where she wanted to focus her life and energy: on marriage and a family or for a broader group of people as a Sister. She was also aware that she could "try out" life as a Sister which she couldn't do with marriage.
During her first years living with the Franciscan sisters, many young women who had entered with her decided to choose another path. But she found that it "fit" her and brought her much growth and happiness. During her high school years, there were three orders that served the campus: the Sisters of St. Francis, the Sisters of Notre Dame de Namur and the Sisters of Mercy. Sr. Sheral remembers having good relationships with Sisters in each order, so when she was exploring a life of religious service it took some discernment to select which order to join. In addition to her exposure to the Sisters at school, she had experience with the Franciscan Friars at St. Francis Parish and had always felt a draw to the life of St. Francis, ultimately making her decision to enter the Sisters of St. Francis of Penance and Christian Charity. Sr. Sheral pursued her studies at CSUS earning a Bachelor of Arts in English with a minor in Spanish (a gift she still utilizes today). She then went on to USF and completed a Master's in theology.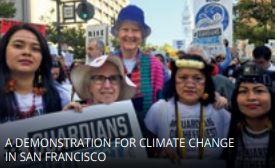 Sr. Sheral initially taught at St. Mary's Catholic Elementary School in Santa Maria before returning to Sacramento and her alma mater to teach at St. Francis High School. She noted that she found the students were different in the eight years since she had graduated. Their questions were different and more reflective of the times they were living in. Sr. Sheral taught freshmen religion classes as well as elective religion courses for Juniors and Seniors. One of her favorite classes to teach was called, "If you were accused of being a Christian, would there be enough evidence to convict you?" She loved the focus on really living out your faith and incorporating the Church's social justice perspective.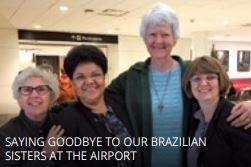 She stayed in Sacramento and gave vocation weekends with college-age and working young adults; she also met with those individuals discerning a call to priesthood or religious life. She traveled the diocese speaking to adults in parishes about everyone's call to service from our baptism. She also helped initiate and worked with the three year diaconate program to train deacon candidates and their wives for various ministries in the Church and the wider community; the first class was ordained in 1981. In 1985, she moved to the Bay Area and continued to do vocation work in the Archdiocese of San Francisco. She now works at St. Robert's Parish in San Bruno and is responsible for adult religious education, liturgy and social justice concerns.
"EVERYBODY HAS A GIFT, AND EVERYBODY NEEDS TO DO SOME KIND OF SERVICE… THERE HAS TO BE SOMETHING WE COMMIT OURSELVES TO THAT CHANGES THE WORLD."
And although the St. Francis pillars of Faith, Excellence, Leadership and Service were not written on banners during Sister Sheral's days at St. Francis, she nevertheless took them to heart and embodies them through her life. "Everybody has a gift, and everybody needs to do some kind of service," Sr. Sheral reminds us. She wants all Troubies to choose a career where they are going to make a difference. And lead in your family, workplace, neighborhood, and university. And like the Troubie she is, Sr. Sheral exhorts, "There has to be something we commit ourselves to that changes the world."

It is no wonder it was said of Sr. Sheral at her golden jubilee, "Her life is her most powerful sermon."