Simply Elise!
Founder Of SimplyRecipes.com, Elise Bauer '78 Shares Her Recipe For Life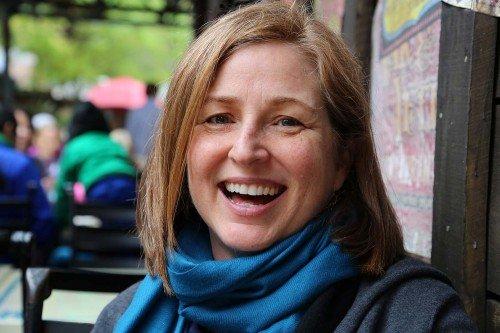 The eldest of six children, Elise Bauer was taking the world by storm when she walked across the Memorial Auditorium stage to receive her high school diploma and embark on an undergraduate degree from Stanford. The only one of her siblings to attend a private school, Elise's parents sacrificed plenty to provide her with a St. Francis education. Her father's German background and her mother's Hispanic background, coupled with their ingenuity and creativity, made the family dinner table a place of warmth and nourishment.
Elise would describe herself as a bit of a rebel: tell her she can't do something, and she'll set out to prove you wrong. That rebel spirit served her well as she was able to get through Stanford in five years with an undergrad degree in Environmental Earth Science and a master's in food research. Her ambition at that point was to focus on the economics of food on a global scale and work in a developing country. Two obstacles to this vision were a lack of language skills and huge student loans.
From her St. Francis and Stanford education experiences, Elise realized that both environments created a place of beauty and excellence in the world. She knew that she wanted to create that high standard of excellence, elegance and beauty in everything she did. She embodied the Stanford spirit of creating humans that would tackle the world's hardest challenges and St. Francis' motto of graduating women who change the world. She just needed to figure out how to pay off those student loans! Hence, an early consulting job working for Boston Consulting Group. She even managed to complete a second graduate degree, earning an MBA from Stanford.
Elise embarked on a year in Japan where she studied martial arts and received her black belt in Aikido, a Japanese art that practitioners can use to defend themselves while also protecting their attacker from injury. She finds the discipline a great way to manage anxiety and create a way for harmonious energy. She has continued to practice and now has a 3rd degree black belt.
EARLY CAREER YEARS
In the mid-80's with the personal computer industry taking off, Elise joined Apple Inc. Even before the internet, working at Apple was an amazing opportunity to see what hardware could do and what it would enable people to do with software.
Elise spent a few years in the mid-90's working as a consultant before joining the start-up company Multitude, creator of Firetalk, VOIP service that allowed voice conference calling over the Internet. Think Skype, before there was Skype. This was a very intense couple of years for Elise and the company. Elise and the CEO raised $35 million on Wall Street, and helped build the company to more than 120 people. Then the dot com crash of the early 2000's struck, and they had to file bankruptcy.
Having worked tremendous hours and putting so much of herself into her work and education, Elise was exhausted. In October of 2001, what initially appeared to be flu-like symptoms was later diagnosed as severe chronic fatigue syndrome. During this time, her roommate and best friend was diagnosed with terminal brain cancer and died three months later.
AN IDENTITY CRISIS
Physically and emotionally exhausted, Elise moved back to her parents Carmichael home. She could not muster the energy to work and support herself. Before this time, Elise viewed herself as a competent, intelligent woman with a "big life," big career, boundless energy and lots of friends and activities. Heck, this lady even swam Alcatraz not once, but twice! Now she couldn't walk 50 feet without losing her breath and was still incredibly sad about the loss of her friend; unfortunately, the chronic fatigue syndrome did not leave her with any reserve to hold this sadness.
She had to come to grips with this identity change, spending much time pondering who she was and how to deal with the fatigue and grief. Elise would be the first to recognize that moving home was a blessing, and she was grateful that she always maintained strong relationships with her parents. But this new chapter caused a complete surrender into God's hands. This was not the life she had envisioned for herself.
THE SLOW BOUNCE BACK
While she always enjoyed a good meal, cooking and meal prep had not been anything she invested time in. During the slow process of recovering and regaining her strength, Elise decided she should learn to cook from her parents. Their diverse cultural backgrounds and the challenges of feeding a large family on a state worker's salary, resulted in their being very good scratch cooks and gardeners. As she was able, Elise would pull up a chair in the kitchen and start writing their recipes down. Initially thinking she would preserve these for her family, she spent several hours a day hand coding the recipes on her elise.com website.
One day a friend suggested she start a blog. Not knowing what a blog was, she googled it. She quickly realized blogging was an easier way of publishing than hand coding and she would have access to her info anywhere – and so would others! Not knowing what to call it, her Mom weighed in and suggested, "why not call it Simply Recipes." Hence her SimplyRecipes.com blog was launched in 2003 and eventually became the number one cooking blog in the world with more than six million unique visitors per month.
It may have seemed like the "old Elise" was back, but two years into a slow recovery, she relapsed and was back in bed full time. She didn't know how to steer out of this. The "trusting God" came back into play. She knew she had to allow the time needed and allow herself to just "be." She wasn't going anywhere. She made the decision then and there, whatever time it took – even the rest of her life – she was going to focus on her healing. She spent the next five years living with her parents (she now lives down the street from them).
As she was regaining strength, her blog continued to grow. She was so excited when she made $1 a day, then $5 and then $10 – and as she moved toward thousands a month, she knew she had a real business. When asked how Simply Recipes became so big, Elise humbly and accurately responds: "Luck and 13 years of hard work!" She notes that the world of blogging was quite different in 2003 with most of the attention focused on tech and political blogs. This enabled Elise to create a brand and build momentum as there weren't as many food and recipe sites online as there are now.
With just herself and minimal staffing, Elise reached a turning point in 2016 regarding how much she and her team could do on their own to continue to grow the site. The market was changing at lightning speed, and the demands of running a 24/7 blog, creating brilliant recipes with drop dead gorgeous photos in every format possible, was taking a toll. It was more than a full-time job for several people to do this well. Her options were to self-fund or sell. Not wanting anyone to wreck what she had spent years building, Elise entered talks with Fexy Media. Fexy had previously purchased Serious Eats, and Elise was impressed with the way they preserved what had made that site special. In 2016 she sold Simply Recipes to Fexy and stayed on for the next three years as president.
RECIPE FOR A NOURISHING LIFE
While it's easy to be impressed with her many hard-earned successes, the true beauty of Elise is her grace, resilience and optimism. She truly knows the recipe for creating a life that nourishes body, mind and spirit, and lucky for us, she has shared her insights with her Troubie sisters.
We all fall down; the real challenge in life is getting back up. There is tremendous power in social support. Nurture the close relationships in your life and don't take them for granted. Before you fall down, make sure you've done the work and lived the life to create these close friendships and ties. We need each other; our friends and family need us, and we need them.
10 minutes: When you are down, allow only 10 minutes of self-pity a day. You're going to go there anyway, so manage the time you spend there. Allowing yourself to be completely miserable is a lot of wasted energy.
Always look toward the light and what brings you joy or makes you happy. For Elise, this was time with her Goddaughter and good conversations with her Mom.
Notice what drains you physically, emotionally or spiritually and choose those people and things that nourish you and your energy. Give yourself permission to try different things; you never know what will spark joy or fulfillment.
Keep moving. There is always a way around; you may not get where you thought you were going but keep moving forward in some direction.
Stay curious! Anything you focus your attention on can become very interesting. While initially dismissive of all that went into cooking, Elise learned it was important and infinitely interesting. "This is something I can study and investigate for the rest of my life," she shared.
While life may not have followed the plan and timeline Elise once shared with her St. Francis art teacher, Mrs. Doglietto, nevertheless, it's been a masterpiece woven together by the hand of God. When she recalls her years as a Troubadour, Elise is quick to point out that St. Francis is where she discovered who she is and really connected to God. She loves the community and the focus on service, caring for each other and being a place that focuses on the values of forgiveness, love, empathy, kindness and service. Sounds like ingredients for a rich life.
Originally Published in Winter 2019 Pax et Bonum Magazine