Alumna Allie Wegener Making Her Mark for UC Davis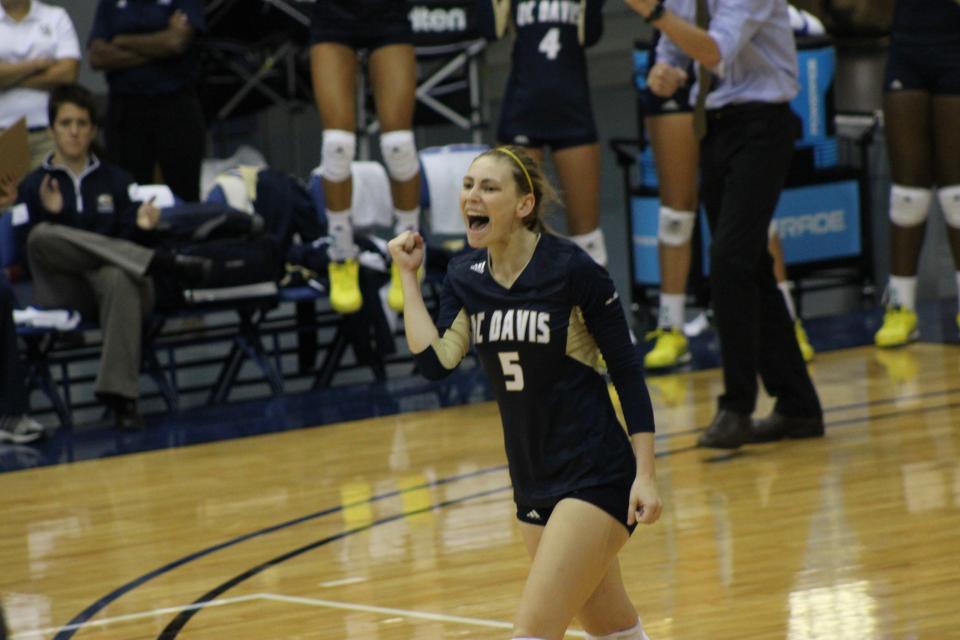 DAVIS, Calif. – Allie Wegener started her sophomore season at UC Davis this month and the former St. Francis volleyball standout is enjoying every moment of her collegiate career at the local school.
Wegener is starting for the Aggies and ranks second on the team in kills and digs per set in the first nine games this season for first-year Head Coach Dan Conners.
"I love this season so far," Wegener after a recent match. "I love having a new coach. It is like having a freshmen year all over again. It is really interesting. Even though we did have the best start, it has not been as hectic as I expected. We have progressed so much as a team. I see us getting so much better every day."
UC Davis is 3-6 on the season and has won three of their last five matches, including a sweep in their home tournament Sept. 6-7 that included a win over Portland and fellow Troubie Ali Koumelis.
"It was really nice playing against Ali," said Wegener after the tournament. "Portland is a really good team. We do a really good job with scouting and I think that has a lot to do with our success. We did a good job of keeping our composure and we tried to be as a successful as possible."
After a weekend to trip the University of Washington tournament last weekend, the Aggies play rival Sacramento State on Tuesday as part of the Causeway Cup competition. It begins a five-match stretch against in-state opponents that includes trips to Cal State Fullerton, UC Irvine, Cal State Northridge and Long Beach State.
Since school does not start until October at UC Davis, Wegener and her teammates have been in full volleyball mode for the whole month.
"Lots of volleyball and lots of Netflix," joked Wegener.
After the trip across California, the Aggies begin their Big West schedule starting with national power Hawai'i on Sept. 26. They are ranked No. 22 in the latest NCAA rankings for 2014.
"I am excited for conference to start because it is my favorite time (of the year)," said Wegener.
During her freshmen season, Wegener and UC Davis upset the nationally-ranked Wahine, who came to Davis ranked No. 8 in the nation.
"It was the most amazing feeling ever," said Wegener. "It was our highest attended game and we won in five and that made it do much better because it was such a fight for the win. "We worked so hard for it and it was so much fun to share that with all my family. It was awesome."
The Hawai'i match was part of a Big West schedule when Wegener started to get more court time. She recorded six double-digit dig games in league play highlighted by a double-double in the season finale with 14 kills and 14 digs against Cal State Northridge.
Wegener's strong play gave her friends and family from Sacramento plenty to cheer about. Parents Mark and Wendi, a former UC Davis softball player who is a member of the school's Hall of Fame, join her extended family and friends at all of Allie's home games.
"It is my favorite thing ever," said Wegener. "My grandparents get to come to the games; my parents get to come and all of their friends. It is the best because I have my own cheering section."
The cheering section also plans to make the trip to Hawai'i for the second match against the Wahine over Thanksgiving.
"It will be sad that I won't get to spend it here with my family but I think they will come out to Hawaii," said Wegener.
She looks back on her St. Francis career fondly. She was a two-time Delta River all-league selection and helped the Troubadours to a 76-9 record over her final two seasons. She was an integral part of the state championship runner-up team in 2012, a loss that still stings but has happy memories attached to it.
"It was the best thing ever," said Wegener. "Even though it was heart-breaking, it was so much fun getting to be there with girls I spent four years with. It was what we worked for and it was so nice to finally get there and be with my best friends."