Alumna Koumelis Enjoying First Year at Portland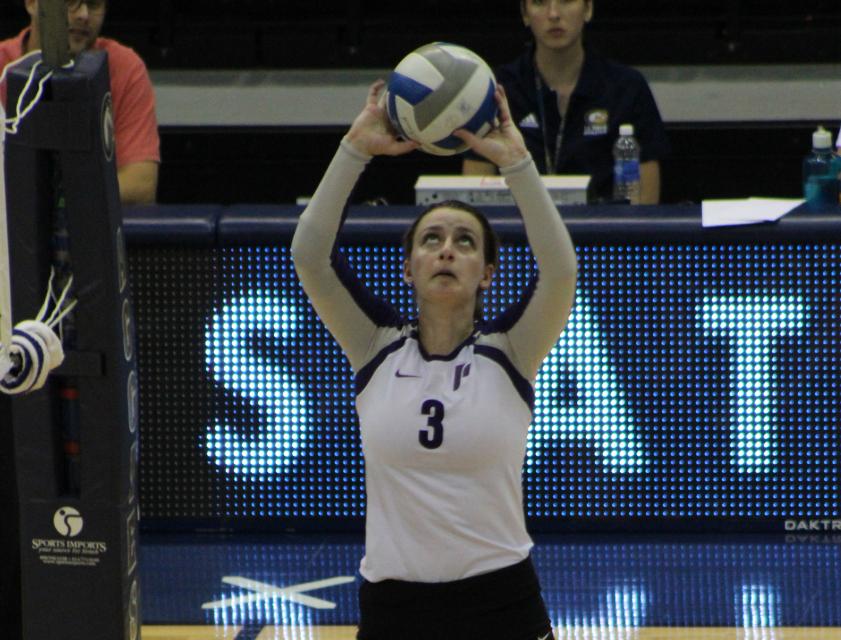 PORTLAND, Ore. – Ali Koumelis did not have any chance to settle into collegiate life at Portland, earning a spot in the Pilots rotation right away in her freshman season in their 6-2 system.
"I have not run a 6-2 in a while but it works for our team," said Koumelis, a 2014 graduate of St. Francis. "I get to work on fewer things like I don't have to work on blocking. So I can focus more on defense so I get more practice time doing that."
The Roseville native has played in all 48 sets this season for the 5-8 Pilots. She is averaging 5.23 assists per set and is fourth on the team in digs.
"We are really happy with the way she is working hard every day," said assistant coach Nellie Coleman. "She is playing with all new players so she is doing a really good job adjusting and learning the way we want to run our system. We are really happy with the way things are going right now."
Coleman was an All-American setter at UCLA and has spent the last five years on the U.S National Team.
"I am really lucky to have a coach at such a high level coaching me," said Koumelis.
The Pilots spent the first five weeks of the season on the road, forcing a quick adjustment for Koumelis in balancing her academics and time management. They opened conference play this past weekend at the University of San Diego and BYU.
"It is way different than high school," said Koumelis. "You are in class half the time so there is a lot of outside studying."
The team has played in six different cities over the first five weeks, taking trips to Texas and Idaho and two trips to both California and Utah. Koumelis got a quick trip home in her second week when Portland played in a tournament at UC Davis.
"It was nice to fly to Sacramento and know where I was going," said Koumelis.
Despite the heavy travel schedule, she has been making the adjustment on and off the court.
"It is an adjustment for sure but we have a lot of resources behind us," said Koumelis. "I feel like I have a lot of people to turn to if I need help."
The schedule at the collegiate level is packed, leaving little time to waste. On the road, homework is done on the plane and in between games.
"I really don't have any down time," said Koumelis. "If I am not in class, I am in practice. If I am not at practice, I am eating or studying. We stick to strict schedule so I always know what to do."
Coleman says the staff has been happy with her development out of the gate in her first season.
"Everything is an adjustment," said Coleman. "Missing class three days a week out of five (is tough), so that alone is an adjustment. (It is an adjustment) going to sleep when you want to go to sleep not when your parents tell you to go to sleep. We are asking her to do a lot, step up and play for us right off the bat. There are adjustments from every angle of her life and she is doing a really good job handling it."
The Pilots play their first home games next weekend against Loyola Marymount (Oct. 2) and Pepperdine (Oct. 4) and former Troubadour Gaby Palmeri.
In addition to seeing former teammates on the court like UC Davis' Allie Wegener, the Portland campus is full of Troubadour alumnae including cross country standout Lauren LaRocco.
"We actually share a locker room and I see her all the time," said Koumelis of LaRocco. "There are 11 total girls who came to Portland from my class so I see most of them."