Alumna Nightingale Hoping for Another Championship
Troubie Named to CIF All-Century Team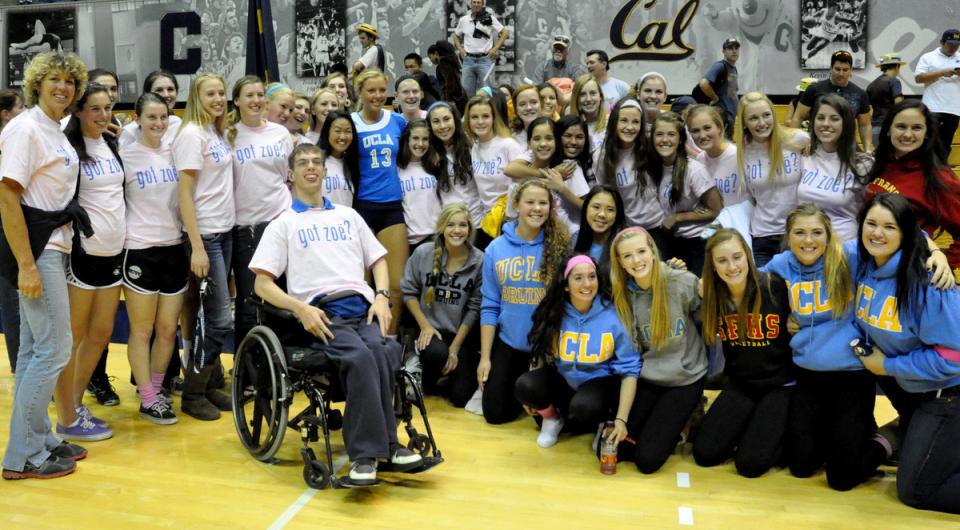 LOS ANGELES, Calif. – UCLA senior middle blocker Zoe Nightingale told college coaches she wanted to play for and win a national championship. She did just that in her freshmen year and now she wants to perform an encore to bookend her career.
Nightingale, a 2011 graduate of St. Francis, helped the Bruins win the title in her freshman season, earning a selection to the NCAA All-Tournament team in the process.
"I came home for my first break with a National Championship and my mom showed me the resume I was sending to colleges when I was a freshmen and sophomore in high school," recalled Nightingale before traveling to Arizona State for match. "It said my goal was to play in and win a national championship. I don't remember if I said it because I wanted to sound good for the colleges or if I really wanted it. It was cool to see on my resume and know I actually did that."
Not a bad start to her college career. But it was no surprise.
Nightingale had plenty on her resume to brag about coming out of St. Francis. She was named the Sacramento Bee Player of the Year as a senior and was ranked 19th on PrepVolleyball's Senior Aces list. She earned three Delta River League Most Valuable Player, All-Metro First Team and All-City First Team awards (2008-10) and a pair of All-CIF First Team honors (2009-10).
The accolades helped her earn a spot on the prestigious CIF Fall All-Century team released last week. She joined an impressive list of women including tennis standouts Billie Jean Moffitt and Lindsey Davenport, runner Mary Decker and volleyball players Holly McPeak and Kerri Walsh. The list also included football stars Tom Brady and Aaron Rogers among the talented group.
"It has been cool," said Nightingale, who received All-American accolades from PrepVolleyball, AVCA Under Armour, MaxPreps and ESPN Rise. "I am pretty far removed from my CIF days but looking back it brought me back to high school. It was really special what was going on in high school. It is a great honor because of the people I am surrounded in and with."
Nightingale, one of the most decorated athletes in school history, holds her time at St. Francis and relationship with Head Coach Alynn Wright in a special place in heart.
"Alynn is my second mom" said Nightingale. "I will always love Alynn. She was my first coach and will always be my second mom. She plays a big part in my memory of St. Francis and St. Francis volleyball."
She says certain songs can still take her back, like Anatasia's At the Beginning.
"I will hear that song and I will start crying because I think about St. Francis," said Nightingale. "I will tell my friends and nobody ever gets it. There is a real special thing at St. Francis. You can't really explain it."
Wright, who also coached her sister and UCSB freshman Noa, says she was a special player for the Red and Gold.
"She was one of the hardest working athletes I have ever worked with in my 26 years with the program," said Head Coach Alynn Wright. "She never thought she was good enough and it was always her motivation that pushed her work hard to get better and better. She is probably one of the best blockers in her years here. It was one of her strengths. She was a six-rotation player for us and that is unusual for a middle blocker. She was a special player. More importantly, she is unbelievably humble and a great kid to be around."
The Bruins close out the regular season this week with a match at Arizona State before hosting rival USC for Senior Night Friday. It will conclude a long year of emotional moments that Nightingale dreaded entering the season.
"I feel like I have numbed myself to the fact and I have been really focused," said Nightingale of her senior season. "I flipped a switch this year. After freshmen year winning the national championship, it was easy to really go through the motions and know that I had a ring. Anything that happened from there on out was great. This year, my senior teammates and I have come out with a new sense of determination. I think we are really trying to do it again this year."
Looking back, she has loved every moment in Westwood with the Bruins.
"I have loved it," said Nightingale. "I love it down here and I think I chose the perfect school for me. Everything I could have wanted out of my experience here, I got. It is nice looking back."
With her final weeks in a Bruin uniform upon her, Nightingale and Bruins have their sights set on the NCAA Tournament.
"We are totally capable of being in the Sweet 16 and I think we belong in the Sweet 16," said Nightingale. "We just need to win those first two rounds. After that, I think it is all a tossup because all the teams are so good at that point. It is who shows up and anyone can win at that point."
But another title sure would be a great way to close it out.