Alumna Zoe Nightingale Wins NCAA Title with USC Beach Volleyball Team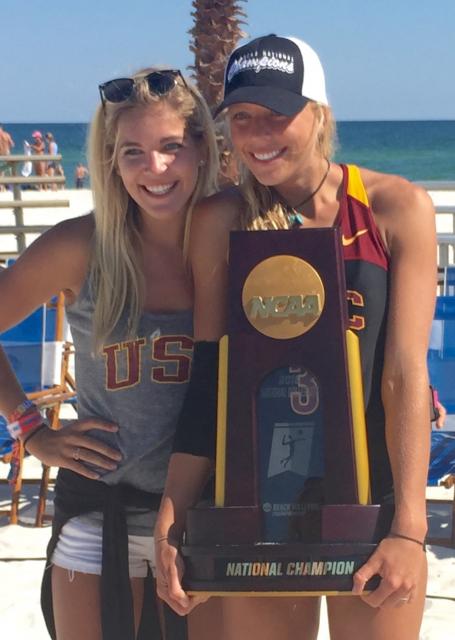 GULF SHORES, Ala. – Alumna Zoe Nightingale '11 helped the top-ranked USC Trojans win the inaugural NCAA Beach Volleyball Championship with a 3-0 win over No. 2 Florida State. The Women of Troy completed the year on an incredible 30-match winning streak.
Nightingale, a graduate transfer from UCLA, became the first student-athlete to win both an indoor and beach NCAA titles. She won the NCAA indoor title with the Bruins during her freshman season, earning a spot on the all-tournament team. She was again named to the all-tournament team with pair teammate Jo Kramer. The tandem won at No 5 21-14, 21-12 over Nikki Esposito and Macy Jerger of Florida State to secure the first point in the match. It was their 17th consecutive win to finish the year with a 32-6 mark.
Nightingale was a four-year letterwinner at St. Francis for head coach Alynn Wright. She was named the Sacramento Bee Player of the Year as a senior and three-time Delta River League MVP, All-Metro First Team, and All-City First Team (2008-10). Nightingale had 1,236 kills and 1,146 digs in her four years at St. Francis, helping the Troubadours to four straight undefeated season and league titles, a Division II Section championship as a junior and a Division I second-place finish as a senior.
Nightingale was named to the C.I.F. 100th Anniversary All-Century Team in 2014.