Bilo Runs Strong 3000 at Stanford, Commits to Cal Poly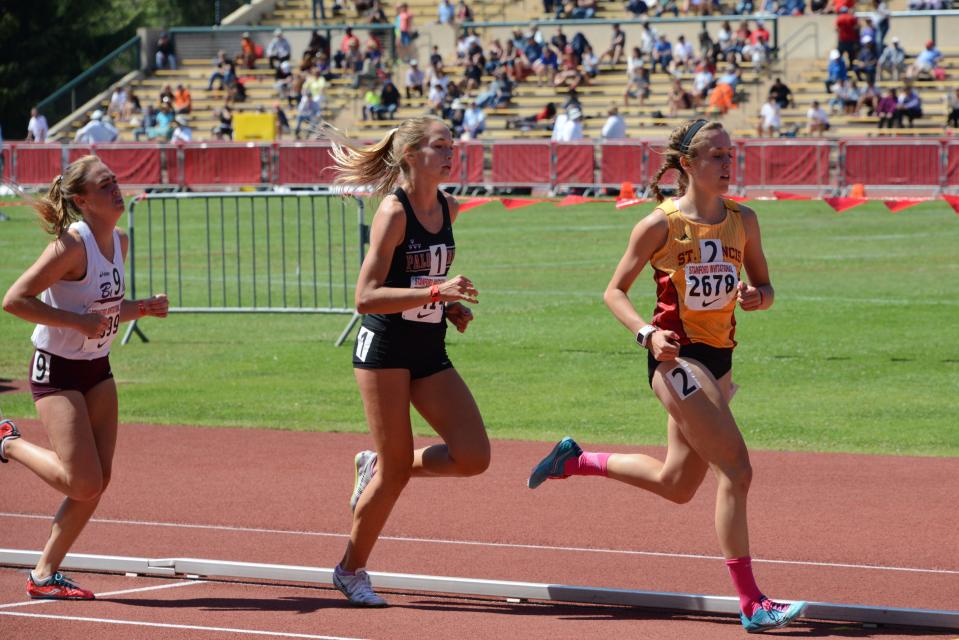 PALO ALTO, Calif. – The Stanford Invitational will always be a special meet for Peyton Bilo and Friday it was a milestone day for several reasons. The St. Francis senior committed to run for Cal Poly following her strong performance in the 3,000 meters, calling the coach from the track to make her decision official.
"I will be attending Cal Poly and become a Mustang and run on the team for them," said Bilo following her race. "They have some great girls on the team. I think it will be a great opportunity for me to improve as a runner. It is a great school. I love the location and they have the major I want – kinesiology. I went down for an official visit – the girls were super nice and the town is awesome. I loved everything about it and I think it is a perfect fit for me."
Bilo finished second in her heat in 10:15.83 and ninth overall. She will also run in the 1500m on Saturday. Last year, she was sidelined for the meet and for a majority of her junior season. She was happy to be back on the track this year.
"It is super exciting to finally run at Stanford," said Bilo. "Last year at this meet I was supporting the team on crutches. I am really thankful to be competing and have a chance to run well on one of my favorite tracks."
Bilo led the majority of her race before Camile Hines of Palos Verdes took the lead over the final laps.
"It went pretty well," said Bilo. "I was thrown off a little but not being in the first heat. Mentally it was tough. I had really good competition in the second heat and felt pretty good coming through the mile. I was pretty happy with my time and I am excited about tomorrow."
Bilo has been a four-year standout for the Troubadours in both cross country and track. She helped the St. Francis cross country program finish third at the state meet this fall, one of four Top 10 finishes by the program over her career. As a freshman, she helped the team to a second place finish and a berth to Nike Nationals, the first for the program. Now she hopes to finish her senior season on a high note on the track.
"I have been really happy with how I have been running this season," said Bilo. "I don't have any set goals at this point. I am focusing on taking it one race at a time. I am not trying to set limits on what I can achieve. I want to do my best every race and trust the process of the training Mason has set for me and see how I end up. I am having a lot of fun and that is the most important part for me."
Bilo, who is from Elk Dorado Hills, will make her commitment official on April 15, the first day of the spring signing period at a ceremony at the school.
"I am so thankful to have the opportunity to compete collegiately and maybe next year I will be back here running in a different jersey," said Bilo. "It is crazy to think about."
Not that crazy at all.