Cross Country Wins Delta League Meet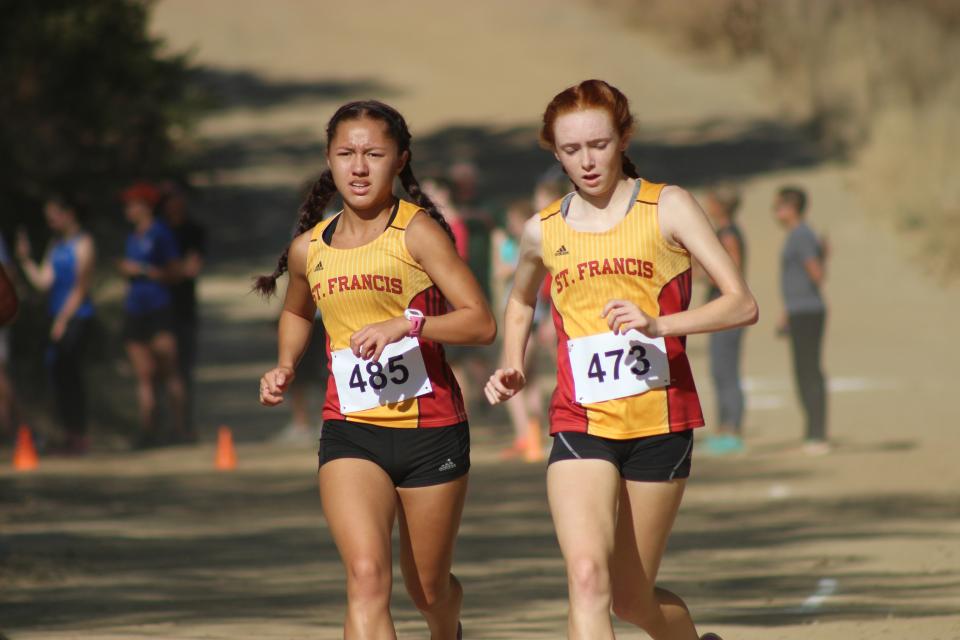 SACRAMENTO, Calif. – Junior Sydney Vandegrift led a strong varsity performance that saw five runners finish in the top eight and seven place among the top 15 as St. Francis won the Delta League meet with 24 team points.
"I knew this was a flat course and I wanted to go out and test my limits," said Vandegrift. "Our team is really rocking it right now and I am really proud of all of our freshmen. They are working really hard and I am so glad that they came to St. Francis."
Davis was second overall with 75 points, followed by Pleasant Grove, Sheldon, Elk Grove and Franklin.
Vandegrift was first overall in 17:37 ahead of teammate freshman Isabella Fauria, who crossed the line second in 18:10. Sophomore Sophie DeBenedetti was sixth (18:48) and freshmen Haley Silva (18:53) and Emma Hollenbach (18:55) were seventh and eighth, respectively. Junior Alana Reyna clocked 19:59 to place 13th and senior Allie Lourim was 15th overall in 20:09 over the 3.08 mile course.
"We were trying to stick together and have a pack attack to come out here and do well," said Allie Lourim.
St. Francis runs again on Saturday at Haggin Oaks Golf Course in the Capital Cross Challenge.
"These are both very flat courses so they are good tests to see how fast you are (on the course)," said Vandegrift.
The varsity girls race will start at 9:05 a.m., followed by the Frosh/Soph at 11:25 a.m. Parking is $5.
"We treated it like a hard work out so we definitely gave it our all," said Lourim. "But we will have plenty of time to recover for our upcoming meet."
Sophomore Noelle Lynch was the top finisher for the Troubadours in the Frosh/Soph race, finishing fifth in 14:28. Morgan Watson placed ninth.
Delta League Cross Country Meet
Team results: St. Francis 24; Davis 75, Pleasant Grove 78, Sheldon 95, Elk Grove 103, Franklin 176.
Individual results: Vandegrift, SF, 17:37; Fauria, SF, 18:10; Dobson, EG, 18:11; Victor, PG, 18:27; Castiglioni, D, 18:44; DeBenedetti, SF, 18:48; Silva, SF, 18:53; Hollenbach, SF, 18:55; Roach, PG, 18:55; Gonzalez, S, 19:34.