Homecoming for Two Montana State Bobcats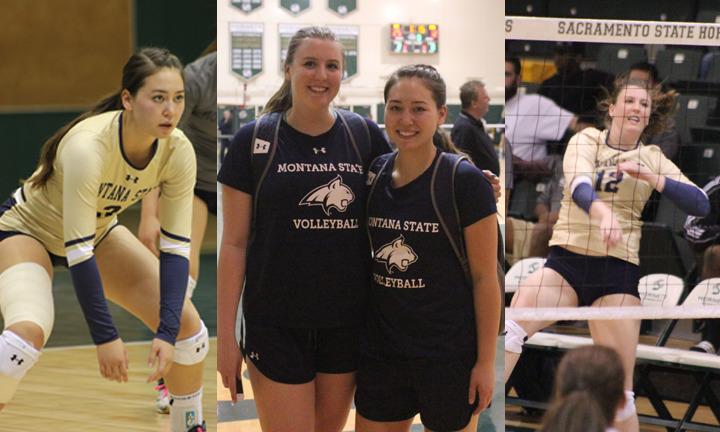 SACRAMENTO, Calif. – It was ironic that Homecoming activities have surrounded the St. Francis campus this week as two of the school's alumnae returned home to play collegiate volleyball Thursday night less than a mile away at the Hornets Nest on the Sacramento State campus.
For Dana Vestman (Elk Grove) and Loni Kreun (Davis) of the Montana State volleyball team and the St. Francis Class of 2013, everything was familiar on Thursday as they drove down Elvas Avenue on the way to the their game, providing directions to their van drivers.
"When we were driving here one of our vans had got lost because she had no idea how to get to campus" said Vestman. "Both of us were in different vans and told them where to turn and park. We knew the routes."
The other van was without a Troubie and "was just off on their own", said Kreun.
While the Homecoming ended in a 3-0 loss in a Big Sky Conference game, both are enjoying their careers in Bozeman.
"It is obviously way different than California," said Kreun. "We were comparing the weather now in Montana to California. It is starting to get cold and we come back and people are wearing shorts. It is something that you get used to and I love the snow. There is a lot to do. But it is completely different."
Both agreed the life of a student-athlete at the Division I level is a challenge.
"Being a student-athlete is hard and something that no matter how hard a school like St. Francis is, it can't prepare for you how time-consuming being an athlete is (in college)," said Vestman. "All in all, the high school did a great job and I am glad I went there."
St. Francis flourished with Vestman and Kreun as part of the 2012 state-runner up and Nor Cal, Section and Delta River title winning team that went 38-3 overall.
Vestman racked-up 859 digs and 41 aces to help the Troubadours to a 76-9 overall mark during her tenure. Kreun garnered Sacramento Bee All-Metro Honorable Mention kudos for the second straight season in 2012. As a senior, she was named MVP of the High Sierra tournament, and garnered Delta River All-League honors as a junior.
They recognize the special situation they have as teammates at Montana State.
"It is awesome," said Kreun. "Dana and I have played club together since we were 13 and have known each other since we were 12. It is kinda cool and we will know each other our whole lives. It was nice knowing someone coming in. A lot of people go to college and do not know a single person. It was good to have that one person you could gravitate to. Coming from the same high school and area, you had someone who understood where you came from."
Now they are helping build the Montana State program together.
"There is a lot of experience between those two and they bring a lot to the table," said Montana State Head Coach J.J. Riley. "We are going to count on both of them to help us build this thing."
Vestman, a defensive specialist for the Bobcats, is a redshirt sophomore on the court and junior in the classroom.
"Dana is a very intelligent young lady who is driven," said Riley. "The cool thing about Dana is she is motivated about bigger things in life, not just volleyball."
Kreun, an outside hitter, started all 28 matches as a sophomore and leads the team in kills as a junior.
"Loni is a great volleyball player and skilled in all aspects of the game," said Riley. "She brings a lot of experience and stability, which is helping us."
The Bobcats played Sacramento State close in a first set that featured seven ties and two lead changes but ended up falling in three sets 25-15, 25-7, 25-12 on Thursday.
"We are celebrating a lot of things in the practice gym," said Riley. "It does not always show up in the win-loss column which can be hard for some people. We are changing and growing. That is our focus right now."
Both are enjoying the experience in Big Sky country.
"Montana State is treating me really well," said Vestman. "I love the outdoors up there, taking advantage of the beautiful scenery and the mountains. It is awesome."
Kreun said playing collegiate volleyball has been everything she hoped it would be.
"They do a great job of teaching us life lessons," said Kreun. "I wouldn't trade being a student-athlete for anything because it will help me a lot in the future."
With a road trip that continues to Portland on Friday, both enjoyed their quick visit to Sacramento and chance to reminisce about their time as Troubies, especially Homecoming.
"It was the most fun," recalled Vestman. "Our class came together and went all out for everything. It was so much fun. Forget about the dance, the choreographed dances and songs were so great."
The St. Francis volleyball program has 19 alumnae on collegiate rosters this fall across all NCAA Divisions.