Senior Hunter to Run for UC Riverside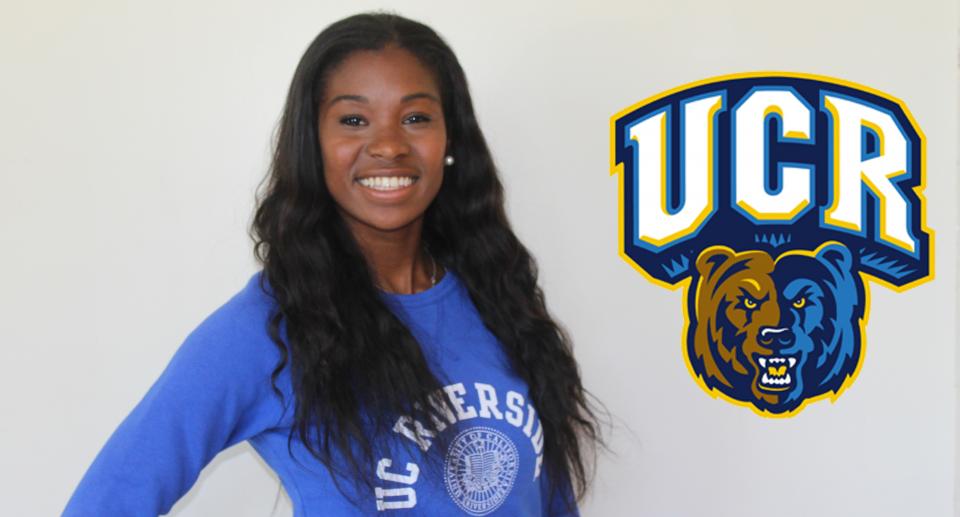 SACRAMENTO, Calif. – St. Francis senior Sydney Hunter has always wanted to extend her track career into college. After receiving an offer from UC Riverside, she will sign with the Highlanders to run track next fall.
"I can't imagine my life without track so I am very excited," said Hunter. "Ever since I was seven I wanted to run track in college. I will run for as long as my body allows me to run track."
Hunter is coming off an impressive meet at the Arcadia Invitational last weekend. She posted a personal-best in her signature event, the 400 meters, while helping both the 4×100 and 4×400-meter relays post season-best times.
"Arcadia was the best meet besides state championships last year," said Hunter. "We had great competition and got to see the southern teams. It was good to get the competition early, it was really nice weather and everyone performed well. There was an overwhelming feeling that everyone was there to succeed."
Hunter has known plenty of success on the track. She joined juniors Lilly Enes, Kiani Reyna and Ariane Arndt to place third at the state meet last season in the 4×400-meter relay. The relay won the Masters title before posting the seventh-fastest time in the nation at the CIF State Championships.
"Having my teammates has been really helpful," said Hunter of the relay foursome. "It allows me to push. There are not easy practices and I can't just slack off. I am held to standard not only being the sprint captain but being a senior on the team, as well as being a member of an elite relay.
Hunter will join a UC Riverside program coached by Director of Cross Country and Track and Field Irv Ray and Associate Head Coach Nate Browne, who coaches the sprinters.
"I was impressed with the coaching staff," said Hunter. "Coach Nate Brown is probably my favorite coach of all the schools I visited. I felt the connection with the team. I have family on the team and girls were really welcoming."
Hunter is excited to put the recruiting process behind her.
"To know where I am going is not only a big stress reliever but now I can really focus on this year and season to make it the best I can going into my college season," said Hunter.
With the championship part of the season directly ahead, Hunter is ready.
"Our goals are to win state," said Hunter of the relay. "I know we can. (We have to) train harder, being better, faster and stronger. We have to be better as a team, collaborating because we all have different strengths and weaknesses."
She also hopes to keep running her individual events deep into the season.
"It was nice to PR," said Hunter. "I have been working on different things and it all came together. It is nice to PR in the 400m but there is definitely more work to do. It is only going up from here."
Hunter participated in a ceremony at St. Francis Wednesday morning for the spring signing date.