St. Francis Athletics Alumnae News – Nov. 17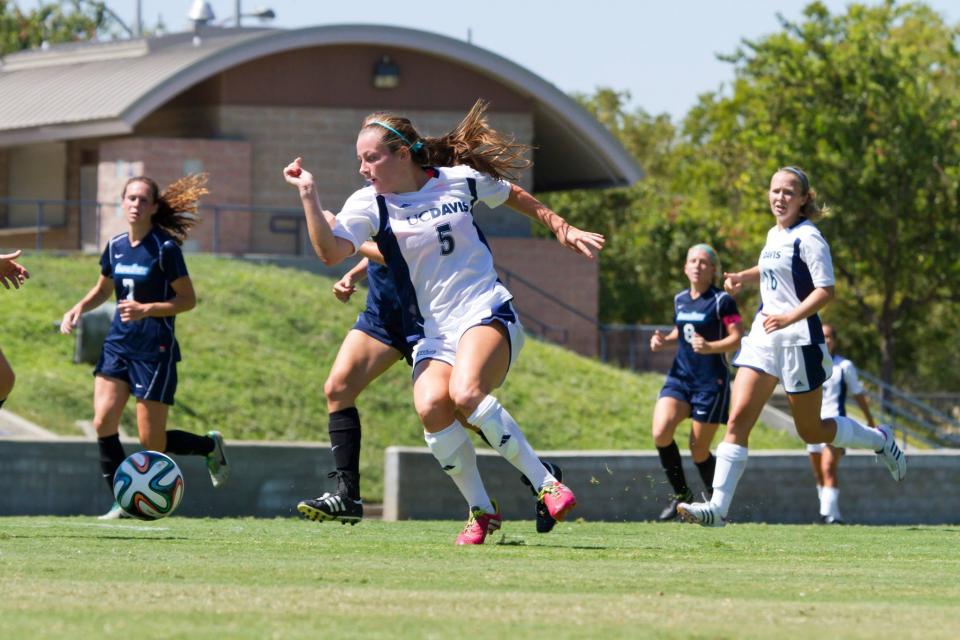 SACRAMENTO, Calif. – St. Francis alumnae are succeeding at the collegiate level across the country. Here is collection of news and notes about the former Troubies. Submissions can be sent in to Assistant AD Steve Shaff at sshaff@stfrancishs.org.
UC Davis junior Haley Hughes '12 (Elk Grove) led UC Davis in goals with four, including two game-winning goals, and totaled a team-best nine points in 2014. She earned All-Big West honorable mention honors despite playing in just 10 games after suffering a season-ending injury. Read the release on the UC Davis website here.
Portland freshman Lauren LaRocco '14 (Sacramento) finished her initial season with a 72nd-place finish at the NCAA West Regionals held at Stanford to help her team to a seventh-place finish. She was 18th at the WCC Championships as the Pilots finished second overall in the team standings. Read the NCAA West Regional release from Portland here.
TCU freshman Maddie Johnson '14 (Sacramento) won her first collegiate race by taking the 200 fly in 2:11.74 in a dual meet at Kansas on Nov. 2. Read the full release on the TCU website here.
Pepperdine sophomore Gabi Palmeri '13 (Davis) had 10 kills and five blocks in a four-set upset of No. 25 Santa Clara on Nov. 15.
Freshman AnnClaire MacArt '14 (Woodland) had a strong start to her Big Green swimming career, finishing in fourth place in the 1,000-yard freestyle (10:24.41), the 500-yard freestyle (5:02.06) and the 200-yard freestyle (1:53.18) in a tri-meet for Dartmouth against Harvard and Cornell on Nov. 15. Read the release on the Dartmouth website here.
Seattle Freshman Alexis Martinez '14 (Granite Bay) was part of a 200 freestyle relay team that posted the 10th-best time in school history, finishing third in 1:39.33 in a meet against Idaho and CS Bakersfield. Read the release on the Seattle website here.
Look for upcoming features on UCLA's Zoe Nightingale '11, who was named to the CIF Fall Team of the Century, Lawrence Tech's Kasey Clark '10, who had a memorable senior season, and Cal's Bailey O'Mara, who had an interesting summer softball experience.