Thrower Samantha Ruggles Commits to UCSB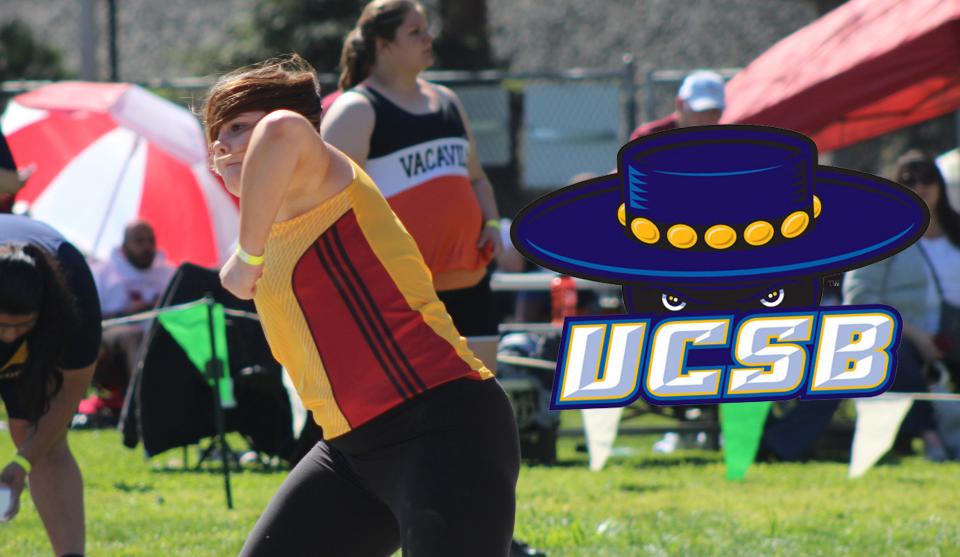 SACRAMENTO, Calif. – Senior thrower Samantha Ruggles will continue her throwing career at UC Santa Barbara next year.
"I visited about a month ago and I really liked it there," said Ruggles. "It was my favorite. It is what I want for academics and throwing. I really like the coach. It was the best fit."
Ruggles recently finished ninth at the Stanford Invitational.
"I was excited because I had not made them (finals) before in my third year in the meet," said Ruggles. "It was fun and I am happy to make the final."
Ruggles will join former Troubie Kayla O'Brine on the Gaucho roster. The two competed together for two seasons on the St. Francis team.
"Kayla has always been a role model and someone that has helped me," said Ruggles. "It will be nice to throw with her again. I did not think it was going to happen but it is awesome that it is happening that way."
Ruggles, who is from Sacramento, plans to major in sociology and hopes to go to law school.
"I am real excited," said Ruggles about continuing her career. "I always knew I wanted to do a sport in college. I played soccer for a long time and I when I started throwing sophomore year it really clicked. I like competing and doing something."
Ruggles has a personal-best of 40-5.75 at the Sac-Joaquin Section meet last year, helping the team to the section title. But her fourth-place finish one week later at the Masters meet ended her season. She hopes to take one more step this year and qualify for the CIF State Championships June 5-6.
"I want to PR, throw in the low 40s and make the state meet," said Ruggles of her goals for the rest of the season. "Last year, I was one position out of state."
Ruggles will participate in the school's spring signing ceremony on Wednesday, April 15. The event is scheduled for 9 a.m. on campus.