Track and Field Beats Monterey Trail and Grant at League Meet
By Maggie Oys, Sports Media Club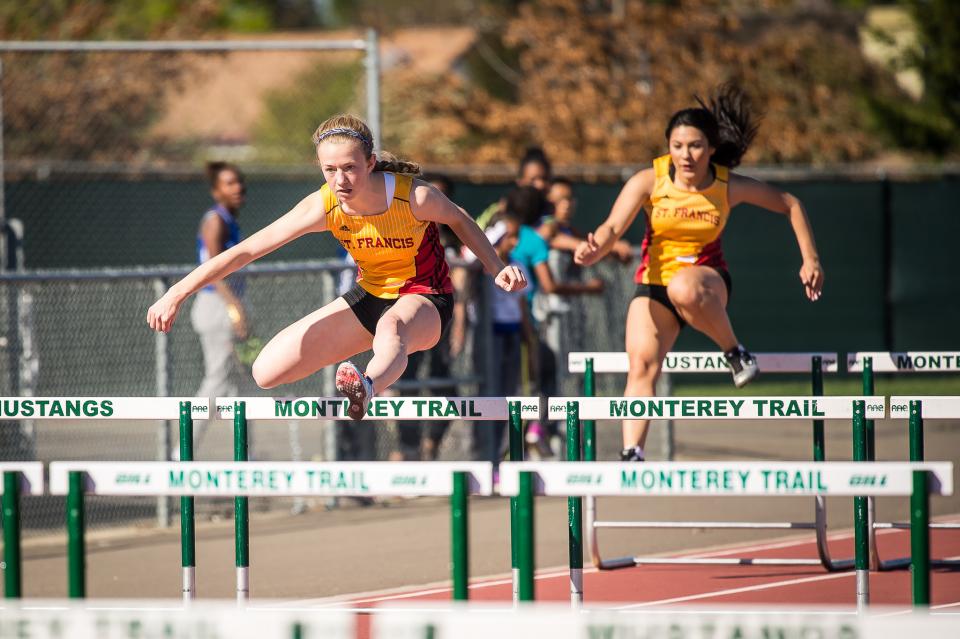 ELK GROVE, Calif. – The St. Francis Track and Field team won their first league meet on Wednesday in a dual meet against Monterey Trail and Grant High School. The Troubadours came out strong in their first league meet of the season, taking the first step towards defending their section title.
Two Troubies, senior Peyton Bilo and sophomore Elizabeth Hennessey, won two individual events each. Hennessy took first place in both the 100 meter and 300 meter hurdles. Bilo also scored meet points for the Troubadours by winning the 800 meter and 1600 meters.
St. Francis dominated the long distance races at the varsity level. Senior Miranda Meyers won the 3200 meters with junior Chase Worthen coming in second, and junior Gabrielle Dyer taking fourth. With Bilo taking first in the 1600 meters, Junior Ariane Arndt followed to take second, and Worthen took third.
The relay team of Kiani Reyna, Ariane Arndt, Lilly Enes and Sydney Hunter, which took third place in the 2014 State Championships in the 4×400, won the 4×100 meter relay and the 4×400 meter relays on Wednesday night.
Sophomore Ava Bean won the varsity girl's high jump, with a jump of 5- feet, one inch. Senior Samantha Ruggles also landed a victory by winning the varsity girl's shot put, with a throw of 38 feet.
In a post meet interview, team captains Miranda Meyers and Peyton Bilo spoke about their performance at Wednesday's meet and their goals for the season. Bilo humbly responded that she did "fairly well." Bilo said she stuck to the plans her and Coach Meyers devised: "I was trying to run specific paces that Coach Mason had given me." Bilo stated that she was proud of the team's performance and hard work, especially the long distance runners.
When asked about her goals for her final track and field season with the Troubadours, Bilo responded that she hopes to "finish the season strong and on a high note." Bilo wishes to see her hard work from the cross country season and her winter training pay off, which is evident from Wednesday's meet. Both hope to finish the season with their best times yet and enjoy their last season.