Track and Field Sets Two School Records at Stanford Invite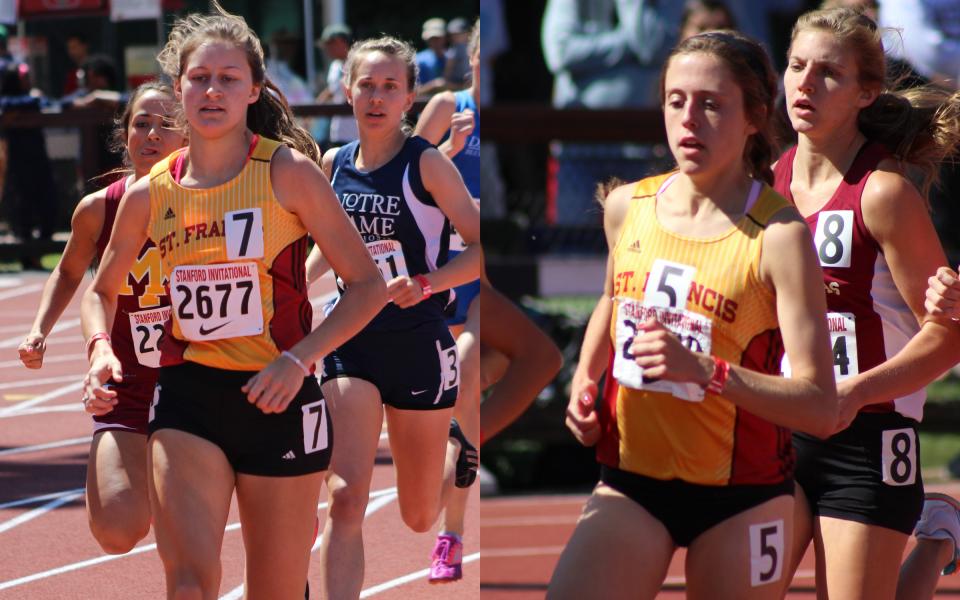 PALO ALTO, Calif. – Two school records fell Saturday at the Stanford Invitational as the Troubadours posted several top performances at the Stanford Cobb Track and Angell Field.
Junior Ariane Arndt recorded a personal-best for the second consecutive meet in the 800 meters, clocking a 68 second first lap and closing with a 65-second final lap. She closed strong, passing three runners over the final 100 meters, finishing second in a school record time of 2:13.71. She reset a mark set in 2003 by Ingrid Kantola (2:14.69).
"I was really nervous to run because I knew I could do better than 2:15 (her PR) and I wanted to PR really badly," said Arndt. "I wanted to get out faster and run the same second lap to PR by a lot. I always wanted to get a record, something to put your name on. It means a lot."
Senior Peyton Bilo, who also finished second in the 3200m on Friday, broke the mile mark set by former Troubie Madison Rawson at the same meet last year. She clocked a 5:02.21 to finish 11th in the mile.
"It was amazing and I think it was the first record I have set," said Bilo. "I am super excited to leave a mark on St. Francis. Hopefully, I can chase a few more as the season goes on. I felt really strong today and was really excited to be out there. It was really fun. I had a great time."
The St. Francis relays also had impressive days. The 4×400-meter relay consisting of Kiani Reyna, Arndt, Lilly Enes and Sydney Hunter were second in the final event of the day, posting a time o 3:59.00. The foursome also finished fourth in the 4×100-meter relay earlier in the day.
Hunter was 16th in the 400m in 58.79, while senior Sam Ruggles reached the final in the shot put and finished ninth with a throw of 38-3.35.
In action on Friday, sophomore Elizabeth Hennessy finished 10th in the 67.56 in the 400m hurdles and the distance medley relay placed 19th overall.
The team will compete against Sheldon on Wednesday. The team will be represented by eight student-athletes at the Arcadia Invitational next weekend, while the rest of the team will compete at the Halden Invitational on April 11.
Stanford Invitational Day 2 Results
4×100-Meter Relay
4. St. Francis (Reyna, Arndt, Enes, Hunter), 49.33
Mile
11. Peyton Bilo, 5:02.21 (School Record)
800 Meters
2. Ariane Arndt, 2:13.71 (School Record)
400 Meters
16. Sydney Hunter, 58.79
4×400-Meter Relay
2. St. Francis (Reyna, Arndt, Enes, Hunter), 3:59.00
Shot Put
9. Samantha Ruggles, 38-3.35
Stanford Invitational Day 1 Results
400m hurdles
10. Elizabeth Hennessy 67.56
3000 Meters
9. Peyton Bilo 10:15.83
Distance Medley Relay
19. St. Francis (Arndt, Rogers, Worthen, Nkadi) 12:55.04