Track Wins Dual Meet at Sheldon and Davis; Spring Break Triple Jump Record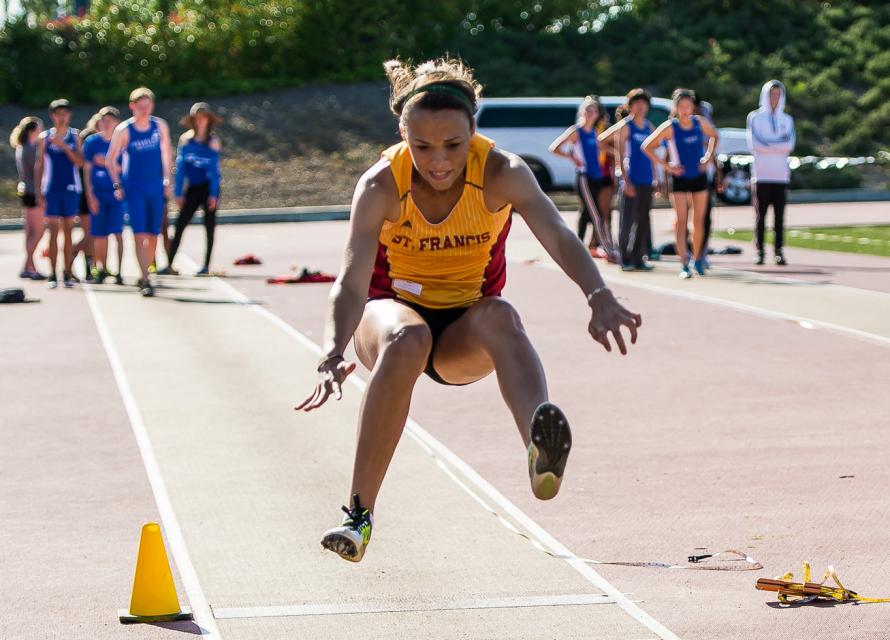 ELK GROVE, Calif. – The St. Francis track team won six events in sweeping its dual meet against Sheldon and Davis on Wednesday.
The Troubadours got two wins by Ariane Arndt in the 400 meters (58.95) and 800 meters (2:22.63). Sophomore Elizabeth Hennessy won the 300m hurdles in 47.60 and set a personal-best in the 100m hurdles in 16.86 to break the 17-second mark for the first time.
In the distance events, Chase Worthen won the 3200 meters in 11:45.01, while Peyton Bilo captured the 1600 meters in 5:22.05.
Nicole Spring broke the school record in the triple jump with a leap 36-8.5, breaking the 2004 mark set by Tiffani Grimes by over two inches (36-6).
St. Francis out-scored Davis 81-55 and Sheldon 94-33, aided by seven second-place finishes and three third-place finishes.
The Frosh/Soph unit was led by event winners Kat Gaston (400 M), Steffi Keene (100 HH and 300 LH), and Sarah Rice (shot put and Discuss).
St. Francis will be represented at the Arcadia Invitational by eight student-athletes this weekend, while the rest of the team will compete at the Halden Invitational in Davis.
Varsity Girls
St. Francis 94, Sheldon 33
St. Francis 81, Davis 55
Davis 100, Sheldon 32
Frosh/Soph Girls
St. Francis 68, Sheldon 22
Davis 94, St. Francis 35
Davis 104, Sheldon 18