Troubie Takeover at the Causeway Cup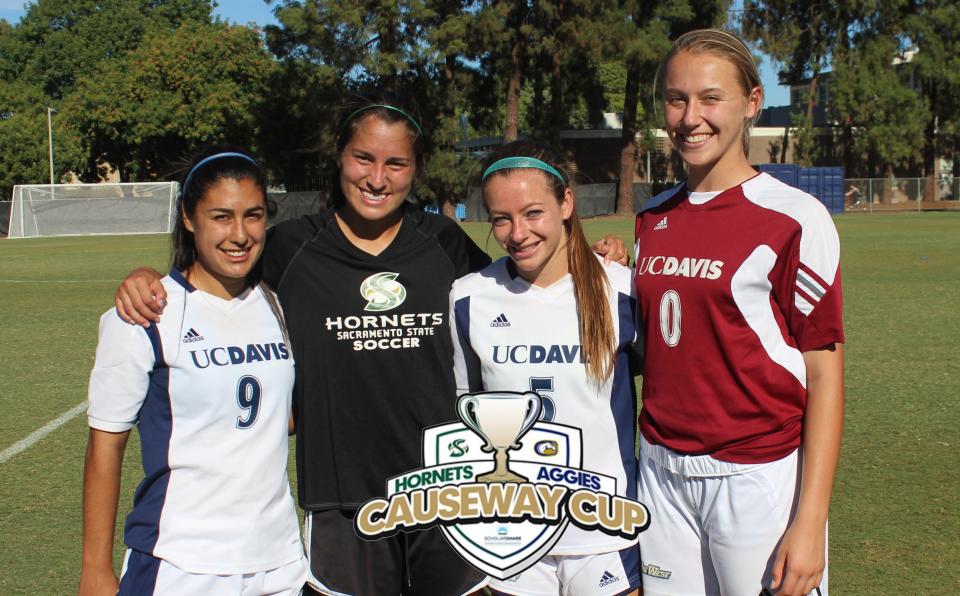 DAVIS, Calif. – The UC Davis women's soccer team posted a 2-1 victory over Sacramento State on Monday in the annual Causeway Cup matchup between the programs in a match that featured three former St. Francis Troubadours and a fourth waiting for her opportunity.
"It felt really good," said Aggie junior Andi Damian '13 of the win. "It is good to keep that going for us."
The game featured Damian, senior Hayley Hughes '12 and Sacramento State junior Jennifer Lum '12. Freshman Allie Carmickle '15 is a reserve goalkeeper for the Aggies.
"We have had a good tradition against Sacramento State so it is good to get another win," said Hughes. "It is good to be back on the field."
UC Davis has a nine-game unbeaten streak against the Hornets. With its win, UC Davis captured the first five points of the head-to-head competition involving 17 of the school's common teams.
Damian started and had two shots for the Aggies, while Lum started and played most of the game for the Hornets. Lum took a ball out of the air for a strike on goal that almost tied the game with seven minutes remaining.
"It would have felt better if it went in," said Lum after the game. "I just have to get better and go from there."
Lum, who was a Big Sky All-Academic selection last season, appeared in nine games as a sophomore before missing 10 games in the middle of the season with an injury. She was an All-Big Sky second team selection as a redshirt freshman in 2013. She is studying kinesiology.
"She is tremendous," said Sacramento State Head Coach Randy Dedini. "She is our point maker. She gives our team a lot of creativity and is a fantastic teammate on and off the field. She is going to score a lot of goals and get a lot of assists this year for us. I cannot say enough about her. She is the heart and soul of this team."
Both Damian and Hughes are equally valuable for the Aggies. Hughes is coming off an ACL injury but she had a big sophomore season. She ranked fifth in the conference in goals per game, leading the team with nine points, four goals and two game-winning goals.
"Hayley Hughes is a prolific goal scorer," said UC Davis Head Coach Twila Kaufman. "She is a winner. When she is healthy, she is as good as any forward I have coached."
Hughes, who is majoring in international relations, came off the bench and was on the field during both UC Davis goals on Monday.
"She is coming back from an ACL," said Kaufman. "I think she is better than maybe she knows right now. It will take a little bit of time to realize how good she is. But she is good."
Damian, who is a neurobiology, physiology and behavior major, has appeared in 34 games in her first two seasons with one goal and one assist.
"Andi is a highly talented player who is learning how to be consistent," said Kaufman. "She is doing a good job putting one foot in front of another right now."
Damian is excited about the prospects for the 2015 season.
"This is my third year and we have a new coaching staff," said Damian, who hails from Sacramento. "I think this is going to be the year for us."
The Aggie duo – Damian and Hughes – have been playing together for a long time.
"With Hayley, we have always played together," said Damian. "I have assisted her goals or she has been integral in mine. It has been a big piece and childhood connection."
For newcomer Carmickle, it has been fun joining a program with a strong connection to her high school.
"I have come to really love the team and Twila," said Carmickle, who was a standout for the St. Francis team in goal for the last two years. "It has been great to get to know these other Troubies more and to grow as team and be part of it."
Aggie mentor Kaufman has been impressed with Carmickle.
"It is hard to make the transition from high school to college to make that adjustment," said Kaufman. "I think Allie is in that adjustment period. She has a lot of raw talent, is very coachable and she is going to be a really good goalkeeper. Everything that we saw in her as a recruit has been confirmed since she has been here."
All the student-athletes treasure playing at home or close to it at their local schools.
"It is great to have my family and friends from home at every game," said Hughes, who is from Elk Grove. "It is nice to have everyone come out and watch. I love it."
The annual matchup between the schools is especially fun for the former Troubies.
"It is really fun," said Lum, who is from Folsom. "I get even more competitive playing against them because I want to beat them. It is nice to see them because I have not seen them in a while. It is fun."
Each were quick to recall their favorite memories as Troubadours.
Damian's favorite Troubie moment came in her sophomore year against St. Mary's in the Sac-Joaquin section semifinals when she scored on a 1v1 against the keeper with seven seconds left to score the winning goal. Hughes scored a header for a 1-0 win over Davis in a key section playoff game. Lum remembers the championships. All three were on the Sac-Joaquin Section title team in 2010 and league title teams in 2010 and 2011. Damian and Hughes also contributed on the 2009 section winner.
With the 2015 season just one week old, the Troubies have their sights set on conference play and competing for titles this season in the Big West and Big Sky Conferences.
"I just want to score a lot of goals and want to go to the Big West Championships and win the Big West," said Hughes. "Looking back from my freshmen year to now, it is a tremendous difference. It is incredible how far we have come in a year. I think this is our year. We have all the right players."
For both Sacramento State and UC Davis, the right players are from St. Francis.