Spring Signing Day Highlights St. Francis Students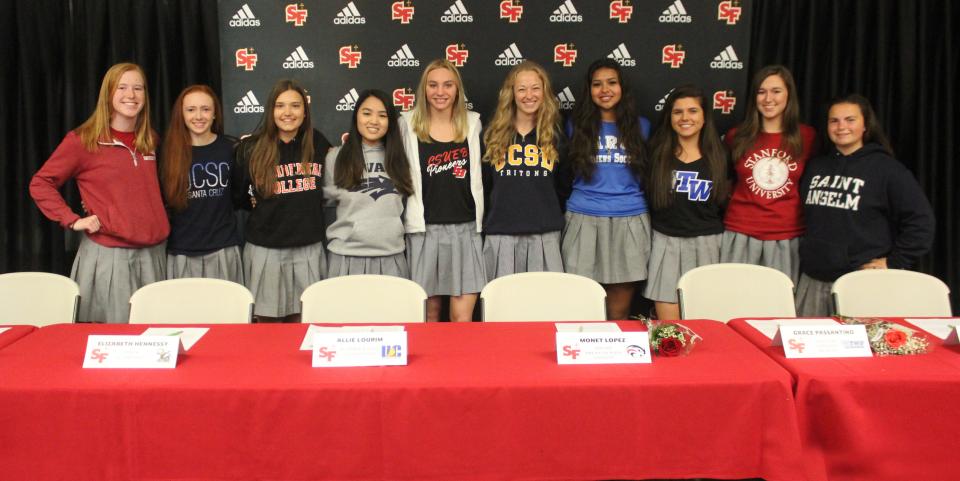 SACRAMENTO, Calif. – Twelve St. Francis seniors have committed to play a sport in college during the spring signing period that started Wednesday and were celebrated at a ceremony at the school today. Overall, 17 St. Francis student-athletes from the Class of 2017 have made commitments or signed a National Letter-of-Intent this year.
The Troubadours made commitments to schools including Duke and Stanford and several California schools from American River College to UC San Diego. The Troubies will travel as far as away as New Hampshire to play softball at Saint Anselm.
"It is really great to have my family and friends and some of my coaches and teachers," said Sophia Susac, who will join the Stanford Synchronized Swimming team. "I have been feeling so much love and support…It has been a really great day."
The spring class includes commitments from a variety of sports to 11 different schools: Emily Davis, Volleyball, Occidental; Veronica Del Mar, Rifle, Nevada; Sally Ferguson, Water Polo, Santa Clara; Elizabeth Hennessy, Track and Field, UC San Diego; Monet Lopez, Soccer, American River College; Allie Lourim, Cross Country/T&F, UC Santa Cruz; Grace Passantino, Lacrosse, Tennessee Wesleyan; Tatum Roepke, Swimming, CS-East Bay; Sophia Susac, Synchronized Swimming, Stanford; Savannah Tijerino-Santos, Soccer, American River College; Lauren Washburn, Softball, Saint Anselm (N.H.) and Gabby Zegers, Fencing, Duke.
At the most recent Junior Olympic Championship held in Long Island, N.Y., Susac brought home two golds and two bronze medals from the competition. She combined with her team and duet partner (Noelle Song) to capture the gold medals. She competes for local club Sacramento Synchronized Swim.
"It has been exciting and fun to see all my friends signing as well," said Emily Davis. "It is a cool atmosphere. I can wait until I get to go start playing at Occidental."
Davis helped the Troubadours to the NorCal semifinals this season. Davis was a four-year player for the Troubadours and two-year letter winner with the varsity unit. She recorded over 800 digs in her two seasons playing as a defensive specialist and libero.Other signees include Veronica Del Mar (Nevada), who competes in rifle. Del Mar competes for the Lead Heads team with the Lincoln Junior Rifle Club. She has achieved the Distinguished Marksman award from the Winchester/NRA Marksman Certification program, as well as earning her Air Rifle Distinguished Junior Badge.
Water Polo standout Sally Ferguson will join the Santa Clara program. Ferguson earned all-section and all-league honors as a senior after leading the team in points (59) and finished second on the team with 35 goals.
Elizabeth Hennessy will run at UC San Diego after a standout career for St. Francis. She ran a best 45.28 in the 300m hurdles earlier this year and recently set the 400m hurdle school record at the Stanford Invitational (1:03.88). She posted a personal-best 15.56 in the 100m hurdles as a junior. Teammate Allie Lourim (UC Santa Cruz) has represented St. Francis at the CIF State Cross Country Championships twice, helping the Troubadours to a pair of top-10 state finishes. She was also a member of the Sac-Joaquin Section championship team in 2016.
Passantino (Tennessee Wesleyan) has served as one of the lacrosse team's senior captains this season. She is third on the team in goals with 17 and has added six assists. Both are single season career bests. Roepke (Cal State East Bay) is making her mark in the pool. She recently posted times of 24.9 in the 500 free and 58.5 in the 100 fly at the NorCal Championships.
Tijerino-Santos and Lopez will team to play for American River College on the pitch. Fencer Gabby Zegers will compete in saber for the Duke Blue devils.
2017 St. Francis Spring Commitments/Signees
Name, Sport , College/University
Emily Davis, Volleyball, Occidental
Veronica Del Mar, Rifle, Nevada
Sally Ferguson, Water Polo, Santa Clara
Elizabeth Hennessy, Track and Field, UC San Diego
Monet Lopez, Soccer, American River College
Allie Lourim, Cross Country/T&F, UC Santa Cruz
Grace Passantino, Lacrosse, Tennessee Wesleyan
Tatum Roepke, Swimming, CS-East Bay
Sophia Susac, Synchronized Swimming, Stanford
Savannah Tijerino-Santos, Soccer, American River College
Lauren Washburn, Softball, Saint Anselm (N.H.)
Gabby Zegers, Fencing, Duke