St. Francis Finishes Tied for Seventh at NorCals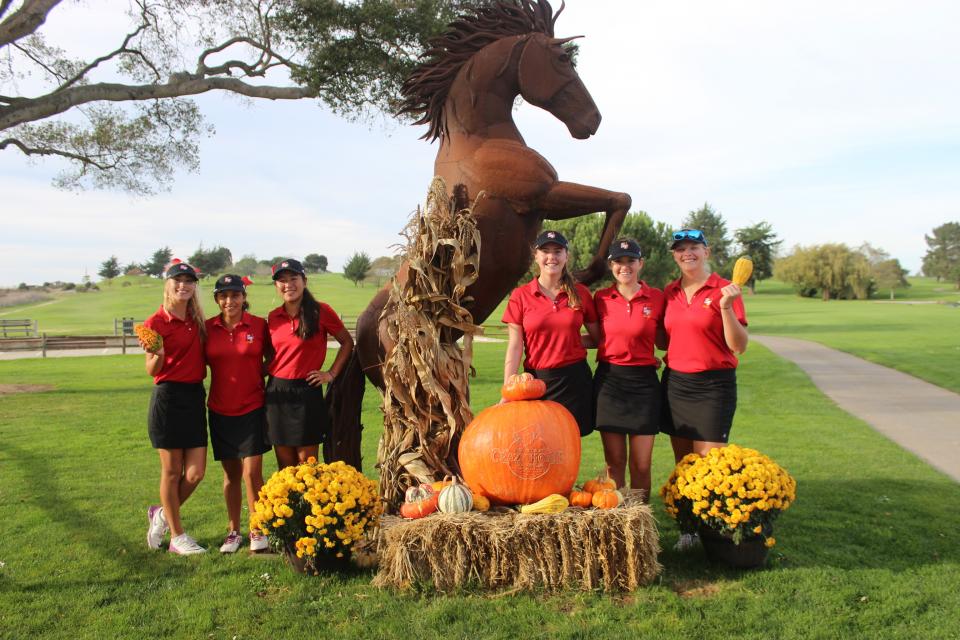 SALINAS, Calif. – The St. Francis golf team finished tied for seventh at the 2016 NCGA/CIF NorCal Championship Monday at The Club at Crazy Horse Ranch. It was the first NorCal appearance since 2013.
"I am proud of us making it this far and we did really well this season," said sophomore Patricia Sweeney.
St. Francis shot a 425 team score to tie with Alameda. Saint Francis Mountainview was the overall team leader at 382 with Dougherty Valley at 387 and Carondelet at 388. All three advanced to the CIF State Championships next week.
Freshman Nashla Aguero posted the low score on the day for the Troubadours with a 10-over par 82.
"It went really good today," said Aguero. "I missed a lot of short putts today. But overall I am really happy. The 82 is a really good score for me. It makes me feel good that my future is going to be amazing."
Aguero had a birdie on the par-3 11th hole, posting nine-hole scores of 40 and 42.
Junior Lauren Allen was one stroke back with 83.
"It has been a lot of hard work put into it and I fixed my swing this year. Coach Jones has really helped me out," said Allen. "It has been a lot better than last year and a lot of improvement."
Sophomore Patricia Sweeney posted an 85 to finish her second season.
"We didn't do as well as we had hoped," said Sweeney. "This is a different course and it is harder than other courses we have played. What probably affected us the most was how small the greens were (on the Crazy Horse layout). They are such small targets and unless you hit them you struggle to make pars and birdies."
Junior Chase Saca had the fourth-best score for the team, carding an 87.
"My round was not one of my best," said Saca. "We are all super excited to make it and it is a new experience for us. It was great experience and we all loved it. We hope to be here again next year."
Sophomore Olivia Alcoran recorded the fifth score for the team with an 88 and junior Lauren Liberatore recorded a 102.
"We are really proud and we have been looking forward to this all year," said Allen. "We have worked really hard to get it."
NCGA/CIF NorCal Championship
The Club at Crazy Horse Ranch, Salinas, Calif., Par 72
Team results: Saint Francis Mountainview 382, Dougherty Valley 387, Cardondelet 388, Granite Bay 397, Oak Ridge 410, Palo Alto 417, St. Francis 425, Alameda 425, Valley Christian 442, Lowell 485, Pleasant Valley 498, Skyline 630.
St. Francis scores: Nashla Aguero 82, Lauren Allen 83, Patricia Sweeney 85, Chase Saca 87, Olivia Alcoran 88, Lauren Liberatore 102.