Tennis Advances to NorCals with Win over McClatchy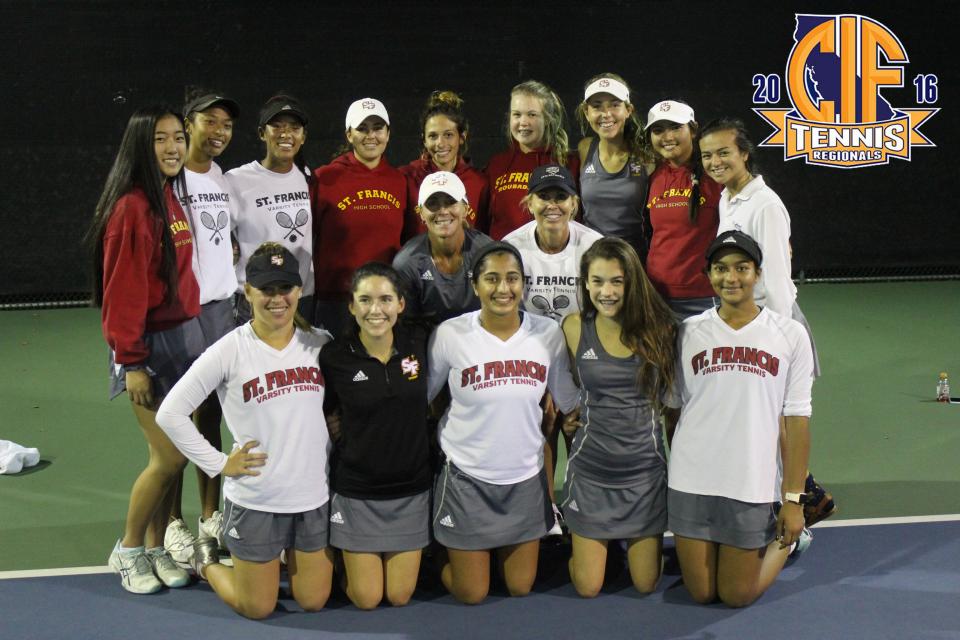 SACRAMENTO, Calif. – Freshman Adithi Benush provided the clinching point in a 6-3 win over McClatchy Thursday at Rio del Oro racquet Club, earning the St. Francis tennis team a berth in the upcoming CIF State NorCal Championships.
"I am beyond proud of the team," said Head Coach Kristi Spector. "We were tired and so was McClatchy. But, I told them before the matches started that I knew we were tired mentally and physically but we can do this. We had to dig down deep and when you think you can't go any further, yes you can! That was my motto."
St. Francis (18-2) played their fourth match in four days after a run to the Sac-Joaquin Section finals that ended with a loss to Oak Ridge on Wednesday. The match on Thursday was a play-in for the second berth out of the section into the NorCals. It is the first appearance for the team since 2011.
Junior Cameron Parra and freshman Samantha Sonntag were the first winners on the day, taking a 6-2, 6-2 win at No. 2 doubles. Junior Kyla Jackson won at No. 4 singles to give SF a 2-1 lead early.
"It feels worth it with all the work we have put in this year," said Jackson. "It feels good. My match was long but I pulled through and I never gave up. I am so happy that I won for my team."
McClatchy won at No. 3 doubles and then junior Marisa Fat posted a victory at No. 5 singles to give SF a 3-1 lead.
Senior Annie Gianulias then pulled out an exhausting match at No. 6 singles, closing out her match with a tiebreak win in the second set after being down to record the fourth point.
But with four matches still in action, the match was still in limbo. McClatchy posted wins at No. 1 singles and No. 3 singles to pull closer but Benush closed out her match 7-6 (3), 6-4 to clinch it.
"It was definitely a match I had to be mentally tough to play," said Benush. "I think I did a pretty good job and I am really happy with being able to win. I lost to McClatchy (earlier in the season) and I really wanted to pull through this match."
Seniors Abby Benvenuti and Sabrina Voeller added a three-set victory for the Troubadours.
St. Francis will play in a single-elimination NorCal Tournament starting on Friday, Nov. 18-19 at Broadstone Racquet Club in Folsom.
"These teams will be teams we have never faced before but we will take it one match at a time," said Spector.
St. Francis 6, McClatchy 3
Singles
1. Shirley Kwong, M, def. Myra Anwar, SF, 6-4, 6-4
2. Adithi Benush, SF, def. Daisey Lewis, M, 7-6 (3), 6-4
3. Taylor Ashida, M, def. Kiya Jackson, SF, 7-6, 6-4
4. Kyla Jackson, SF, def. Natalie Wong, M, 7-6 (3), 6-0
5. Marisa Fat, SF, def. Ginger Harris, M, 6-4, 6-2
6. Annie Gianulias, SF, def. Gigi Castaneda, M, 6-1, 7-6 (3)
Doubles
1. Abby Benvenuti/Sabrina Voeller, SF, def. Bethany Gen/Clara Ginnell, M, 2-6, 7-6, 1-0 (10-5)
2. Cameron Parra/Samantha Sonntag, SF, def. Kylea Wong/Anna Schott, M, 6-2, 6-2
3. Debby He/jasmine Duong, M, def. Stephanie Fong/Bianca Ariza, SF, 7-6, 6-3.