Tennis Advances to Section Finals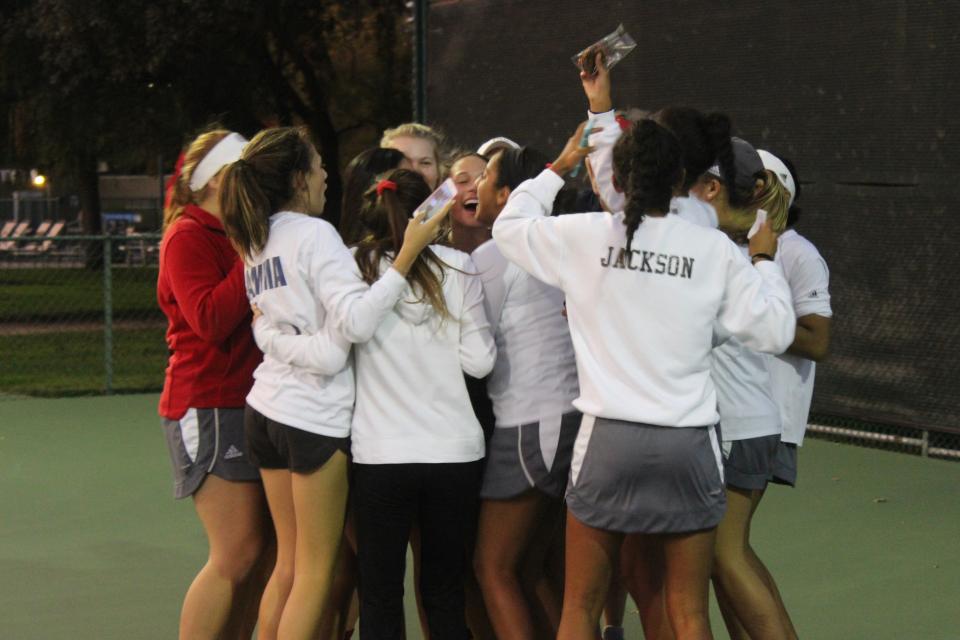 SACRAMENTO, Calif. – After three hours and 12 minutes, senior Annie Gianulias prevailed at No. 6 singles with a three-set win over Alora Jorgensen to clinch the match 5-4 for the St. Francis tennis team over Del Oro and earn the Troubadours a berth in the Sac-Joaquin Section finals on Wednesday.
"It feels, honestly, awesome," said Gianulias. "It was a tough match to pull out. Assistant coach Todd Stanley told us these are the matches you will remember and they are one you have to fight for."
Gianulias dropped the first set in a tiebreaker 7-6 but rallied to win the second 6-4. The third set was tied at 3 before Gianulias broke Jorgensen, who promptly broke back to tie it again at 4. But Gianulias broke her opponent again and served out for the win 6-4.
"The breaks were really important," said Gianulias. "When I get a break, I get more energy. I have to remember to tell myself to maintain that energy throughout the match."
Gianulias played in front of the entire crowd on the main court at Rio del Oro Racquet Club not knowing her match was the decisive match.
"It felt really good to have everyone cheering," said Gianulias. "This was a match I felt I played my best. To have everyone cheering me on feels good."
While Gianulias grinded out her match, the Troubadours were building an early lead behind wins by Kiya and Kyla Jackson at No. 3 and 4 singles. Del Oro then won at No. 1 singles and No. 2 doubles to tie the match. The Troubadours took back the lead with singles wins at No. 2 by Adithi Benush and No. 5 by Marisa Fat.
"The fact we got five of our singles line was huge," said Spector. "That is what made the difference and to have Annie, our senior, go the distance. She is the only one who could have done that match."
Del Oro tied the match at 4 with doubles wins at No. 2 and 3, winning each match in three sets.
"I am really excited," said Head Coach Kristi Spector. "I am really excited for the team. I love a close match. I feel for Del Oro because we have been on the other side. I love camaraderie and the support of all the girls and parents. Both schools played really well."
St. Francis advanced to the Section finals with a chance to win their first title since 2011.
"Overall, it has been a really good year and everyone tried their hardest," said captain Abby Benvenuti. "Not everyone won but everyone who played today tried their hardest."
The Troubadours will play Oak Ridge, a 7-2 winner over Granite Bay, at 3:30 p.m. at Broadstone Racquet Club in Folsom.
"It means the world to me," said Gianulias. "We have not come this far during my four years. Coming here (to the finals) in my senior year is amazing."
St. Francis 5, Del Oro 4
Singles
1. Ashley Isaac, DO, def. Myra Anwar, SF, 6-0, 6-2
2. Adithi Benush, SF, def. Ali Isaac, DO, 7-5, 7-6
3. Kiya Jackson, SF, def. Emma Dobson, DO, 6-1, 6-3
4. Kyla Jackson, SF, def. Bri Stough, DO, 6-2, 6-2
5. Marisa Fat, SF, def. Megan Conkle, DO, 6-2, 6-1
6. Annie Gianulias, SF, def. Alora Jorgensen, DO, 7-6, 4-6, 6-4
Doubles
1. Izzy Watson/Becca Schmidt, DO, def. Abby Benvenuti/Sabrina Voeller, SF, 6-4, 6-3
2. Abby Edwards/Ashley Jensen, DO, , def. Macy Wood/Stephanie Fong, SF, 6-4, 6-7, 6-4
3. Sophia Fusano/Juiliette Coughey, DO, def, Cameron Parra/Samantha Sonntag, SF, 6-4, 1-6, 6-4.