Tennis Advances to Section Semis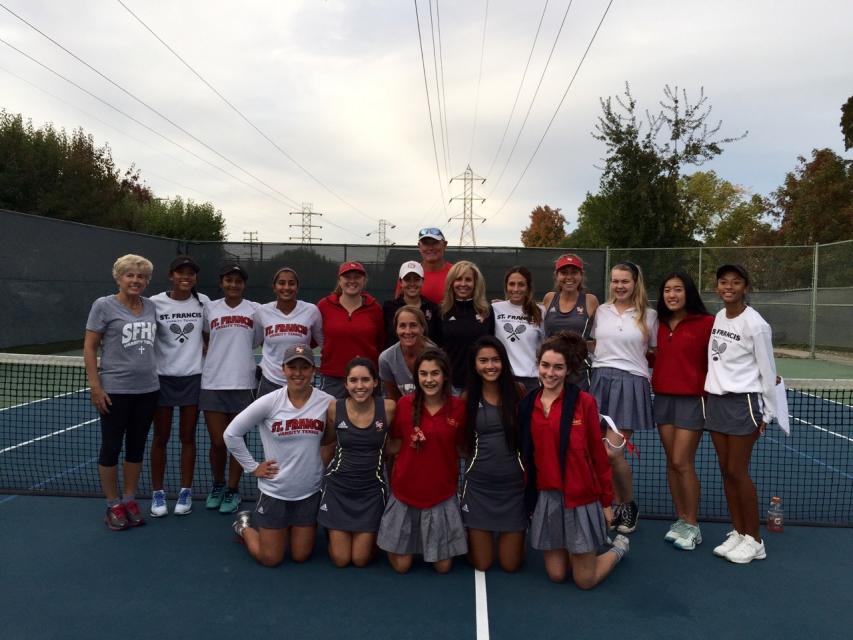 SACRAMENTO, Calif. – The St. Francis tennis team won four three-set matches to propel the Troubadours into the Sac-Joaquin Section semifinals with a 7-2 win over Rocklin Monday afternoon at the Rio del Oro Racquet Club.
St. Francis opened the match with a pair of 6-0, 6-0 wins at No. 5 and No. 6 singles by Marisa Fat and Annie Gianulias, respectively. In doubles, senior Abby Benvenuti and Sabrina Voeller gave SF the 3-2 lead with a 4-6, 6-1, 6-1 at the top spot. But the match was decided by four matches that went three sets, including two singles and two doubles.
"These girls wanted it," said Head Coach Kristi Spector. "It was really fun to see. They were tenacious in how they played."
Freshman Adithi Benush won at No. 2 singles 6-1, 0-6, 6-2 over Rocklin's Canela Luna and junior Kiya Jackson posted a win at No. 3 after dropping the first set 3-6, 6-1, 6-3. Junior Kyla Jackson also had a win at No. 4 with a hard fought win 6-4, 6-4. Doubles tandem junior Cameron Parra and freshman Samantha Sonntag closed out a 6-2, 4-6, 6-3 win at No. 3 doubles.
"We are super excited for tomorrow and it will be hard match but the girls are ready," said Spector.
St. Francis will host Del Oro at 2 p.m. at Rio del Oro Racquet Club.
St. Francis 7, Rocklin 2
Singles
1. Naveena Attota, R, def. Myra Anwar, SF, 6-2, 6-3
2. Adithi Benush, SF, def. Canela Luna, R, 6-1, 0-6, 6-2
3. Kiya Jackson, SF, def. Talia Panedero, R, 3-6, 6-1, 6-3
4. Kyla Jackson, SF, def. Bailey Greenwell, R, 6-4, 6-4
5. Marisa Fat, SF, def. Alyssa Long, R, 6-0, 6-0
6. Annie Gianulias, SF, def. Richa Sharma, R, 6-0, 6-0
Doubles
1. Abby Benvenuti/Sabrina Voeller, SF, def. Medha Sandarmudi, R, 4-6, 6-1, 6-1
2. Claire Stanley/Sam Illustrisimo, R, def. Macy Wood/Stephanie Fong, SF, 6-4, 6-1
3. Cameron Parra/Samantha Sonntag, SF, def. Laura Maranta/Kiara Rosaluna, R, 6-2, 4-6, 6-3