Tennis Finishes Second in Section; Will Play for NorCal Berth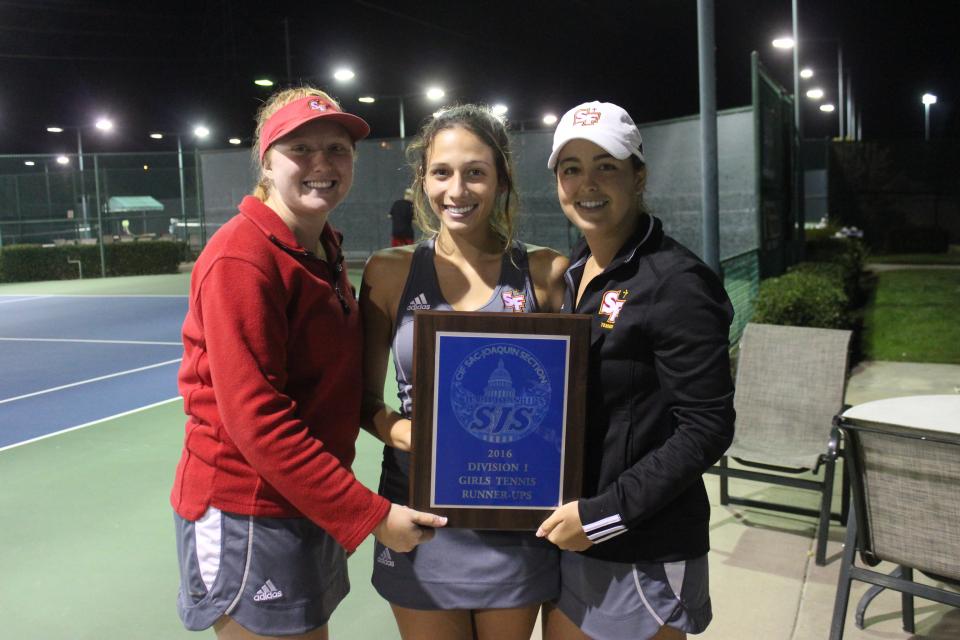 FOLSOM, Calif. – Oak Ridge defeated St. Francis 7-2 to win the Sac-Joaquin Section title and the automatic berth into the NorCal Tennis Championships next week at Broadstone Racquet Club.
"I am feeling really good but these girls are really tired," said Head Coach Kristi Spector. "They have had some long matches. But I am really proud of the girls. Oak Ridge is the No. 1 team in the Sierra Foothill League and No. 1 seed in the playoff bracket. We had a couple matches that could have gone either way. Regardless, I hoping we can pull off the win and advance to NorCals."
Oak Ridge snapped the 16-match win streak by the Troubadours dating to the opening weekend of the season. The Troubies won the Delta League title with a perfect 12-0 record with three straight in the Section bracket including wins over Vacaville, Rocklin and Del Oro.
"We knew it was going to be a tough match and there was a possibility we could pull it off," said Marisa Fat. "The score did not do justice for how the matches went. Everyone fought really hard and tried their best. Honestly, to come this far is awesome and we congratulate Oak Ridge. It was a fun time tonight."
Junior Marisa Fat provided the lone singles win for St. Francis, posting a 6-2, 6-2 win over Julia Van Boening at No. 5 singles. SF also got a win at No. 3 doubles, winning a retired match due to injury that was headed to a third set.
"We win and lose together, the whole team does it together," said Fat. "Winning is the best feeling the world. But afterwards I got off the court and starting cheering on my teammates."
St. Francis will host McClatchy at Rio del Oro Racquet club at 2:50 p.m. on Thursday.
"The girls will rise to the occasion; they are young," said Spector. "If I can get them mentally prepared, then we will be able to show up and get the job done."
McClatchy won the Division 2 title over Whitney on Wednesday 5-4. The teams are playing for the second section berth into the NorCal Tournament to be held at Broadstone Racquet Club next week.
"We have improved greatly from last year and we are excited that we did get second place," said sophomore Myra Anwar, who plays the top singles spot for St. Francis. "We are going to get a chance to play tomorrow. We came so far from last year and I think that is a great accomplishment. It is better than winning."
St. Francis last advanced to the NorCals in 2011 before losing in the semifinals to Monte Vista.
"It means so much," said Fat of reaching NorCals. "We have not made NorCals since 2011 and, personally, my sister was a junior at that time. I am in the same spot as her now so the legacy sounds so awesome so I really want to make NorCals. We are going to go into it hoping for the best and see what happens."
Oak Ridge 7, St. Francis 2
Singles
1. Madeline Almeida, OR, def. Myra Anwar, SF, 6-0, 6-0
2. Devika Pantpratinidh, OR, def. Adithi Benush, SF, 6-0, 6-1
3. Kassidy Lyons, OR, def. Kiya Jackson, SF, 6-4, 6-3
4. Lily Wainwright, OR, def. Kyla Jackson, SF,
5. Marisa Fat, SF, def. Julia Van Boening, OR, 6-2, 6-2
6. Kapri Lyons, OR, def. Abby Benvenuti, SF, 3-6, 6-1, 6-2
Doubles
1. Masha Cunningham/Cheljea, OR, def. Annie Gianulias/Sabrina Voeller, SF, 6-4, 2-6, 7-6 (4)
2. Margaret Asperheim/Darshini Gupta, OR, def. Macy Wood/Stephanie Fong, SF, 7-6, 3-6, 1-0 (12-10)
3. Cameron Parra/Samantha Sonntag, SF, def. Lan Zhao/Grace Hsueh, OR, 2-6, 6-3 (ret.).