Three Seniors Ink Commitments to Play in College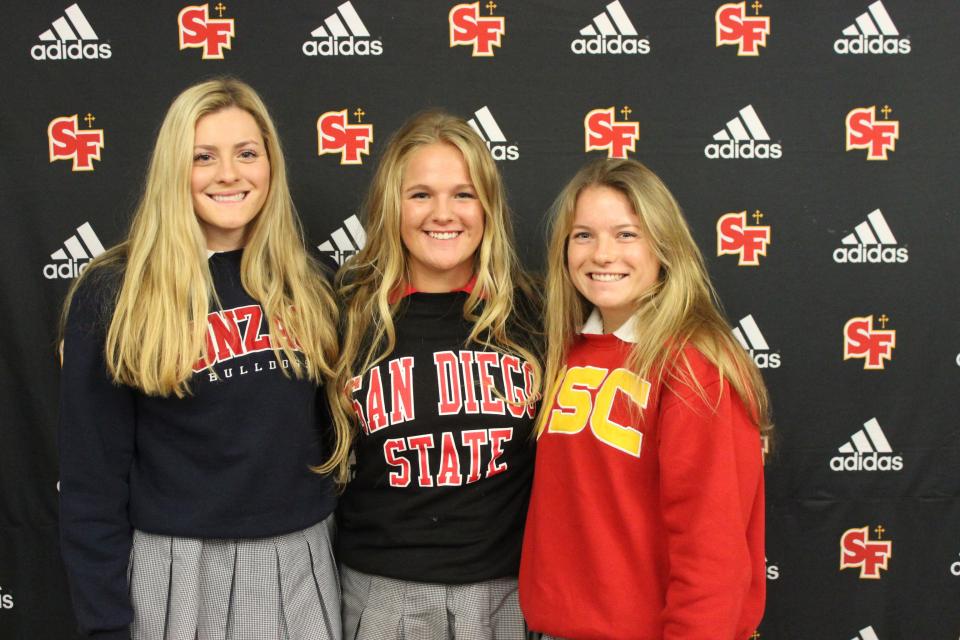 SACRAMENTO, Calif. – Three St. Francis seniors participated in the NLI/College Commitment Celebration hosted on the St. Francis campus Wednesday morning. Volleyball's Claire Barbe (Gonzaga) and lacrosse standout Sarah Westover (University of Southern California) joined classmate Grace Reginato (Rowing, San Diego State) in participating in the event.
Barbe, a Loomis product, ranks third on the team in kills this season and second in blocks and has helped lead the Troubadours into the NorCal Championships. St. Francis finished third in the Delta League and lost in the section semifinals Tuesday at Whitney 3-1. The NorCal brackets will be announced on Sunday.
"I have wanted to go to Gonzaga since I was a little girl," said Barbe about her commitment. "I am on top of the world and I could not be happier."
Reginato competes for local club Capital Crew. She will compete for an Aztec women's rowing program led by fourth-year head coach Bill Zack. The Aztecs have claimed two medals at each of the last two WIRA Championships.
"I am so excited to sign with San Diego State Women's Rowing," said Reginato. "It is such an honor. I am excited to have the next four years to excel in the sport."
Westover, a three-time letter winner on the St. Francis team, has scored 83 career goals for the Troubadours and recorded 21 assists. She had a breakout season as a junior, scoring a career-high 45 goals with nine assists for a team-best 54 points. She was named to the Sacramento Valley Lacrosse Conference first team and was named the team's Offensive MVP.
"I have been committed since sophomore year," said Westover. "Today made it really real. The athletic program at USC is a family. They want the best for you athletically and academically."
The signing day event coincides with the first signing date of the National Letter of Intent program (offered to prospects that will receive an athletics scholarship from an NCAA Division I or II institution) and includes all sports. St. Francis will also host events for the soccer signing date in February and the second all sport date in April.
The event was broadcast on the TroubieTV Network and is available online.
Since 2012, St. Francis has produced 108 student-athletes who have signed to play collegiate sports.
Fall Signing Day — November 9, 2016