Wehner Selected as St. Francis' Valedictorian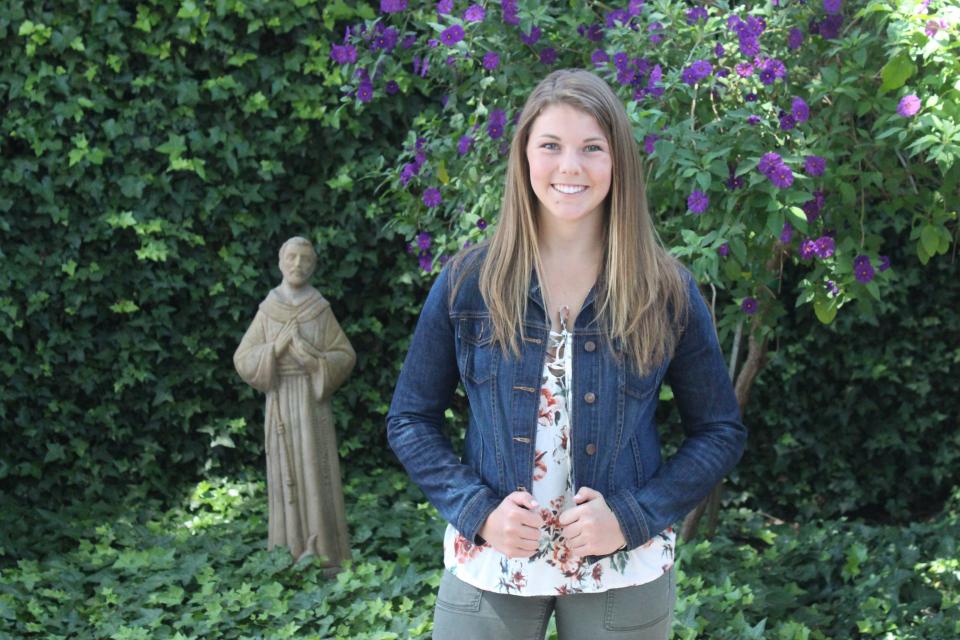 SACRAMENTO, Calif. – St. Francis water polo and swimmer Kayla Wehner has been selected as the school's valedictorian and will address her class Thursday night at the graduation ceremony at Memorial Auditorium.
"It was really exciting for me," said Wehner of her honor. "As a freshman I could not have imagined being the valedictorian. Seeing that working really hard in all my classes and things outside of school was able to pay off, it was really cool."
Wehner, who lives in Lincoln, was among a select group of students that were qualified to apply for the honor and was chosen as the student that best represents the four pillars of the school – Faith, Excellence, Leadership & Service.
"Kayla is an amazing young woman who loves her school and puts 100% into everything she does," said President & Acting Principal Theresa Rodgers. "Her valedictory remarks reflect her passions, her love for her Troubie sisters, and her desire to make a difference in the world. I am so proud that she is representing the class of 2017 at our commencement ceremony."
Wehner (pronounced winner) has made the most of her high school experience, participating in athletics, academic teams, leadership and service opportunities that have shaped her into a woman who can change the world.
"St. Francis is unique because it gives you a chance to do everything," said Wehner. "It is something I really like about the school. With everything you do, you are really able to perform your best. There are friends there to support you along with the coaches and teachers. They are always willing to invest in you in everything single area from sports to school to lunches and academics. It is all there and it is fantastic."
Wehner arrived at St. Francis knowing two classmates but dove into her experience, literally and physically.
"It has meant a lot," said Wehner of her participation in sports. "Coming from a public school in Lincoln, I knew two girls. I played water polo my freshman year and I made my closest friends on that team. I am still friends with them to this day. It was the beginning and showed me how to manage my time."
In addition to water polo in the fall her freshman season, she participated in swimming all four years at the school. Her experience was highlighted by her memory of participating in a 400 free relay at sections when the team all clocked personal bests.
"Swimming all through high school has been great," said Wehner. "There have been a lot of ups and downs. There were times I was super into it and others I was not. Overall, it has been really good for friends and relationships and showing me how hard I can work."
She gave up year-round swimming with outside clubs during her sophomore season to open up other new opportunities at the school.
"I realized there were some things I wanted to focus on other than swimming and I was not going to realistically pursue it in college," said Wehner
One of those areas was with the Model United Nations. She was recently awarded the distinction of Outstanding Delegate at the UC Berkeley Model United Nations Conference in March.
"It was probably the best commitment I made at this school," said Wehner. "It was incredible. It gave me so much confidence in my public speaking skills and it helped my writing. More importantly, it gave me a broader perspective of what the world is like."
Wehner studied and presented on African Union in Sudan this spring.
"At competitions, we met kids from all over the world like Africa, South America and China," said Wehner. "Getting to meet people and hear the debates they brought was really interesting because their perspectives are so different than here in America. It was really cool being able to research the countries from different perspectives."
She will attend USC in the fall to study international relations and foreign affairs on a Naval ROTC Scholarship covering her tuition and books.
"When I went to USC junior year, I fell in love with the school," said Wehner. "My mom said that was great; now figure out a way to pay for it. I looked into the Naval ROTC program. For what I want to do with international relations and Model UN, it was really realistic and possible with the Naval Foreign Affairs programs."
A military career awaits her following graduation, following in the steps of her father, who was in Marine Corp and Air Force. She is looking forward to her career and hopes to stay in the Navy well past her five-year commitment.
Her St. Francis resume also included serving as student council treasurer for the senior class, dancing in the school's hip-hop club ERA and starting the Donuts and devotions club. "We have meetings with donuts so it is fun," said Wehner.
Wehner also took a service trip to Ecuador and re-joined the water polo team her senior season to have her athletics career come full circle at the school.
"Kayla came to the water polo team very driven to improve throughout the season and to help the team win!" said Head Coach Heather Moody "Her efforts in the pool and out were a great example to our younger athletes. So I would say she brought determination, hard work, team work, and a smile every day. I am very happy that I got an opportunity to coach Kayla."
She took her final laps in the pool with the Troubadour swim team this spring, swimming at the Delta League Championships.
"Kayla was a strong senior leader," said Head Swimming Coach Richard Levin. "She was a great addition to the high school practice and always had a positive attitude and exhibits a real love for St Francis."
She also continued a recent streak to three consecutive years that a Troubie swimmer earned the title of valedictorian, joining Annie Rafeld (UC-Berkeley, Class of 2015) and Emily Bloom (UCLA, Class of 2016).
"You have to work hard in swimming so maybe it transfers," joked Wehner.
With her classes completed, she now focuses on her commencement address later this week.
"My speech centers around dreams and dreaming big," said Wehner. "It is something that is important to me. I think if our class can dream big about the future, we can have a really big impact on the world."
Kayla Wehner is great product and example of the school motto "Graduating Women Who Can Change the World". She is off to a great start.