St. Francis Athletics Alumnae News –Sept. 15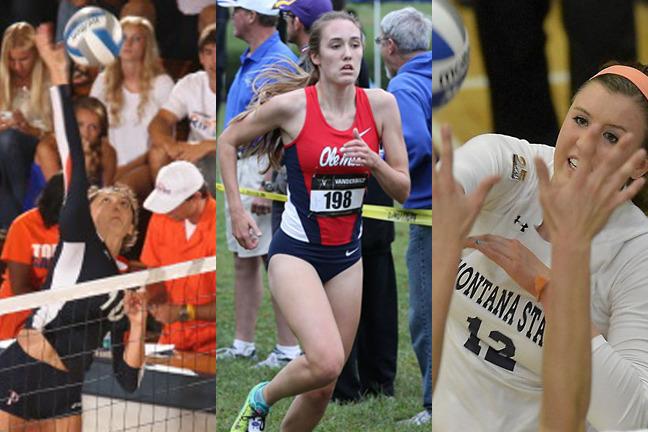 SACRAMENTO, Calif. – St. Francis alumnae are succeeding at the collegiate level across the country. Here is collection of news and notes from the last two weeks about the former Troubies. Submissions can be sent in to Assistant AD Steve Shaff at sshaff@stfrancishs.org.
2012 Sac Bee Player of the Year Gaby Palmeri '13 (Davis) delivered her first collegiate double-double in the Waves' loss to Creighton on Sept. 12. Palmeri continues to get better and better for Pepperdine. She led the way with a career-high 16 kills while hitting .344 (16 kills-5 errors-32 attempts) to go along with her career-best 13 digs. It was the sophomore's first collegiate double-double.
Read the recap on the Pepperdine site: http://gowav.es/1oERlgk
Freshmen Madison Rawson '14 finished 48th in her collegiate debut for Ole Miss at the Commodore Classic on Sept. 13.
Read the recap on the Ole Miss site: http://tinyurl.com/ll7rswz
Ileana MacDonald '14 will make her collegiate debut for Chico State at La Jolla's Torrey Pines Golf Course as part of the Point Loma Nazarene Fall Preview on Monday, Sept. 15.
Read the article on the Chico State site: http://tinyurl.com/mmy84o9
Zoe Nightingale '11, the Sacramento Bee Player of the Year in 2010, had six kills and six blocks as the 25th-ranked UCLA Bruins won the Outrigger Resorts Volleyball Classic in Honolulu on Sept 13. The Bruins entered the national rankings for the first time last week. You can watch Zoe on the Pac-12 Network on Tuesday, Sept. 23 against USC. It is one seven broadcasts featuring the Bruins the rest of the season.
Read the article on the UCLA site: http://tinyurl.com/m3awm6r
Loni Kreun '13 (Davis) was named to the All-Tournament team at the Utah Classic. She helped her Montana State team to a four-set win over two-time defending WAC champion New Mexico State with a team-best 12 kills.
Read the article on the Montana State site: http://tinyurl.com/jw7rcm3
Karen (Frazier) Horvath '06 recently finished 15th in the Disney Half Marathon. She joined her mom (Linda Frazier), Coach Laura Frazier and sister and faculty member/assistant swimming coach Barbara Gluvers in the race. Karen was on the start line in her first race as an elite entrant after just having a baby less than five months ago. She was recruited for a running team based out of Oklahoma City after her second woman overall finish at the OKC marathon in April 2013. She has also competed in triathlons, including winning her age group at Ironman Coeur D'Alene 2011. She swam in high school and in college at Miami (Ohio) and is still the 100 breast stroke record holder for St. Francis.