Water Polo Alumnae at Aggie Shootout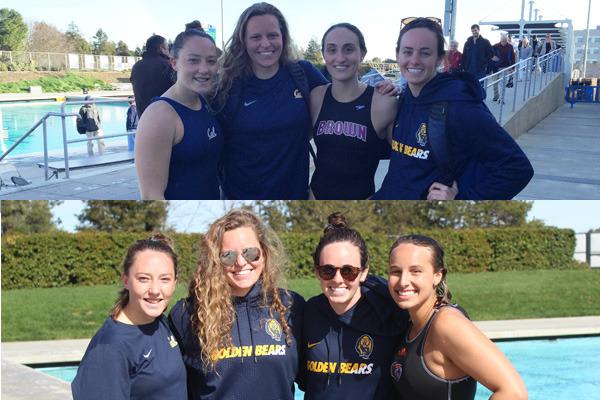 DAVIS, Calif. – UC Davis hosted the Aggie Shootout Saturday but it felt like a St. Francis water polo alumnae gathering with the large number of Troubadours students, alumna and parents in attendance. The Cal Head Coach even called it "National St. Francis Day" at the pool.
Five alumnae were representing three different schools at the Aggie Shootout including Brinnley Barthels '14 (Pacific), Lauren Charter '15 (UC-Berkeley), Marisa Kolokotronis '13 (Brown), Kat Menz '12 (UC-Berkeley) and Brooke Vowell '12 (UC-Berkeley).
"I grew up obviously playing in Sacramento but all these players from Cal, Stanford and UC Davis (in this event) I played with in Zone, ODP and at St. Francis," said Brown junior Marisa Kolokotronis, whose team fell to Cal.
Kolokotronis ranked second on the team in goals, steals and ejections drawn in 2015. She earned ACWPC Superior All-Academic Honors and recently decided her major after studying in Rome.
"It has been going great," said Kolokotronis. "I just got back from spending the semester abroad in Rome. It was amazing and I decided I am double concentrating in Urban Studies and Art History. It really ignited my love for Art History."
Brown and Kolokotronis fell to the Golden Bears and their St. Francis trio. They are part of the No. 3 ranked team in the country with national championship aspirations. Brooke Vowell, who earned ACWPC All-Academic status last year, sat out the tournament with an injury but plans to return to the pool soon.
"It has been a once in a lifetime (experience)," said Vowell of her time in Berkeley. "I have made some of the best friends I have ever had. Especially being on the water polo team makes college that much more special."
Vowell, who graduate with a degree in Genetics and Plant Biology, and Menz played together at St. Francis and helped the team to the 2008 section title.
"It has been really fun," said Vowell of her time with her Troubie sister Menz. "We have lived together for four years. It is really cool to share your entire experience with someone who has gone through the same thing."
Head Coach Richard Corso said Vowell has improved a great deal of her four years. She has four goals in 12 matches this season.
Menz, who was the Sacramento Valley League Defensive Player of the Year in 2011, has seen limited action during her career but is making the most of her experience.
"I am still really enjoying the team," said Menz. "I am not playing so much this year but I am traveling and helping out the team in every way I can. I have had a pretty good experience so far and I loved that I chose (to come here).
She was the primary goalie for the Bears at the 2013 World University Games and averaged 4.17 saves per game. Menz is majoring in legal studies with plans to go into investigation. She will spend some time in Hawaii after graduation this summer to take a break from school and water polo.
"Kat has been a great goalkeeper for us," said Head Coach Richard Corso. "She has not had a lot of playing time but she is a great practice goalkeeper and great reserve. We can always count on her."
Both will graduate in May but with NCAA Championships falling over the same weekend will have to make other plans to pick up their degrees. They have welcomed a third Troubie to the team this season in freshman Lauren Charter.
"It has been really nice," said Charter. "My freshmen year (at St. Francis) I did not really know them and I feel like it is another opportunity to get to know them better and use their pieces of wisdom. They are perfect role models."
Charter scored two goals in a match earlier this season and saw action against Brown on Saturday, a Golden Bear win.
"I am learning more than I thought I possibly could," said Charter, who represents the fourth generation from her family to attend UC-Berkeley. "I am having fun and it better than I thought it would be. It is hard but it is fun to work with these girls every day."
Corso said the three have made an impression for St. Francis at UC-Berkeley.
"Those three girls had outstanding academics at your school (St. Francis)," said Head Coach Corso. "They were well prepared to come to school like Berkeley. That is the first question we ask. If we are talking to them, they are good water polo players. They all bring to the table, I would suspect part of your mission statement, a great spirit, great mentality to the team as teammates and come from great families. What is not to like?"
The fifth student-athlete in the pool Saturday with Troubie ties was Pacific redshirt freshman Brinnley Barthels. She is seeing action off the bench for the nationally-ranked Tigers.
"It is really fun and after a year of redshirting it is good to be back and play," said Barthels. "It is a lot different than high school. It has been one of the best decisions I have made."
Barthels had four goals in her first 12 games this season.
"She is our second center defender this year," said Pacific Head Coach James Graham. "She has developed a ton over the last 18 months. We are really excited about her. Not only is she a good defensive players but she is one of our best shooters from the perimeter in terms of catch and shoot situations. She just needs experience in the game she will continue to get. I think she is going to have a huge role in this program over the next three years."
While player is in different stages of their careers, the older ones have had more time to look back on their time at St. Francis.
"The friendships I made at St. Francis were my favorite part," said Kolokotronis. "I am still close with a lot of the teammates I played with and Chris Borasi was my coach and his wife was my English teacher. That sense of community sticks around forever. "
Menz can still picture sitting on campus.
"Senior year was great," said Menz. "I miss sitting by my locker and the potted plants and eating lunch in the free periods. I owe everything to St. Francis and the athletic program getting to where I am now. I totally miss St. Francis."
Vowell remembers her teachers who made her time at St. Francis memorable.
"There were a lot of really good times," said Vowell. "I really liked some of the teachers that made it really special and the friend groups."