Alumnae Verspieren '12 and Murbach '14 Making Waves with Gonzaga Rowing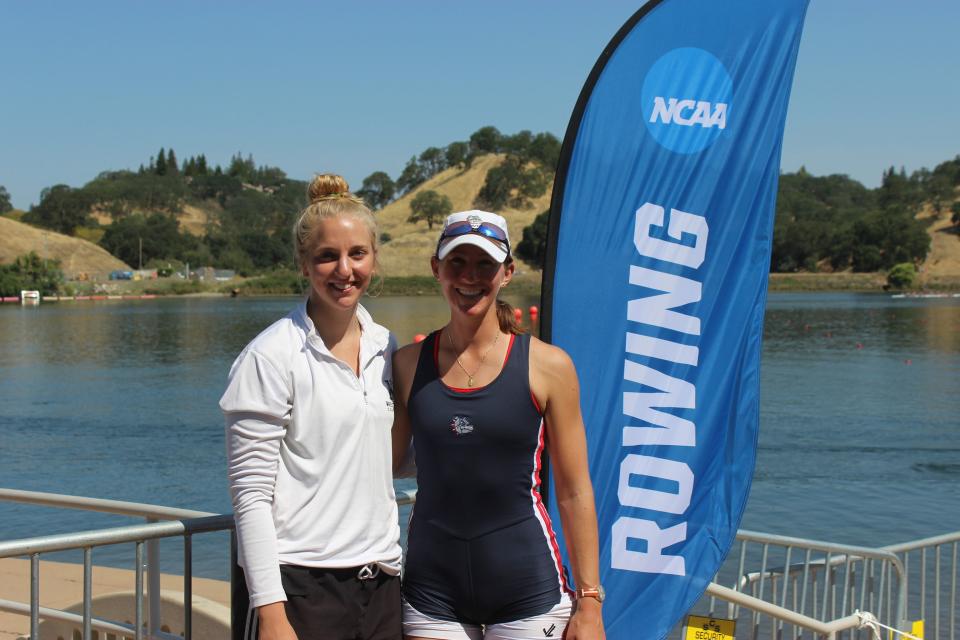 GOLD RIVER, Calif. – Former Troubadour Madeleine Verspieren '12 was drawn to the big boat setup at orientation and decided to try out a new sport. Four years later, she helped the Zags record their best NCAA finish in school history and will leave with two degrees and a feeling of accomplishment from her time on the water.
"It has been an exciting experience from my freshman year to now as a senior being a part of the program and seeing how much it has grown," said Verspieren. "There is so much positive energy every year and to see us come together this year, once again, (it is great) to turn in fast times and go after it each race throughout the season, especially this weekend."
Verspieren was the third seat on the Second Varsity 8 for Gonzaga in the "C" final at the NCAA Division I Rowing Championships held on Lake Natoma on Saturday. GU found itself in sixth at the 1,000-meter mark by less than a second, but by the 500-meter mark, they had moved to fourth.
"Today was very exciting," said Verspieren. "We came into the "C" final which we were all excited about. It was the first time for Gonzaga's second varsity to get into that final. We knew it would be tough with a lot of fast crews. We did our best and we knew it was our last one."
In the final 500 meters, the Zags continued to pull away from fifth-place Northeastern and sixth-place USC by a two-second and four-second margin at the finish. GU came through in a time of 6:42.39, eight seconds behind C Final winner Duke.
"In rowing, it is said, 'Last one, fast one'," said Verspieren after the race. "We knew it was really the last chance. We gave it our all and were down for the first 1000 and were the last in the pack. We started turning our gears and finished out to move past two crews. We are very excited and I am so proud of my boat as a whole."
Gonzaga finished a program-best 16th overall as a team, and had two individual boat finishes that were also the best in program history with the Varsity 8 and Second Varsity 8. The Zags combined for 45 points in the team race, which tied with Duke.
"You don't get many opportunities in life to keep trying something and getting better," said Head Coach Glenn Putyrae. "We are still on the rise and it is a lot of fun."
They are on the rise because Putyrae and his staff keep finding contributors like the Troubie duo, who entered Gonzaga without any experience. Heather Handy '11 graduated last year.
"We are actively looking for good student-athletes," said Head Coach Glenn Putyrae.
Verspieren was a tennis player at St. Francis, while Cherie Murbach '14, who missed this season due to injury, played water polo for the Troubadours.
"I walked on campus and they were like you are tall and athletic-looking, 'Do you want to row?'" said Murbach. "I played water polo in high school but I decided I needed to do some athletic thing because I had done sports all thru high school."
Verspieren was a three-year varsity letter winner in tennis, helped the SF team win league and sectional titles in 2008, 2009, and 2010 and .was a member of the Sac-Joaquin Section Doubles team that was a finalist in 2009. She was also named All-Delta River League from 2008-2010
"It was a really cool experience going from tennis, which is more of an individual sport, to the ultimate team sport and being part of culture that really demands and pushes everyone to be their best," said Verspieren.
They have excelled in the classroom at Gonzaga and were recently honored for their accomplishments.
Murbach, who is from Shingle Springs, and Verspieren, who is from Fair Oaks, were both being named to the West Coast Conference All-Academic Team, while Verspieren earned CRCA National Scholar-Athlete honors.
"It means a lot to me," said Murbach of the conference honor. "My mom is a teacher so it has always been a big deal. I was a student first and an athlete second. Gonzaga has helped me do both well. They have given me a ton of support…To have people that still push you to be a student before an athlete and wrap it all together means a lot."
Verspieren has graduated with a degree in accounting with minors in French and music. After an internship at accounting firm of PricewaterhouseCoopers in San Francisco, she will return to Spokane to finish her master's.
"It feels good," said Verspieren of her accolades. "There are a lot of people who helped me get there from Gonzaga and without them none of that would be possible. With the discipline I learned from St. Francis and the well-rounded aspect that St. Francis emphasized, I was able to carry it through to Gonzaga. I really believe if you set your mind to anything, you can achieve it. I wanted to keep my grades up and pursue academics and athletics. If you set your goal to it and are disciplined and committed, it is achievable."
Murbach, who was part of the NCAA roster as a freshman last season, plans to return stronger in 2016-17 after her time off this season.
"I love Gonzaga," said Murbach. "It is cold and school is really hard for me. But it is really a lot like St. Francis to me. It is a Catholic school and has huge team spirit with basketball. It is a small community. I love it. It is what I grew up with in high school and it has just continued on. It is a close-knit family especially with rowing. It is a great support system for me."
Verspieren leaves the water for the final time knowing she made a difference and had a life-changing experience.
"It is very mixed," said Verspieren after finishing her last race. "I am proud of how the team has done and how my boat did this weekend and throughout the season. We really stepped up this year and gave it our all in practice. I am really grateful for these past four years and opportunity to be at Gonzaga and be a Division I athlete with the rowing team. I am very excited to see where the program goes in the next four years with the girls I know and beyond."
"She has been a great contributor for four years," said Putyrae. "For anyone that has not rowed before, they cannot understand how hard it is and how much commitment it takes to make it through your first year, let alone to make it through four years. Madeleine has grown so much the last four years. We are grateful for her hard work and work ethic but also, more importantly her commitment to improve each and every year."