Athletics News – 11/11/16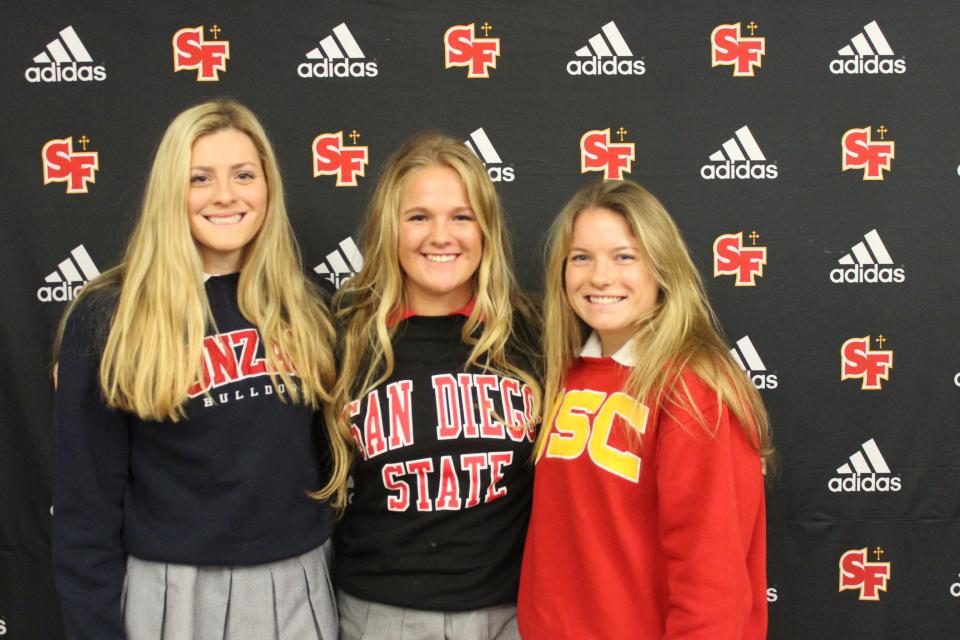 This Week in Troubie Sports…
Playoff postseason continues for the tennis and volleyball teams in the NorCal Championships, while cross country will be off this week to train for the state championships over the Thanksgiving weekend. Several teams will host their end-of-season banquets this week, celebrating the outstanding team and individual accomplishments of the Fall season. The basketball and soccer teams will complete tryouts and start preparation for the upcoming season. For a complete list of Athletic Events, click here.
Three Seniors Ink Commitments to Play in College
Three St. Francis seniors participated in the NLI/College Commitment Celebration hosted on the St. Francis campus Wednesday morning. Volleyball's Claire Barbe (Gonzaga) and lacrosse standout Sarah Westover (University of Southern California) joined classmate Grace Reginato (Rowing, San Diego State) in participating in the event. Read the complete release here or watch on TroubieTV.
Tennis Finishes Second in Section; Will Play for NorCal Berth
Oak Ridge defeated St. Francis 7-2 to win the Sac-Joaquin Section title and the automatic berth into the NorCal Tennis Championships next week at Broadstone Racquet Club. Read the complete release here.
Golf Finishes Tied for Seventh at NorCals
The St. Francis golf team finished tied for seventh at the 2016 NCGA/CIF NorCal Championship Monday at The Club at Crazy Horse Ranch. It was the first NorCal appearance since 2013. Read the complete release here.
Cross Country Places First at Subsections
The St. Francis cross country team won the Sac-Joaquin Subsection Division 2 meet to advance to the sections next week, scoring 67 points to defeat Vacaville (84). Read the complete release here.
Follow St. Francis Athletics on Facebook, Twitter or Instagram.