Maryclaire Robinson '86 – Head Varsity Coach
SFHS Head Varsity Soccer Coach Bio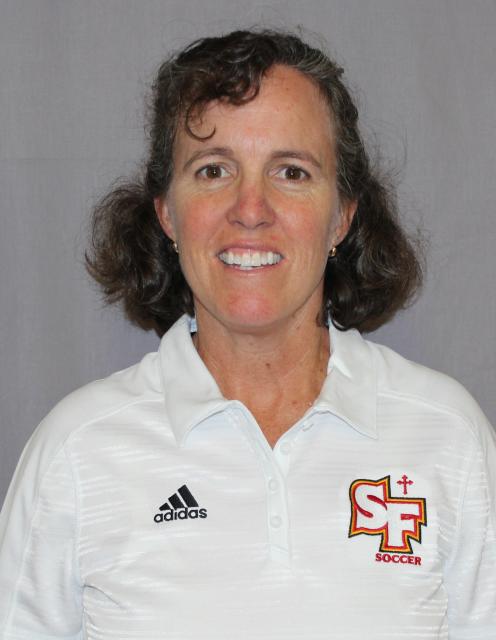 Former UC Davis women's soccer coach and St. Francis alumna Maryclaire Robinson enters her fourth season as the head coach of the St. Francis soccer program. She joined the program after serving the 2015 as the interim head coach.
"I have such fond memories of walking these halls and representing the Troubadours," said Robinson, who took over initially for Rosella Kelly. "St. Francis was instrumental in my growth personally and athletically. To have this opportunity to give back is phenomenal."
In her first season, she led the Troubadours to a Sac-Joaquin Section finals berth before falling to Franklin 3-0 in the championship match. St. Francis went 19-3-2 overall and posted a 10-2-2 record in the Delta League to finish third overall. The Troubies were ranked fifth in the state by MaxPreps. In 2016, St. Francis advanced to the Section quarterfinals.
The program has been awarded the prestigious NSCAA Team Academic Award during each of her three seasons. She has helped tutor 17 players who have made college commitments or signed to play soccer in college.
"We're so proud to welcome back Coach Robinson and thrilled to have her continue the great legacy of Troubadour soccer of which she has already contributed so much as both a player and a coach," said Athletic Director McGreevy. "Maryclaire is a living testament to the value and benefits of St. Francis education and an excellent role model for our student-athletes. She scores top marks on every measure in what we look for in a head coach.
Robinson, a 1986 graduate of St. Francis, posted a 201-169-34 record during her tenure on the Aggies' sideline. She led UC Davis to titles in the Northern California Athletic Conference and the California Collegiate Athletic Association. UC Davis also advanced to the quarterfinals of the 2002 NCAA Division II tournament.
She was named the 2011 Big West Coach of the Year after the Aggies advanced to the conference semifinals and finished with 11 wins, the most in the Division I era for the school. UC Davis recorded eight consecutive seasons with double-digit wins (1995-2002) while making four appearances in the CCAA Tournament and earning two NCAA berths.
Career Record
2015 19-3-2 10-2-2 Section Finalist
2016 14-4-4 7-3-4 Section Quarterfinals
2016-17 15-5-2 10-2-2 Section Quarterfinals
2017-18
33-7-6 17-5-6
Catie Brown, Southern Methodist University, 2015
Allie Carmickle, UC Davis, 2015
Izzy Chelini, Cal Lutheran, 2015
Anna Gregg, Colorado College, 2015
Madison Kimball, Loyola Chicago, 2015
Addie Wallace, Villanova, 2015
Aly Barr (William Jessup), 2016
Erin Barr (Master's College), 2016
Hailey Barrett (UCSB), 2016
Meredith Cook (Occidental), 2016
Ashley Newland (UL-Lafayette), 2016
Rhys Wynbrandt (Hawaii Pacific), 2016
Ari Avila (Fresno Pacific), 2016-17
Darby Carrillo, Cal-State Monterey Bay, 2016-17
Savannah Tijerino-Santos, American River College, 2016-17
Taylor Simpkins, Point Loma Nazarene, 2017-18
Marlee Nicolos, Santa Clara, 2017-18