Cross Country Wins Two Titles at Pacific Tiger Invite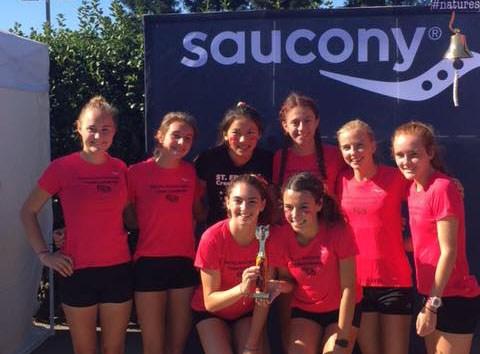 Pacific Tiger Invitational Results
STOCKTON, Calif. – St. Francis won the Varsity and Frosh/Soph titles at the Pacific Tiger Invitational on Saturday in the first of three meets over eight days for Troubadours.
Junior Sophie DeBenedetti paced the Troubadours with a sixth-place finish in 18:34 over the 5K course at the Elkhorn Country Club. Sophomore Haley Silva was one place back in 18:43. Freshman Hanna Hekkanen garnered a Top-20 finish in 16th in a time of 19:06. Sophomore Emma Hollenbach (26th, 19:44) and senior Erica Cradeur (29th, 19:48) rounded out the scoring runners for St. Francis.
Junior Grace Rogers placed second in the JV Large School race in 12:53 over the two miles, while teammate Amanda Sieverts was fourth overall in 13:17. Senior Penelope Zavala was 17th as the team placed fourth behind Pleasant Grove, Liberty and Archbishop Mitty.
The Frosh/Soph group closed out the meet for the team with a win over San Ramon Valley, posting a score of 62. The Troubies placed all five scorers in the Top 20 led by sophomore Nicole McBride in fifth place 12:43. Sophomore Audrey Reyes was seventh (12:49) and sophomore Grace Harrison was 13th (13:01). Freshman Madie Fahey crossed the in 17th (13:21) and Lily O'Gara was 20th (13:28).
The Troubadours compete in the Delta League meet on Wednesday
Varsity Large School (5K)
6. Sophie Debenedetti, 18:34.7
7. Haley Silva, 18:43.8
16. Hanna Hekkanen, 19:06.7
26. Emma Hollenbach, 19:44.8
29. Erica Cradeur, 19:48.9
(40). Cassidy Lourim, 20:04.2
(73). Morgan Watson, 20:56.3
JV Large School (2 Miles)
1. Pleasant Grove 68
2. Liberty 80
3. Archbishop Mitty 106
4. St. Francis 106
Individual Results
2. Grace Rogers, 12:53.4
4. Amanda Sieverts, 13:17.8
17. Penelope Zavala, 14:16.8
20. Isabella Rudis, 14:22.320
63. Chynna Hinrichsen, 16:40.4
Frosh/Soph Large School (2 Mile)
1. St. Francis 62
2. San Ramon Valley 75
3. Lodi 88
4. Inderkum 127
Individual Results
5. Nicole McBride, 12:43.8
7. Audrey Reyes,12:49.5
13. Grace Harrison, 13:01.8
17. Madeline Fahey, 13:21.3
20. Lilly O'Gara, 13:28.8
(24.) Isabella Acosta, 13:35.3
(29.) Izabel Quackenbush, 13:40.9